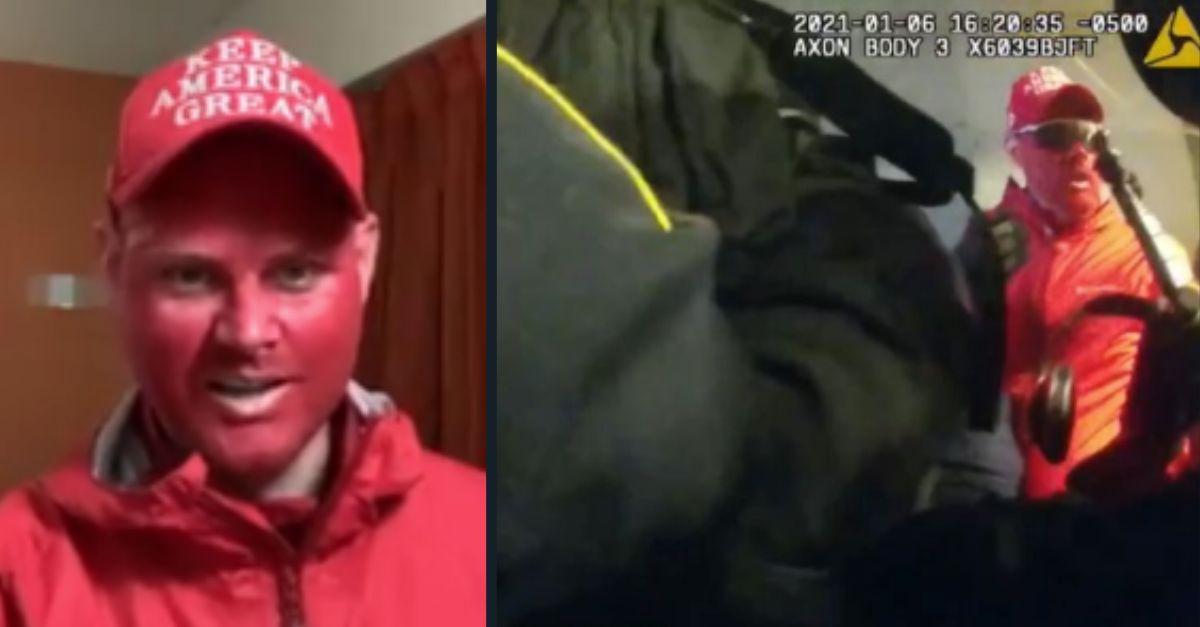 Left: Daniel Donnelly Jr., is seen in a video he made and posted to Facebook after participating in the U.S. Capitol attack on Jan. 6, 2021. Right: Donnelly in a confrontation with police (via FBI court filings).
The baseball fan known for painting his face red to rile up the crowd at St. Louis Cardinals games has been charged with stealing a riot shield from police and helping the crowd of enraged Donald Trump supporters overwhelm law enforcement at the U.S. Capitol on Jan. 6.
Daniel Donnelly Jr., 43, of St. Louis, Missouri, is charged with a felony and at least four misdemeanors in connection with the Jan. 6 attack. Donnelly is also known as "Rally Runner" for his enthusiasm for his city's baseball team, the Cardinals, and is somewhat of a local celebrity for his enthusiastic sprints around the stadium during home games.
According to prosecutors, Donnelly was in the crowd gathered at the Lower West Terrace tunnel entrance, where scores of protestors faced off against dozens of police officers trying to protect the building from being breached. According to prosecutors, he "obtained a riot shield" at around 4:10 p.m. from other rioters in the crowd and continued to move toward the tunnel.
He eventually worked his way to the front of the crowd, where, according to prosecutors, he "can be seen holding the shield up to law enforcement officers, forming a wall with other shields held by other rioters."
Donnelly's positioning was allegedly crucial to allowing members of the riotous crowd to surge forward.
"Moments later, other rioters, using Donnelly as a shield, lunged past him to attack law enforcement officers," the government says. "Donnelly continued to hold his position just inches away from the confrontation."
Donnelly was also seen helping the crowd pass a ladder into the tunnel, according to the FBI.
Like so many of his fellow Jan. 6 defendants, Donnelly's own social media posts gave prosecutors what they needed to press charges.
"I get a riot shield, and I'm not trying to cause any violence, but I'm trying to be the furthest person to get through all the way, or at least get the furthest," he said in the video, which he posted on Jan. 6 after eventually leaving the Capitol. "I took up a lot of space, and I had the riot shield, and I was right up there, and for some reason, like, the other people up there on the front lines with me, they did something similar… It's like they followed my lead, kind of, and it turned out to be a great strategy because the whole crowd was doing that, was able to push further than we had gotten the whole time, the entire time."
Donnelly said that he "got through those doors into the Capitol," but was stopped from going further by police "reinforcements."
Prosecutors were able to identify Donnelly through his distinctive sartorial choices.
"Donnelly was identified wearing red face paint, sunglasses, a red 'Make America Great' hat, a red jacket, red pants or red shorts, and red high socks," the Justice Department said in a press release announcing the charges Wednesday.
In late 2021, Donnelly was accused on Fox News by one Jan. 6 defense attorney of being a government plant who was actually there to agitate the crowd and make Trump supporters look bad.
"He's clearly a law enforcement officer," Joseph McBride told then-host Tucker Carlson of Donnelly while the two of them purportedly studied Jan. 6 footage, the Huffington Post reported. In a December 2021 court filing on behalf of accused Jan. 6 rioter Ryan Nichols, McBride said that Donnelly might look like a Trump supporter, but "[c]loser review, however, suggests that he is likely an undercover agent" because he was seen "passing weapons through the crowd" and "communicating with other suspicious persons through use of military hand signals."
"Who is this person? Why hasn't he been charged? That's a very simple ask," Carlson said as his show aired a picture of Donnelly.
Donnelly, himself a longtime fan of Carlson, has expressed dismay about McBride's comments on Carlson's since-terminated show.
"Disappointed is an understatement," Runner said in an interview with NBC in January 2022. "For years I believed Tucker was a responsible reporter focused on stopping 'Fake News' just to be hit with this story."
So far, no proof has emerged that federal "plants" were behind the chaos of that day. Trump supporter Ray Epps has sued Fox News over similar comments Carlson made, accusing him of being part of a so-called "false flag" operation aimed at discrediting Trump and his supporters.
Donnelly is charged with a felony civil disorder offense, which carries a potential maximum of five years in prison. He is also charged with several misdemeanors, including disorderly and disruptive conduct in a restricted building or grounds, disorderly conduct in a Capitol building, impeding passage through the Capitol grounds or buildings, and theft of government property.
Read the statement of facts, below.
Have a tip we should know? [email protected]