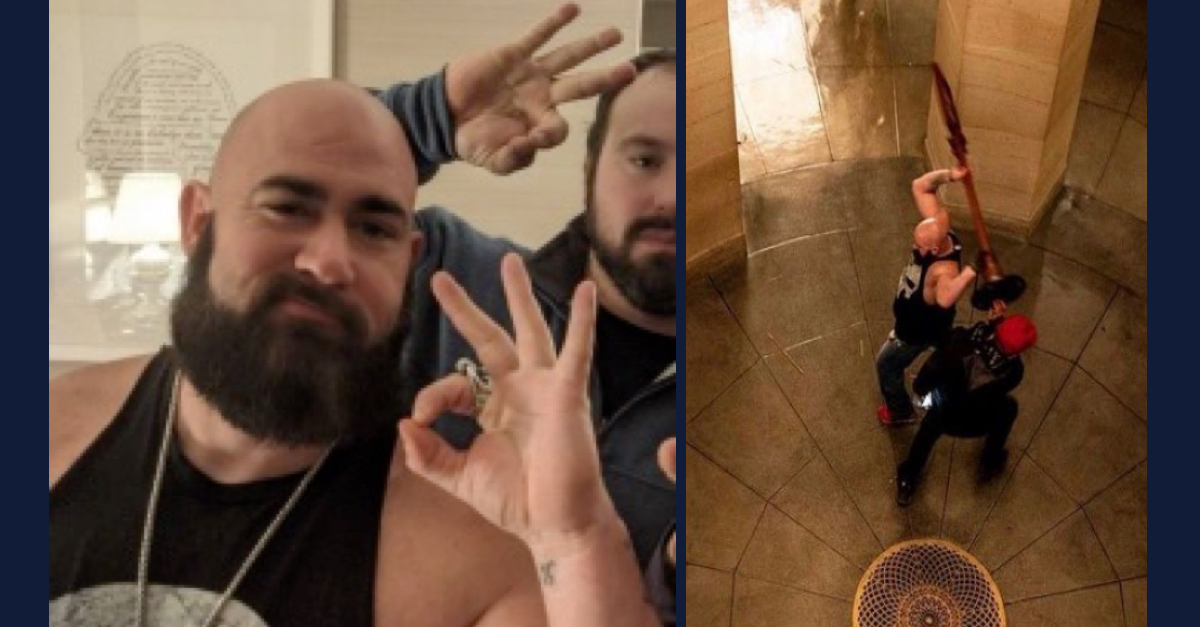 Images via FBI court filings.
A member of the Proud Boys extremist group who apparently almost came face to face with Sen. Chuck Schumer (D-N.Y.) during the Jan. 6 attack on the U.S. Capitol has pleaded guilty to a felony.
Joshua Pruitt, 40, was one of the thousands of Donald Trump supporters who marched to the Capitol after attending the former president's so-called "Stop the Steal" rally, which he attended with fellow members of the Proud Boys. He had originally been arrested on Jan. 6 for refusing to abide by District of Columbia Mayor Muriel Bowser's curfew order that evening; it was only while Pruitt was being processed that investigators tied him to the Jan. 6 mob.
While wearing what the government describes as a "tactical glove with knuckle pads," Pruitt followed a group of rioters that had pushed through a line of law enforcement officers and advanced up the stairs to the Upper West Terrace of the building. He entered the building at around 2:14 p.m., around the time of the initial breach of the building.
Pruitt was captured on video "violently" throwing a wooden "Quiet Please" sign as he made his way toward the Capitol Crypt. Once there, prosecutors say, he was "at the front of a group of rioters that eventually overwhelmed the police line."
According to the Statement of Offense, which sets out the facts Pruitt acknowledges to be true, he followed officers as they retreated from the Crypt, having been overwhelmed by the crowd. After descending a staircase to the Capitol Visitor's Center, Pruitt "picked up a chair near the bottom of…