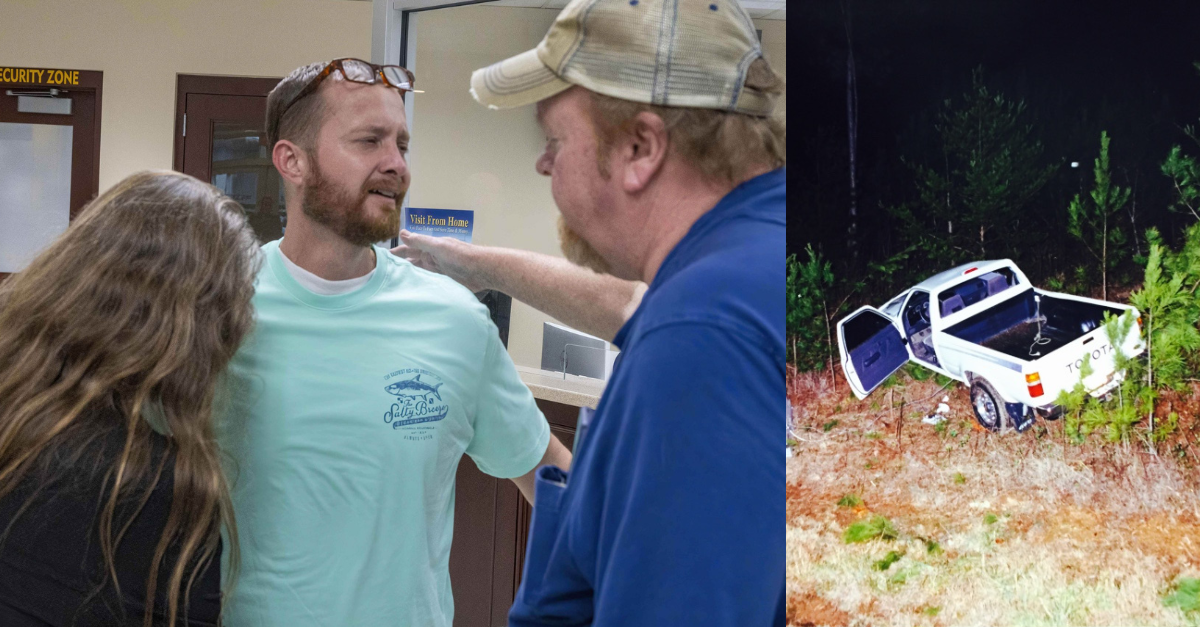 Joey Watkins reunites with his parents Cindy and Johnny Watkins after posting bond. At right is a photo of Isaac Dawkins' crashed pickup truck. (Images: Georgia Innocence Project)
Georgia parents Johnny and Cindy Watkins have spent over 23 years maintaining that their son, Joseph "Joey" Samuel Watkins, then 20, was innocent of shooting Isaac Dawkins, 21, in the head.
"Our son has been railroaded," the father said on the day his son was sentenced to life in prison in July 2001, according to The Rome News-Tribune. "We will be back in court and it will be proven."
They've been vindicated more than two decades later.
First, Walker County Superior Court Judge Don Thompson overturned the conviction in April 2022 and ordered a new trial after the defense argued both juror and prosecutorial misconduct – a decision the state Supreme Court affirmed last December. Now the district attorney's office in the Rome Judicial Circuit has passed up on a second bite at the apple, filling on Thursday to drop the case altogether.
"All this weight has been lifted," Joey Watkins said in a new statement from Georgia Innocence Project (GIP), which had taken up his case. "I can't even begin to express what I feel like right now. I'm finally an adult. I'm free."
But as far as the law is concerned, Dawkins' killer is still out there. Justice remains unfulfilled for his family.
In 2001, his father, Sammy Dawkins, thanked prosecutors and detectives for the conviction that landed Watkins with a life sentence plus five years.
"We would also like to thank everyone for their prayers, but most of all we thank God," he said at the time, according to the News Tribune.
Someone shot and killed Dawkins as he was driving on Highway 27 on the evening of Jan. 11, 2000. He crashed into near woods. Investigators discovered through X-rays that he had a bullet in the head.
Police in the city of Rome eyed Joey Watkins as a suspect. According to the GIP, Watkins admitted to driving past the wreck scene that night, and that he and Dawkins had each dated the same girl on separate occasions and had argued over her. Rome police, however, ruled him out as a suspect.
"After months with little progress on the case, the victim's family successfully petitioned to have Sergeant Stanley Sutton of the Floyd County Police Department take over the case," the GIP said. "Although a very similar shooting had occurred a few miles away, and within minutes of when police first received reports of Isaac's accident, and although Joey had an alibi, Sutton zeroed in on Joey Watkins. One day after taking over the case, the Floyd County Police Department posted $10,000 reward posters throughout the jail; the first jailhouse informant came forward within hours."
Authorities eventually charged Watkins and his friend, Mark Free, in Dawkins' murder. The same attorneys represented both men and argued that cellphone evidence showed that Watkins was not even at the scene of the murder and that the state's case was pretty much only against him and not Free, who did not even know Dawkins, according to the News-Tribune.
In separate trials, jurors acquitted Free after less than an hour of deliberation, but Watkins landed in prison for what looked to be the rest of his days after being convicted of felony murder, aggravated assault, a weapons violation and misdemeanor stalking.
"I had nothing to do with it. Nothing," he said in a tearful, emotional statement in court, according to the News Tribune. "And I will say it till the day I die."
More Law&Crime coverage: Exonerated city councilman sues investigators who used fake 'expert' testimony in 1979 cold case murder of lover
The situation started to change after the true crime podcast "Undisclosed" covered his case and suggested that the prosecution's version of events would have been impossible, based on the cellphone evidence.
"I've never heard a coherent version of this to explain how Joey did this murder," said Susan Simpson, a co-producer of the show, according to Atlanta NBC affiliate WXIA in a 2017 report.
"There were glaring issues with the State's theory. One issue was that the man who witnessed the accident explained to police that he saw a small, older-model blue car interacting aggressively on the road with Isaac's truck in the moments before the wreck," the GIP wrote in a statement about the case. "The night of the murder, however, Joey had driven his white pickup truck to see his girlfriend, Aislinn, who lived about 30 miles away in Cedartown, Georgia (he passed Isaac's wreck and police cars on the way). He was seen by several witnesses departing in his white truck, and approximately 45 minutes later, several other witnesses saw him in Cedartown in his white truck."
Tami Colston, the case's district attorney who ended up becoming a Superior Court judge, essentially dismissed it all.
"I have no comment to this," she told WXIA in the 2017 report. "I have not listened to the podcast, read anything about it, nor do I intend to. I will comment that it is the victim we should be memorializing, who was a fine, young man, with a fine family who suffers his loss every day."
Leigh Patterson, the district attorney for the Rome Judicial Circuit, declined to comment when Law&Crime reached out on Monday.
The GIP, who picked up Watkins' case, argued there was newly discovered juror and prosecutorial conduct.
"In 2017, Watkins filed this second state habeas petition, raising claims of juror misconduct and concealment by the State of exculpatory evidence. First, he alleged that a juror, contrary to the trial court's explicit instructions not to visit the scene or conduct timed-drive experiments, conducted just such an experiment. Second, he alleged that the State failed to reveal exculpatory evidence to him and allowed a witness to testify that such evidence did not exist," said a ruling from the Georgie Supreme Court, which remanded Watkins' case to habeas court in 2020, paving the way for him to outright argue his claims of juror and official misconduct.
Watkins and his GIP team celebrated the dropped case at the Harvest Moon Cafe in Rome.
"I can't tell you how good I feel," he said in a statement released Friday. "Do you know how many times I drove by and looked up at these windows and thought, one day I'll be able to sit up there, have a beer, and actually relax? Well, that day is finally here and I am SO grateful."
Note: Updated with a response from Patterson.
Have a tip we should know? [email protected]