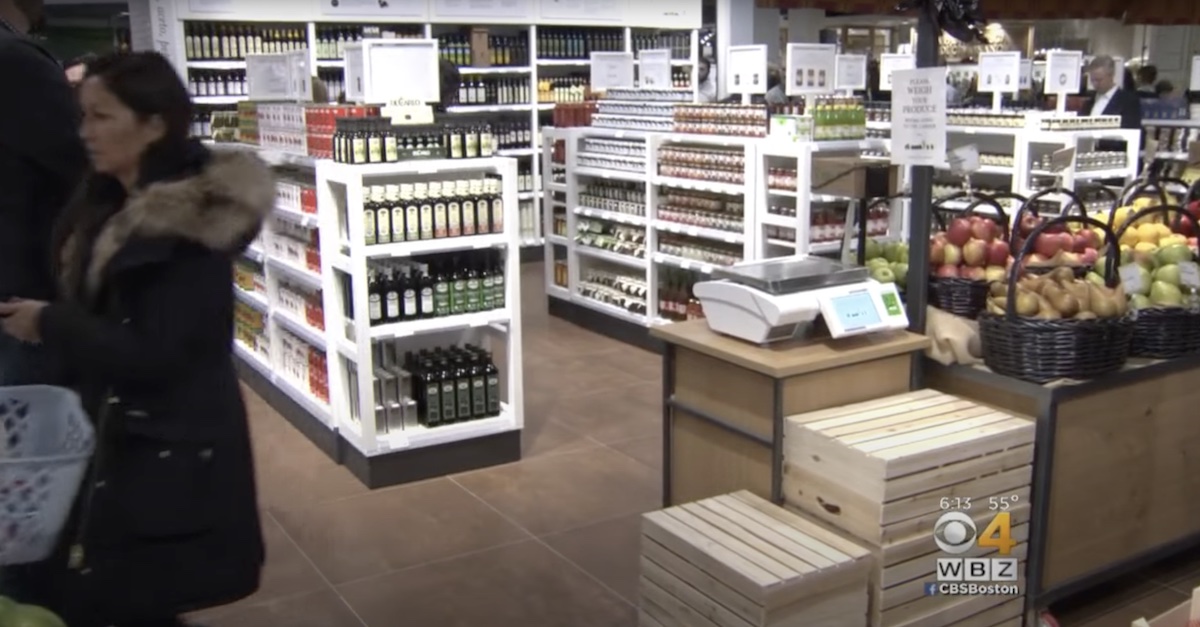 Patrons pictured in 2016 shopping at Eataly Boston after it the location opened.
A New Hampshire woman who broke her ankle after slipping on prosciutto while sampling food at Eataly in Boston has filed a civil lawsuit, claiming the business was negligent.
Eataly is a popular Italian marketplace chain known for its premium products, bars, and atmosphere, as well as its former association with disgraced celebrity chef Mario Batali. The Boston location in the Prudential Center on Boylston Street is the one named as the defendant in Alice Cohen's lawsuit.
The case, filed by Shaheen & Gordon, P.A. in Massachusetts Superior Court, raises negligence and loss of consortium claims in seeking a jury trial and at least $50,000 in damages.  According to the filing, Cohen was "injured as a result of a fall caused by the negligent acts of the defendant" on Oct. 7, 2022.
The plaintiff, described as a "business invitee shopping at the premises," alleges that she slipped and fell while making her way towards an area where "food samples were being served to patrons."
"As Plaintiff Alice Cohen approached the area she slipped and fell on a piece of prosciutto on the floor injuring her left ankle resulting in a fracture," the complaint said. "At all relevant times, it was foreseeable that patrons and potential  patrons of the Defendant's premises would traverse the floors of its establishment."
The plaintiff said that Eataly "owed a duty of care" to her and the public to "maintain it [sic] premises in a condition that would not create an unreasonable risk of harm." Cohen argued that the prosciutto on the floor without warning amounted to "dangerous conditions."
"Nevertheless, and wholly unmindful of the foregoing, your Defendant Eataly Boston, LLC breached these duties by failing to ensure that the floor was safe for Plaintiff and other patrons, by failing to ensure the floor was free from unnecessarily dangerous conditions, by failing to adequately prevent and/or remove hazards fro the premises and by failing to warn Plaintiff of the dangerous condition," the lawsuit alleged. "As a direct, proximate, and foreseeable result of the negligence of Defendant Eataly Boston, LLC, your Plaintiff Alice Cohen, injured her ankle, as well as loss of enjoyment of life, and experiencing great pain and suffering."
The suit said the ankle injury seeks compensation for "incurred necessary medical expenses" and her husband Ronald Cohen's loss of consortium.
"Wherefore the Plaintiffs Alice Cohen and Ronald Cohen claim damages and demands judgment against the Defendant Eataly Boston, LLC in an amount sufficient to compensate them fully and fairly for all injuries and damages, including physical and emotional pain and suffering, and loss of consortium, plus interest costs and such further relief as the Court may deem proper," the suit concluded.
As of Monday, Eataly had not commented publicly in response to the lawsuit, but they'll have an opportunity to do so in court in an answer to the complaint. The defendant reportedly has until as late as December 11 to file that answer.
Read the complaint here.
Have a tip we should know? [email protected]