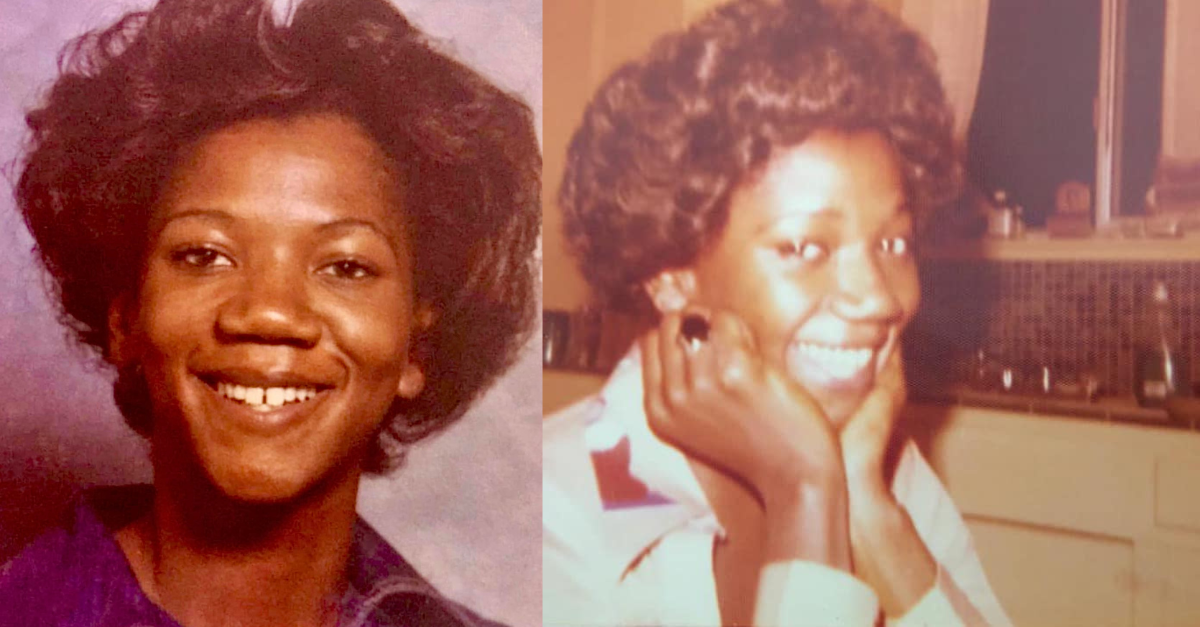 Vicki Johnson managed to put up a fight before Frank Lewis McClure murdered her, police said. She managed to get her killer's DNA under her fingernails. (Images: Seaside Fire & Police)
Testing showed that a now-dead local man murdered a woman more than 30 years ago, according to cops in the coastal city of Seaside, California. The victim, Vicki Johnson, 34, managed to put up a fight, getting Frank Lewis McClure's DNA under her fingernails, officers said.
It is an answer, though it is too late to charge the suspect. McClure died at the age of 77 in 2021, cops said.
Johnson, a mother of three, was found dead at a horrific scene in the playground area of Sabado Park on Jan. 3, 1991, officers said. Seaside is located just east of Monterey, around 115 miles south of San Francisco.
"Ms. Johnson suffered a violent death. Ms. Johnson had been strangled, suffocated and set on fire," cops wrote. "Ms. Johnsons' death shocked the Seaside community due to the details of the brutality. "
"In those days there was a lot of gang violence but this one shocked everyone," Seaside Police Chief Nick Borges told Fox News. "She wasn't associated with gangs… and to be killed the way that she was."
He told Law&Crime that the crack epidemic was "insane out here" back then. Dealers of the region were exclusively from Seaside and prevalent until the early 2000s, he said.
Borges said it is not like that anymore, but he noted the city's somber legacy. It was a violent community. There was a sentiment back then that victims of murder there did not really matter, he said.
"And to me that's unacceptable," he said. "Every life matters and we've got to give people justice."
Investigators with the Cold Case Task Force, led by the Monterey County District Attorney's Office, reopened the case. They submitted more evidence to the California Department of Justice for DNA testing.
It took two years for testing because of backlogs and lack of staffing, Borges told Fox News.
"It's really sad," he said. "It ties into my frustration with cold cases in general."
Speaking to Law&Crime, he voiced frustration with the slow pace of solving the case. He noted that the DNA technology in question is not new. Borges, who became chief in August 2021, said this testing could have been done 10 years ago.
He acknowledged that agencies become overwhelmed with new cases, but he noted a lack of a national standard under which to periodically review unsolved murders. For example, he suggested legislation.
"We can never allow murders to fall off," he said.
Investigators eventually got answers regarding Johnson's death and identified McClure as the suspect. Borges said they managed to identify the suspect because of the DNA under Johnson's fingernails.
"Evidence clearly demonstrates Ms. Johnson put up an incredible physical battle against McClure and fought until the last moments of her life," police wrote. "McClure left significant DNA underneath Ms. Johnsons' fingernails, which could only be a result of Ms. Johnson fighting vigorously for her life."
McClure's criminal history dates back to 1990 for crimes including battery causing serious bodily injury and resisting police, the chief told Law&Crime. The suspect violated probation in 1994 by committing assault with a deadly weapon and domestic violence, and was sentenced to four years in prison, Borges said.
In 1991, the year of the murder, McClure committed assault with a deadly weapon and domestic violence, the chief said. Indeed, domestic violence cases were his most common charges, with incidents from 1990, the aforementioned 1991 case, the aforementioned 1994 case, 1999, and the most recent in 2011.
"He has been to prison for assaults with deadly weapons and domestic violence against women but nothing that rose to the level that would alarm or alert us that this guy would be engaged with murder," Borges told Fox. "He was pretty well known in the community, not so much as a great person, but his family was well known and everyone was fairly surprised."
What remains unknown is how Johnson and McClure knew each other — or if they even knew each other at all. Officers also do not know the motive.
"That's the mystery here," Borges said.
Seaside is a small community, he said. Borges suggested that there is a high probability that the victim and the killer would have known of each other at a minimum.
The only real link between them is that they both dabbled in illegal drugs, he said.
"Its really difficult because he's dead, so we may never know," he said.
Nonetheless, the investigation is ongoing. Borges voiced hope that someone who knew McClure may step forward with the truth.
"He had to have told somebody what he did, and hopefully that person comes forward and tells us," the chief said.
From police:
If you have any information about a Seaside cold case homicide, please contact the Seaside Police Department:
Seaside Police Department – (831) 899-6748
This story has been updated with comments from Borges to Law&Crime.
Have a tip we should know? [email protected]