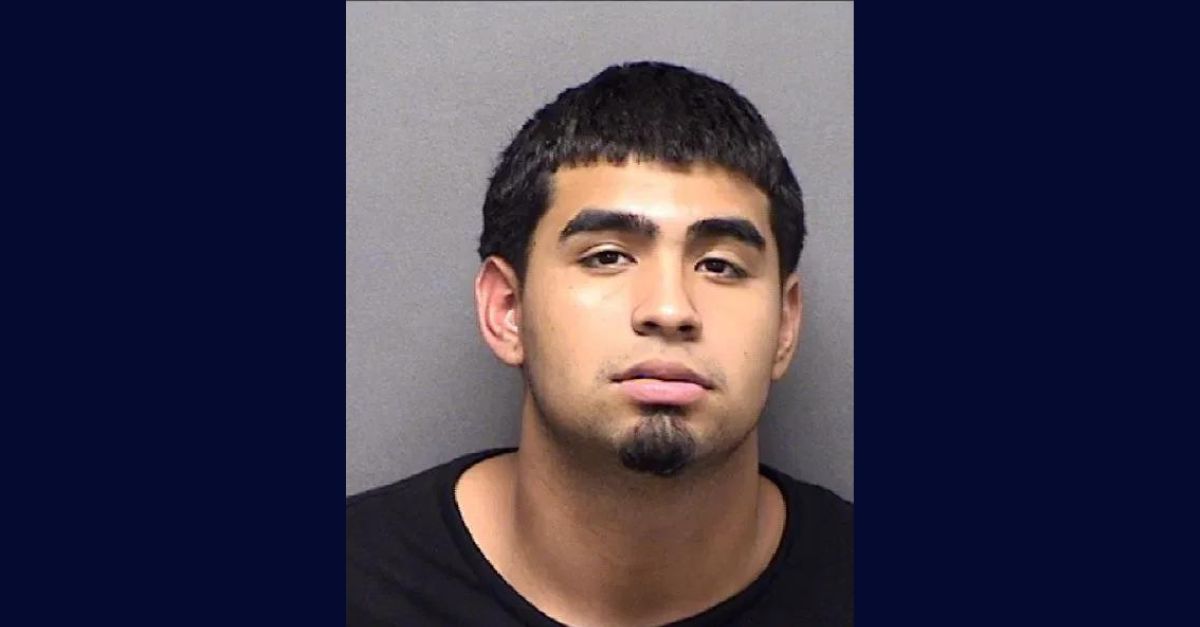 Nathan Cruz (San Antonio Police Department)
The 17-year-old cousin of the man who killed 19 students and teachers at an elementary school in Uvalde, Texas, last year was arrested after he allegedly threatened to buy an AR-15 and commit a mass shooting.
Nathan Cruz was arrested on Monday on charges of making terroristic threats, police said.
Cruz's mother reportedly called the police after he threatened to shoot his sister in the head and said he would "shoot the school," according to ABC San Antonio affiliate KSAT, which cited an arrest warrant.
A family member reported hearing Cruz on a phone call with someone in which he allegedly "attempted to acquire an AR-15 through an illegal private sale" and planned to "do the same thing" as his cousin at a school across the street as classes are set to begin, the station reported.
The mother was particularly concerned because they lived near an elementary school, and her son was intoxicated and on probation, the station reported.
Cruz's sister "feared the suspect would act on his threat to shoot her" and "believed that the threat to the school was credible due to the recent history of his family and the suspect's knowledge of his cousin's actions," the Washington Post reported, citing a San Antonio police detective in the affidavit.
Cruz reportedly denied making the threats when questioned by detectives.
He was held at the Bexar County jail on $160,000 bond. Court records show he's set to appear in court on Sept. 5.
His defense attorney didn't immediately respond to a request for comment from Law&Crime.
Cruz is the cousin of Salvador Ramos, 18, who killed 19 children and two teachers at Robb Elementary School on May 24, 2022, before he was shot and killed by authorities.
Brett Cross, whose son Uziyah "Uzi" Garcia was killed in the shooting, said in an interview with NBC El Paso affiliate KTSM 9 News that Cruz's arrest dredged up the horror all over again.
"It's hard enough as it is to send our remaining children to school because of, you know, reliving May 24, over and over," he said. "It's frustrating.
"We got lucky this time that somebody was brave enough to say something," Cross added.
San Antonio Police Sgt. Washington Moscoso echoed the sentiments.
"Here's a case where somebody's own family member was making threats," he told the station. "And this family member did the right thing, made the right choice, called the police."
Jesse Rizo, who lost his niece Jackie Cazares in the shooting, said in an interview with the station that Cruz needs to reflect on his words and for the public to remain vigilant.
"You never know. You just can't sit back and think that it's never going to hit your house," Rizo said. "Because one day, unfortunately, that child that you kissed goodbye, and you told him that you love them on the way to school, they may not be coming home that evening."
The tragedy prompted a review of the police conduct and findings by the Texas House of Representatives Investigative Committee of "systemic failures and egregious poor decision making," the forced resignation of the incident commander, a $27 billion class action lawsuit by survivors against local officials, and a lawsuit against the gun manufacturer by a mother over her daughter's death.
In an interview with The Daily Beast, Salvador Ramos, the gunman's father, said, "I just want the people to know I'm sorry, man, [for] what my son did.
"I never expected my son to do something like that. He should've just killed me, you know, instead of doing something like that to someone."
Have a tip we should know? [email protected]