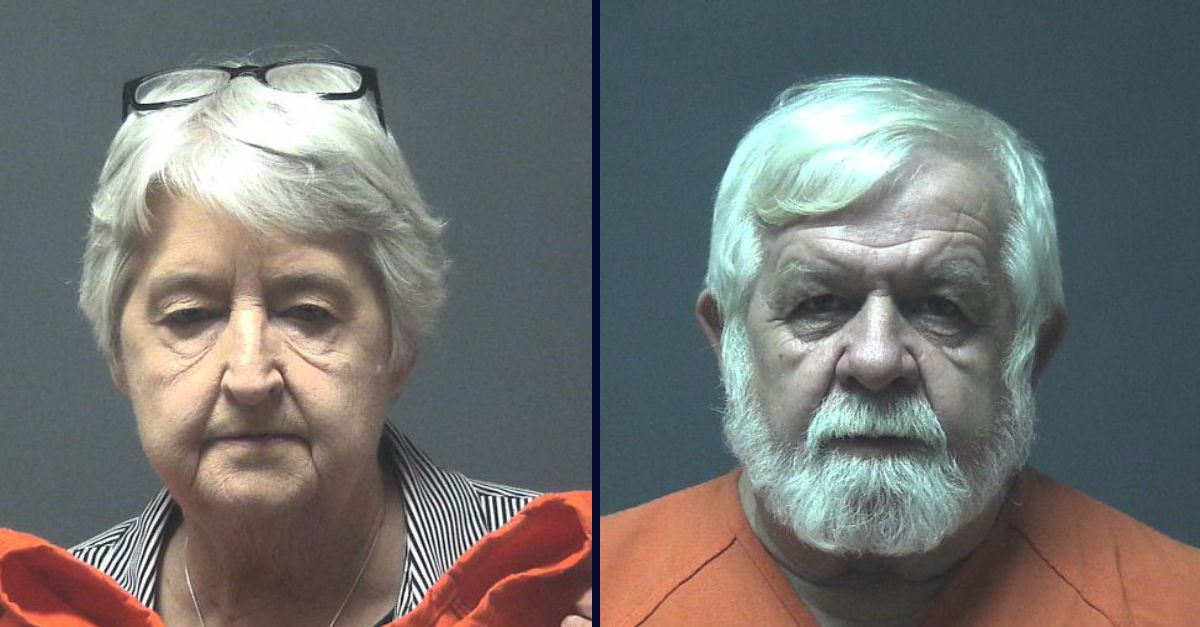 Newspaper publisher Sherry Digmon and reporter Don Fletcher were arrested after allegedly revealing grand jury secrets tied to a misappropriated funds investigation in Alabama, authorities said. (Escambia County Jail)
A newspaper publisher, who's also an elected school board member, and a reporter were arrested in Alabama after they allegedly revealed grand jury secrets, authorities said.
The publisher, Sherry Digmon, was arrested again Wednesday after she was indicted by a grand jury on a charge of committing a felony ethics violation.
In the grand jury secrets case, Digmon, 72, and reporter Don Fletcher, 69, were arrested Friday in Escambia County, which is on the Alabama-Florida border. Veronica "Ashley" Fore, the county school district's payroll and insurance bookkeeper, was also arrested.
According to the newspaper, the charges stem from an Oct. 25 story about the Escambia County District Attorney Stephen Billy's investigation into possible misappropriation of federal COVID-19 funds by school district employees. Digmon also is an Escambia County school board member.
Revealing grand jury secrets is a felony punishable by up to three years in prison and a $5,000 fine. The story in question, written by Fletcher, cites "documents obtained by Atmore News" that Billy issued a subpoena to Fore and Chief Schools Financial Officer Rochelle Richardson.
"The subpoena demanded certified copies of 'any and all checks' written to employees and labeled as 'COVID' payments or 'COVID BONUS' for the Fiscal Years 2020, 2021, 2022 and 2023," Fletcher reported. "According to the subpoena, the documents were required for 'the purpose of the furtherance of an investigation/prosecution into a criminal matter.'"
Prosecutor Stephen Billy defended the arrests in an interview with the Atmore Advocate.
"It's not allowed," Billy said. "All three of them, (including) the girl that was expelled, were all charged with the same thing. But, you just can't do that, and there's no reason for that. Innocent people get exposed, and it causes a lot of trouble for people."
But the Committee to Protect Journalists said it was outraged and called on the prosecutor to drop all charges.
"They should not be prosecuted for simply doing their jobs and covering a matter of local interest, such as the allocation of school board funds," said Katherine Jacobsen, CPJ's U.S. and Canada program coordinator. "Journalists play a crucial role in their local communities. Arresting them creates a chilling effect and is a gross misuse of taxpayer funds."
All three bonded out of jail.
A woman who answered the phone at the prosecutor's office when contacted by Law&Crime said Billy is not commenting on the situation.
The site 1819 News reported Digmon's second arrest deals with ethics violations. She's accused of "using her position for personal gain and selling $2,500 worth of ads to the paper she has a financial interest in," the outlet reported.
The Atmore News said Digmon was escorted to jail by her attorney Ernie White. She was released after posting a $100,000 bond. White did not immediately return a call seeking comment from Law&Crime.
Have a tip we should know? [email protected]