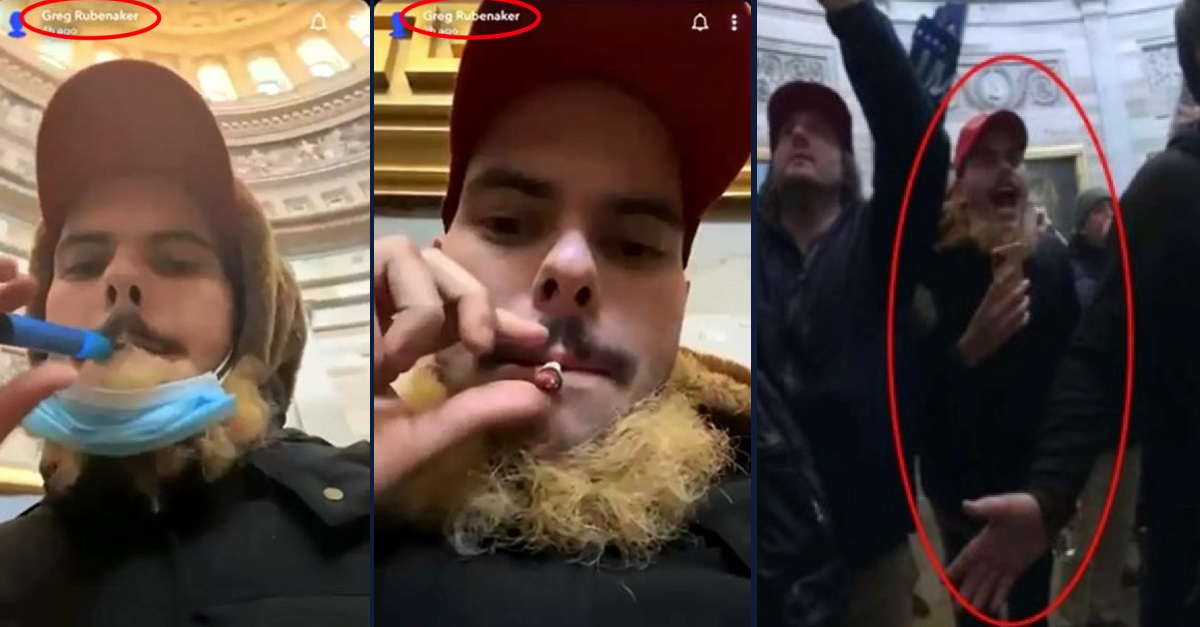 Greg Rubenacker inside the U.S. Capitol on Jan. 6 (images via FBI court filing).
A New York man who was part of the crowd that chased a police officer up several flights of stairs as Donald Trump supporters stormed the U.S. Capitol building has been sentenced to 41 months in prison.
Greg Rubenacker, 26, was among the small crowd that chased Capitol Police Officer Eugene Goodman up the stairs outside the Senate Chamber on Jan. 6, as the riotous crowd of Trump supporters angry over the results of the 2020 presidential election overwhelmed police and pushed their way inside the building.
He first entered the Capitol through the Senate Wing Door shortly before 2:15 p.m., recording a video in which he is heard shouting: "This is history! We took the Capitol."
"Where are they counting the votes," he also yelled, joining a crowd facing off against police. It was during this breach of the Capitol—his first of two of the day—that Rubenacker chased Goodman up the stairs for several heart-stopping minutes, as captured on video.
Rubenacker left the building moments later, but returned about 20 minutes after that, making his way to the Rotunda where he recorded himself smoking marijuana. He later posted this video to social media with the caption: "Smoke out the Capitol, baby."
While part of a crowd that was resisting police efforts to move the crowd outside, Rubenacker swung a plastic bottle of water at an officer's head, and later sprayed water from his bottle at officers engaging with other rioters. Law enforcement then deployed chemical spray against the crowd, including Rubenacker, who eventually left the building…