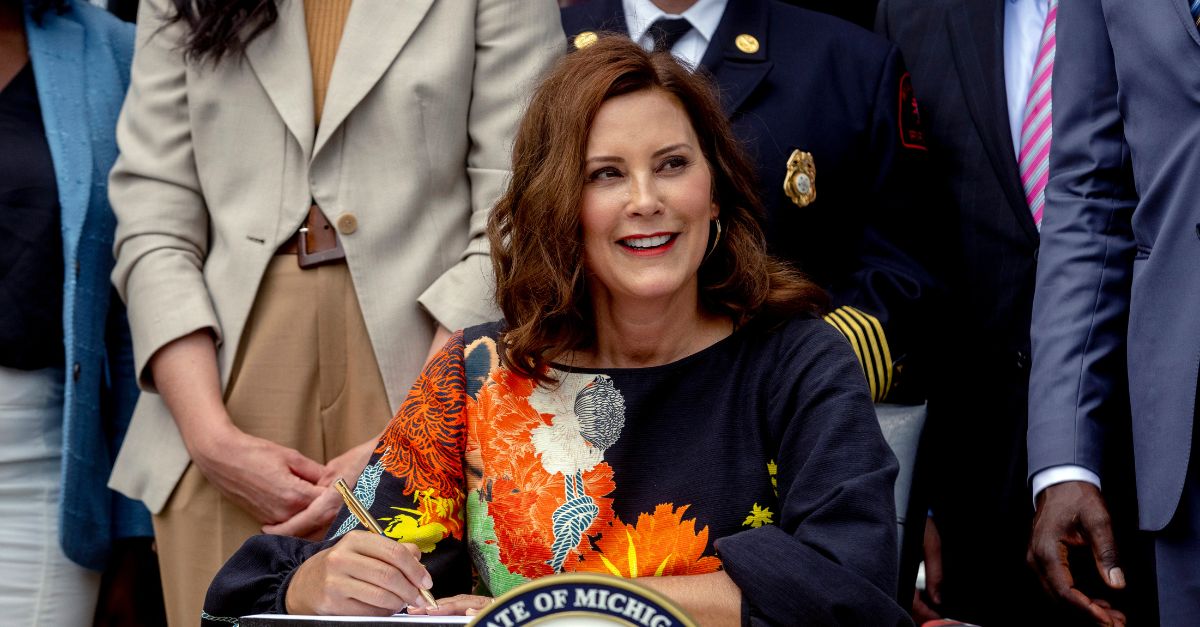 Gov. Gretchen Whitmer signs the largest state budget in Michigan's history Monday, July 31, 2023, at the Wyandotte Fire Department, in Wyandotte, Mich. (Jake May/MLive.com/The Flint Journal via AP)
The mother of a mentally ill man who threatened to kill Michigan Gov. Gretchen Whitmer has been indicted on charges that she lied to gun dealers when she bought the weapons last year, according to documents.
Michelle Marla Berka lied to three different gun dealers when she bought five firearms over several months last year, the Aug. 2 indictment says. She "knowingly made a false and fictitious written statement" to each gun dealer that she was buying the weapons for herself "when, in fact, as the defendant then and there well knew, she was acquiring the firearm for another person," the indictment reads. She faces five counts of false statement during purchase of a firearm.
That "other person" appears to be her son Randall Robert Berka II, who in March was indicted for unlawfully possessing a firearm after making threats toward Whitmer and several other people. According to that indictment, Randall Berka was involuntary committed for mental health treatment in 2012 and was deemed mentally incapacitated and thus prohibited under federal law from owning firearms.
In that case, Google tipped off the FBI after concerning statements were made toward the LGBTQ+ community, government officials and law enforcement in posts on a YouTube channel. FBI agents were able to tie the account to a home in Sebewaing, which is a town in Michigan's Thumb.
According to prosecutors, Randall Berka's online statements included:
"im going to kill these democrats biden deserves to die"

"you could be like me and get guns and threaten to kill politicians. Im more than willing tot kill whitmer and I do live in Michigan. Ill assault her ugly face with my bullets. She was never s assaulted shes too ugly for it. She let herself be a p hole for the WEF"

"I don't work I refuse to i buy guns though and plot to kill people in dc openly f— the feds ill shoot the fbi if they ever show up"

"I can, I have guns and ill kill lgbt freaks and democrat polioticians"

"f— the feds if fbi ever shows up to talk tot me ill just shoot at them"

"laws are meant to be broken I was in a nuthouse many tiems against my will and I have several firearms they'll have to kill em to take em"

"hey fbi! My name is randall the 2nd and I live in sebewaing Michigan and I am willing to kill these people, f— it I don't care, f— the feds, f— them. Im not mentally ill for needing to be violent towards these people, call the ccops, f— them. Ill shoot them too. I'll kill anyone who tries to take my guns. ANYONE. I AM DONE. TRY TO CONFISCATE THEM FROM ME AND I WILL KILL."
Randall Berka's mother told the FBI she bought her son three long guns and one handgun. He had ammunition and had gone out to shoot the weapons.
"Michelle is scared of [her son], does not think the mental health treatment is working, and believes [he] should be arrested and put in prison," Randall Berka's indictment said.
Randall Berka's case is ongoing in the U.S. Eastern District of Michigan. His mother pleaded not guilty to the charges on Tuesday.
Whitmer, a Democrat who was re-elected last year, has faced several threats including a kidnapping plot. Last December, two men were convicted of a scheme to kidnap the governor away from her vacation home. Barry Croft, from Delaware, received a nearly 20-year sentence while Adam Fox will spend 16 years behind bars.
Before trial, two of the defendants — Ty Garbin and Kaleb Franks — pleaded guilty, and the other four prepared entrapment defenses: Fox, Croft, Daniel Harris and Brandon Caserta. They had mixed success. All focused on the role of FBI informants in infiltrating the group, monitoring their actions, and playing an allegedly active role in the conspiracy. Harris and Caserta ultimately persuaded their first federal jury to acquit them. The same jury deadlocked as to Fox and Croft, who had to stand a second trial.
Three other defendants were convicted by a Michigan jury in a state trial: Joseph Morrison, Paul Bellar and Pete Musico.
Read Michelle Berka's indictment, below.
Adam Klasfeld contributed to this report.
Have a tip we should know? [email protected]