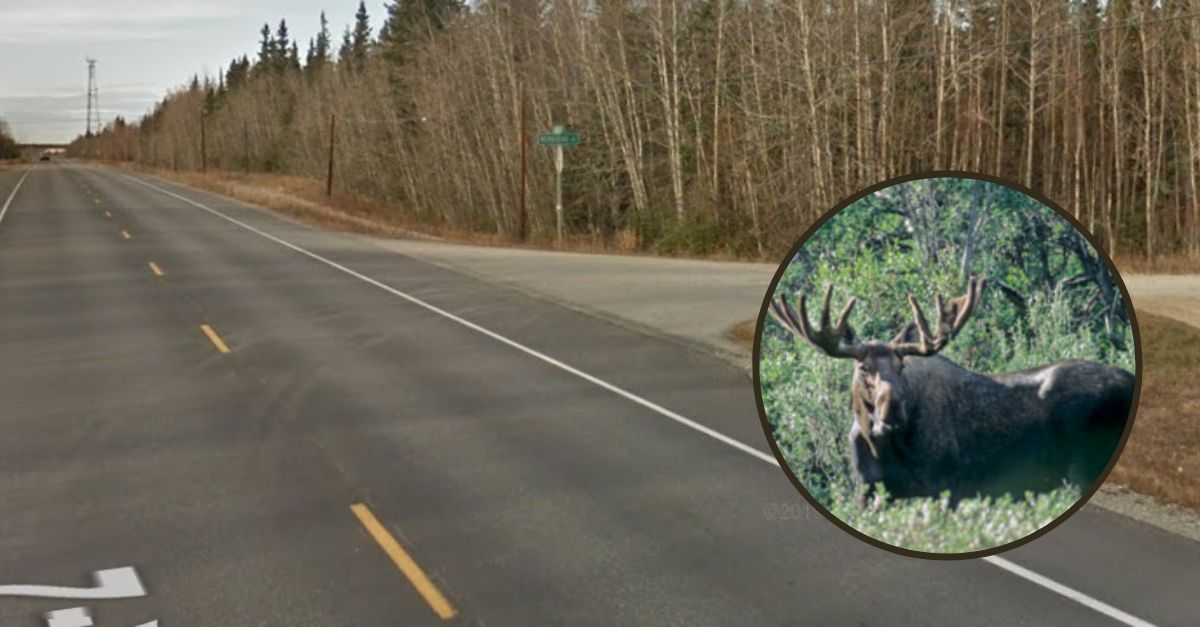 Google Maps image of milepost 1421 in Delta Junction, Alaska, where 47-year-old John Emerick was fatally struck by a driver on Aug. 28. Inset: Moose image via Alaska Department of Fish and Game.
Things are getting hairy for an Alaska woman after police accused her of sprinkling moose fur over the engine of her car in a desperate ploy to make it look like she struck a large beast instead of hitting and killing a 47-year-old man walking alone at night along the side of the highway.
Alaska State Troopers arrested Chelsie Erickson, 32, of Delta Junction, Alaska, on Oct. 17, according to online police records.
She was charged with negligent homicide, failure to render aid and two counts of tampering with evidence. Police said she fled the grisly scene after hitting area resident John Emerick around 10 p.m. on Aug. 28 as he walked along the side of the highway in Delta Junction near milepost 1421.
Erickson's mother, 60-year-old Janell Erickson, was also arrested and charged with tampering with evidence.
The Anchorage Daily News reported that upon investigating a tip troopers received about the hit-and-run, authorities were ultimately able to obtain a search warrant for Erickson's home. One of Erickson's friends allegedly called police to inform them that Chelsie had mentioned hitting a moose the same night that Emerick was reported dead.
Investigators searched for the moose after Erickson said she thought it ran into the woods when she struck it, the outlet reported, but they never found the animal.
Erickson never reported the supposed moose crash either, they said.
Police did, however, allegedly find a car that matched the description they received from locals the night that Emerick was left to die in the road. Alaska State Troopers reportedly found a 2014 Chevy Silverado pickup truck in a locked detached garage on Erickson's property. It had several pieces of its front-end grill removed and moose hairs strewn about the top of the engine but there was no fur on the front of the truck.
Police said they noticed during their search that a moose head hanging in the Erickson's garage appeared to have a few bald spots.
"Based on these observations, it appeared moose hair was retrieved from the mount and then intentionally 'hand sprinkled' over the engine compartment of the truck, representing a fictitious moose accident," police reported.
Both mother and daughter are currently booked into the Fairbanks Correctional Center.
More from Law&Crime: Girl's father 'finished' sex offender with large moose antler after striking him 15-to-20 times with shovel: Deputies
Have a tip we should know? [email protected]