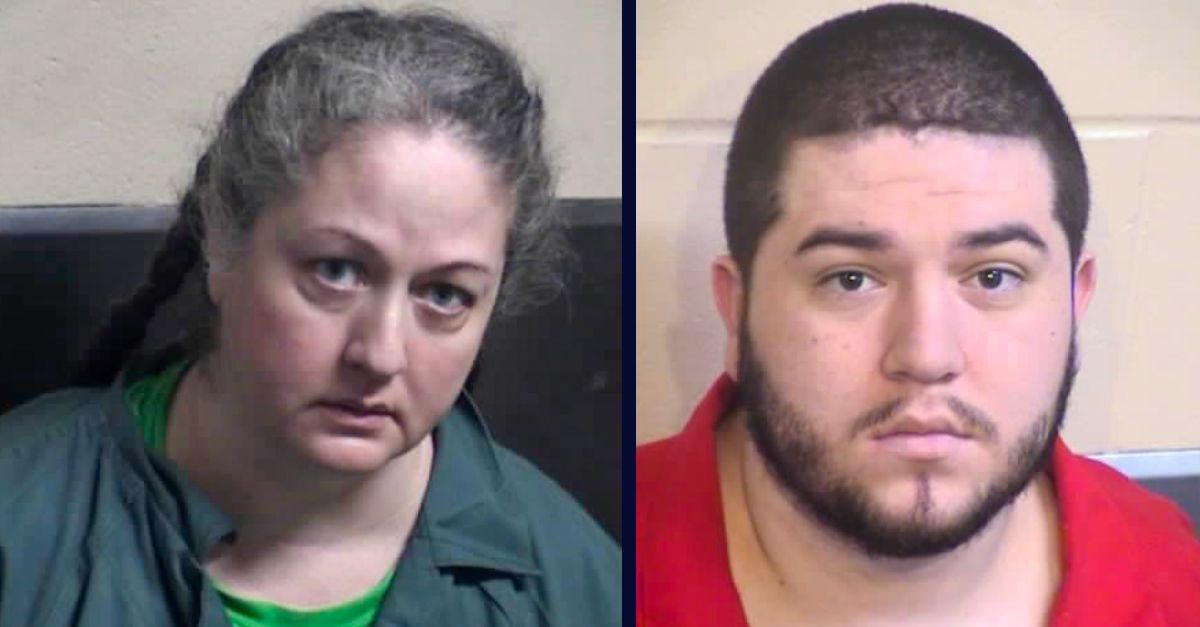 Sandra Garcia, left, and Mark Anthony Roque, right, in booking photos. (Fresno County Sheriff's Office)
A mother and her adult son are on trial in California over an alleged 2016 kidnapping conspiracy meant to indirectly hurt another man – by targeting his then-13-year-old daughter.
Sandra Garcia, 48, and her son, Mark Anthony Roque, 25, face numerous felonies over the teen's kidnapping in February 2016. Their trial began in late September in Fresno County. Two other men – including one of Garcia's sons – have also been charged.
The victim took the stand last month to describe her attackers and the initial harrowing incident — men dressed in black who came up to her front door, tied her up, taped her eyes shut, and threw her into the trunk of a car – just minutes after she got off the school bus and before she got inside her home.
Taking the stand on Monday, the now 20-something victim told jurors that after being kidnapped, she was stripped naked, beaten, sexually assaulted with a stick, and then left tied to a tree for hours in the foothills of the Sierra Nevada mountains outside of Clovis. She escaped from the yellow rope binding her and walked for over a mile until she found a homeowner who called the local sheriff.
"During the investigation, detectives discovered this crime was not a random act," the Fresno County Sheriff's Office said in a press release. "Garcia, who was the girlfriend of the victim's father, had conspired with the other men to kidnap the teen."
Miguel Carriedo, 47, Garcia's cousin, was also charged. He is now a state's witness after pleading guilty to conspiracy to commit a crime and torture. Garcia's other son, Brandon Roque, 26, pleaded no contest to conspiracy to commit a crime.
Prosecutors allege Garcia put the kidnapping into motion after her ex-boyfriend, Johan Gidstedt, kicked her out of his home. The plan was to scare Gidstedt's then-10-year-old and 13-year-old daughters so much that they would beg to move back in with their mother in their native Sweden. At that point, the defendant allegedly figured she would be back in Gidstedt's good graces.
But a friend led to Garcia being suspect from the start.
Gidstedt was out of town when the kidnapping occurred. He asked his friend, Therese Maria Knutsson, to go over and support Garcia.
"They were huddled in little groups like whispering amongst each other," Knutsson testified in September, referring to Garcia and her family, in comments reported by local ABC affiliate KFSN. "I just got a really weird feeling. She was more concerned about herself."
Garcia and Roque were arrested and charged in 2016.
On Monday, law enforcement testified about the initial investigation – testimony that did not paint Garcia in a favorable light.
"She was not happy, raising her voice, demanding her phone back, and ultimately she ended up storming out of the front doors of the lobby," FCSO Lt. Jeff Kertson said, according to KFSN.
The victim's younger sister also testified on Monday. She supplied jurors with a timeline of how the relationship between her father and the defendant began to deteriorate – and a potential motive.
"Towards the end of 2015, he felt like we weren't really happy in the relationship they were having, so that's why it ended," the girl, now 19, said, according to the TV station.
The victim's sister also said on the day in question, she stayed home from school because she was feeling sick, according to The Modesto Bee. That proved to be a hiccup in the plan, she said, prompting Garcia to force her to come with her to a doctor's appointment. They returned home around 4:00 p.m. that day, the younger sister said.
Almost immediately, she began to worry and scrambled to find out where her sister was because her absence was out of character, the younger sister testified, according to the paper. Garcia allegedly just said the teenager would be home soon.
"She was really calm, and it made me sick to my stomach," her sister said. "She was just sitting on the couch on her phone."
Have a tip we should know? [email protected]