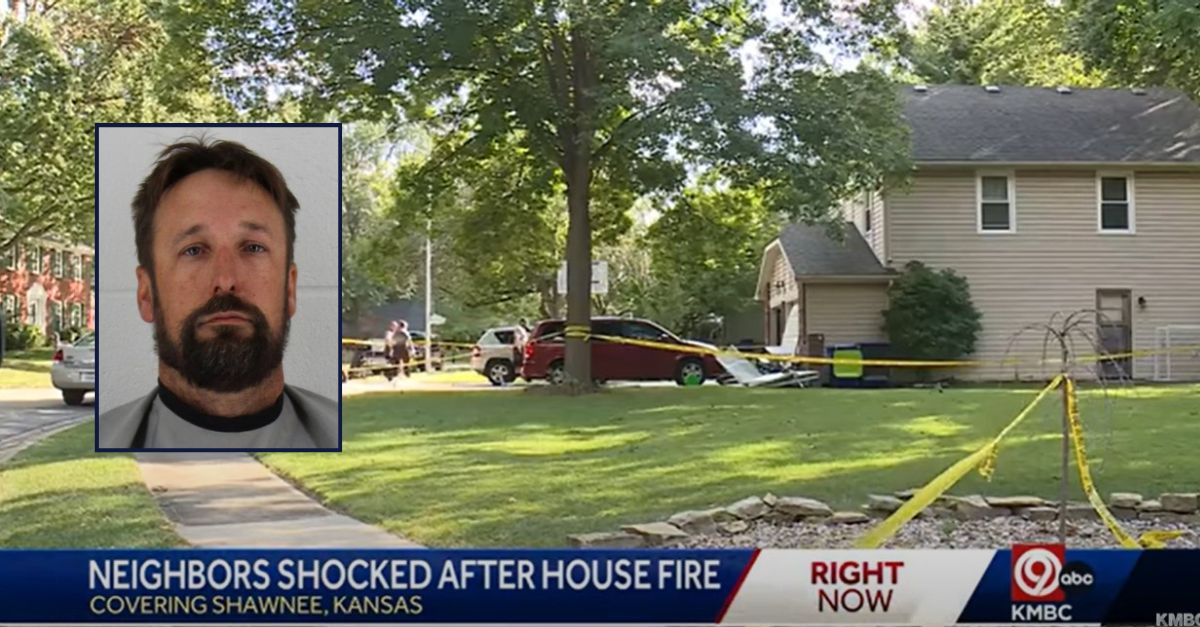 Police in Shawnee, Kansas, arrested Matthew Richards, 41-year-old youth pastor, inset, after he allegedly set his house on fire and then stabbed his wife and five children. (Richards mug shot via the Johnson County Jail; Scene photo from KMBC/YouTube)
Describing himself as a "monster," a Kansas youth pastor stabbed his wife and five children because he feared they would be evicted from their house and "thought that it would be better if they all died rather than for his kids to have to deal with the trauma," investigators wrote in an arrest affidavit.
Matthew Lee Richards, 41, is facing five counts of attempted murder and one count of aggravated arson with risk of bodily harm.
Several 911 calls came in shortly before 4 a.m. Sept. 16 for a house fire and a stabbing at a home in Shawnee, a suburb of Kansas City.
"One of the callers said their dad [was] chasing them with a knife and the dispatcher could hear a fire alarm sounding in the background," the affidavit said. "An additional caller stated she had been stabbed."
Officers arrived at the home and found three stab wound victims outside. Smoke was billowing from the home and an explosion occurred, which blew out the garage doors, investigators said. Detectives determined Richards' wife, four sons, one of whom is 19 while the others are minors, and daughter were all stabbed. His wife was suffering from multiple stab wounds and was last listed in critical condition at a hospital, the affidavit said. Two of the children also suffered serious stab wounds.
One of the children told officers "they were all in bed when dad came around stabbing everyone and they all ran outside. He stated his dad stabbed him," the affidavit said. Officers took Richards out of the home and to the hospital for smoke inhalation. Once he was cleared, he told investigators "I stabbed my family" in an interview.
"The defendant said that he had not been honest with his wife regarding their financial situation and the fact that they were supposed to be evicted that very day," detectives wrote. "They had not packed anything and no one in the family knew they were being evicted."
So Richards formulated a plan to burn down the house. He set the fire first and then grabbed a knife.
The next thing he remembered was his wife "on the ground and he was on top of her and struggling with her over the knife and she was screaming his name," the affidavit said. She yelled for someone to call 911. He said he then recalled one of his children saying "dad has a knife" and followed the child until he escaped out the back.
Richards ventured to the top of the stairs "wanting to die," investigators wrote.
"The defendant denied remembering stabbing the children," the affidavit said. "He did admit that his [redacted]-year-old son, [redacted] said 'dad why do you have the knife?' when he was upstairs with the kids."
Richards referred to himself as a "monster" and when a detective tried to minimize the statement, Richards allegedly said "I stabbed my kids, detective. I stabbed my wife."
One of his sons suffered a horizontal slash wound across his neck, another son had stab wounds to the upper right chest and a "significant laceration across his abdomen and internal organs were exposed." A third son had stab wounds to his colon, liver, neck and back. His daughter was slashed in the arm.
"According to a neighbor, they heard banging on their front door and opened the door and saw the children," investigators wrote. "The children said their dad had gone from room to room throughout the house and stabbed them."
Detectives found bloodstains all over the home.
The fire department was able to contain the fire which was apparently started in the basement around a pile of clothing and wood, the affidavit said.
The normally quiet neighborhood was bustling with fire crews followed by police crime scene investigators and detectives.
"It's sad, knowing that we've seen those kids out playing in their driveway, with their family. Dad's walking the kids up and down the street with the dogs," neighbor Jennifer Eggerman told ABC affiliate KMBC.
Richards had been a youth pastor at Crossroads Christian Church in Shawnee since 2016, his bio said. He's described on the church website as a "big kid who loves teaching little kids about Jesus" and has been married to his wife since 2003.
"He and his family have three rules: 1. Love God 2. Love People 3. Love Sports (especially the Jayhawks and Sporting KC)," says the bio, which appears to have been removed from the website.
The church's senior senior pastor Kurt Witten released several statements on Facebook.
"The Crossroads Christian Church family is shocked, sickened, and saddened by [the] events involving our former children's pastor. This is a tragedy beyond what any of us could have imagined," he wrote, adding the church was giving support to the Richards family. "The road to recovery will be long – physically, mentally, emotionally, and spiritually. Please respect their privacy as they walk this incredibly challenging and painful road. Please join us as we continue to pray for and stand with them."
The Shawnee Mission Post reported that Richards was also a 7th grade English teacher at Christ Prep Academy. The staff bio said one of his children recently graduated while three currently attend the school. He previously taught at an international school in Austria and in Dallas, Texas. The bio has since been taken down.
Witten said the church has set up a fund to help the Richards family for expenses such as medical treatment, food and clothing. Checks can be sent to the church with "Richards Family Fund" in the memo.
Richards is currently at the Johnson County Jail on a $5 million bond.
Have a tip we should know? [email protected]