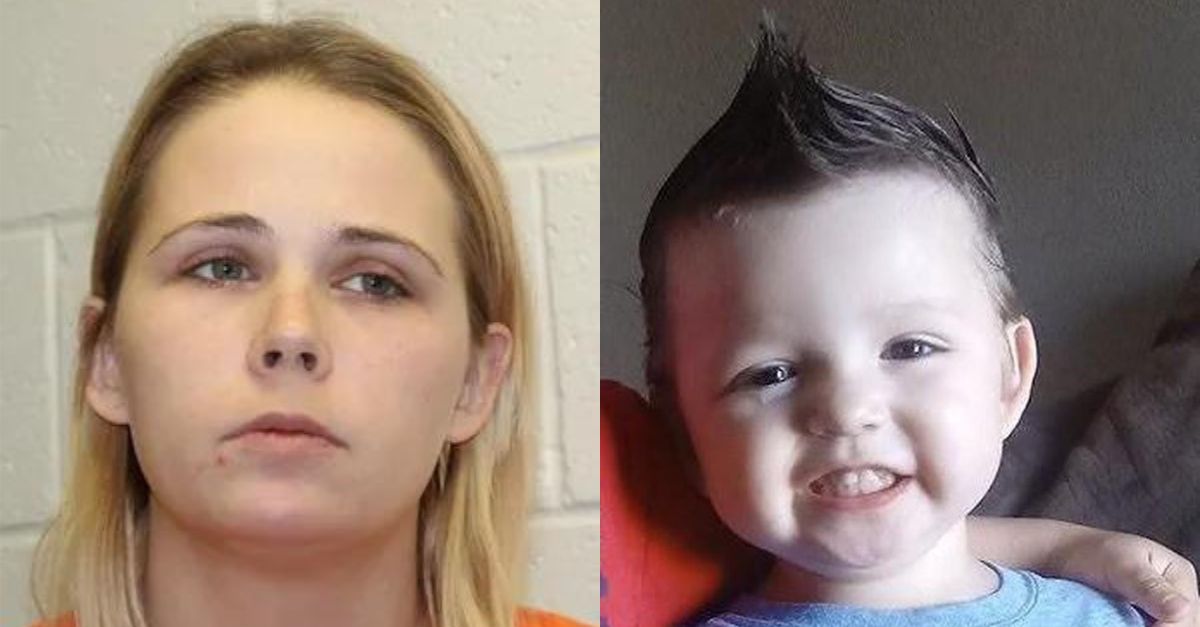 Samantha Dawn Mathis (Levelland Police Dept.) and Elijah Lebario (Head Duarte Funeral Home)
A 29-year-old mother in Texas will spend the remainder of her days behind bars after admitting to brutally killing her 2-year-old son, beating the boy to death in a horrific fashion. Hockley County District Court Judge J. Pat Phelan on Thursday ordered Samantha Dawn Mathis to serve a sentence of life in prison after she pleaded guilty to one count of murder of a child under age 10 in the 2020 slaying of young Elijah Lebario, authorities announced.
In addition to murder, Mathis also pleaded guilty to one count of felony injury to a child. Judge Phelan sentenced her to 10 years in prison, to be served consecutively, meaning after the completion of her life sentence. She will also be required to pay a $10,000 fine.
Mathis had originally been indicted on a charge of capital murder but pleaded to a lesser charge as part of an agreement with prosecutors.
The 286th Judicial District Attorney, Angela L. Overman, applauded Thursday's sentencing, saying it "underscores the gravity of these crimes and sends a clear message that such actions will not be tolerated."
"The successful resolutions in these cases serve as a testament to the relentless pursuit of justice by our legal team," Overman's office said in a press release. "We extend our gratitude to the community for their unwavering support throughout these proceedings, and we shall continue to fulfill our duty in safeguarding the interests of our fellow citizens."
Mathis' boyfriend at the time, Robert Garza Jr., was also arrested and charged with capital murder in connection with Elijah's death. He has pleaded not guilty and is awaiting trial.
Officers with the Levelland Police Department on Feb. 4, 2020, responded to a call regarding an unresponsive toddler who had been admitted to Levelland Covenant Hospital with suspicious injuries, the Lubbock Avalanche-Journal reported. The victim — later identified as Elijah — was unresponsive and covered in bruises from head to toe, authorities said. The medical staff also found that Elijah's internal temperature was 81 degrees, which is more than 15 degrees below normal.
The boy was reportedly in the hospital for less than three minutes before the staff called police to report they believed his injuries were the result of physical abuse.
Due to the severity of his condition, Elijah was transported to University Medical Center in Lubbock for more specialized treatment. Unfortunately, he succumbed to his injuries and died in one of the operating rooms, per the Avalanche-Journal.
In subsequent interviews with Mathis and other family members, investigators said they learned that both Mathis and Garza — who she had been dating for about six months, would regularly physically abuse Elijah.
"He had several indications of bruising all over his body," an investigator reportedly told Lubbock ABC affiliate KAMC. "When we arrived on scene we just didn't quite believe her story as far as what she was telling us and how this young baby had sustained all of these injuries."
Mathis was taken into custody shortly after Elijah's death. Investigators located Garza at a residence in the 400 block of North College Avenue and he was arrested without incident.
The indictments for Mathis and Garza accused both of "knowingly" causing Elijah's death by "striking him with a hand, foot, belt or unknown object, or by causing the boy to strike a floor, wall, toilet, tub sink or unknown object, or by shaking him," the Avalanche-Journal reported.
Garza's capital murder trial is currently scheduled to begin in February 2024.
Have a tip we should know? [email protected]