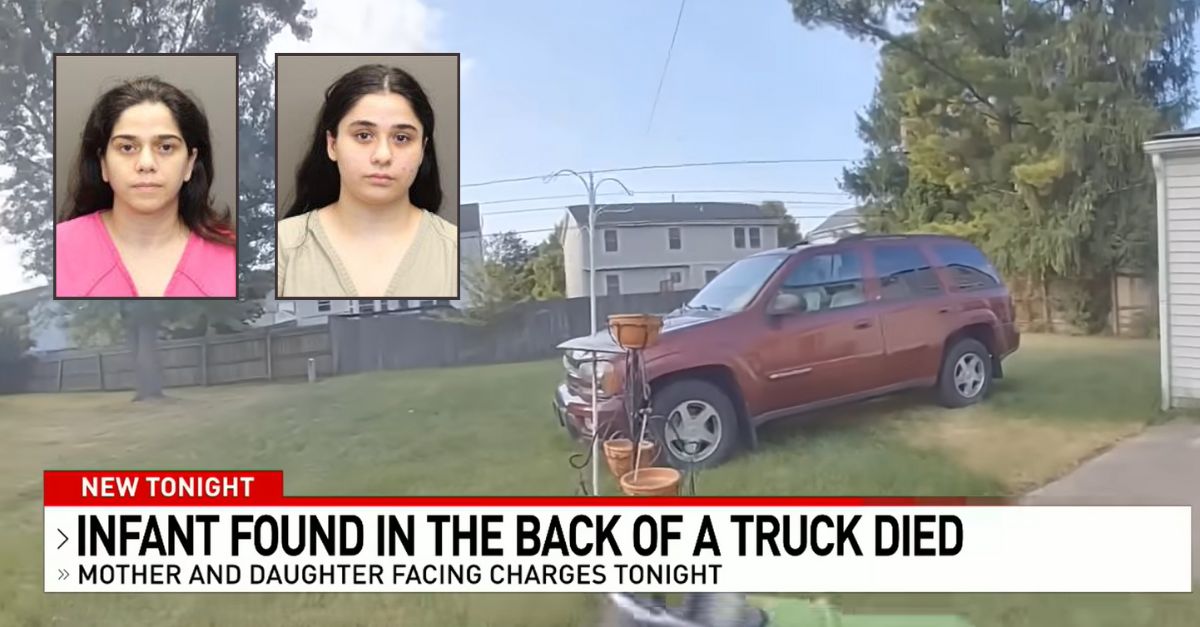 Basma Abdul Alkelezli, left, and her daughter Hanan Ahmad Al Jabouli, were indicted for murder and other charges in the death of Alkelezli newborn son, according to prosecutors. After giving birth to the boy Alkelezli instructed Al Jabouli to dispose of it. Al Jobouli put the boy in a trash bag and put him in a bucket in the back of a truck, according to authorities. The infant was pronounced dead at the hospital. (Hilliard police body camera footage via WSYX; Booking photos from Franklin County Jail)
A grand jury in Ohio indicted a mother and daughter for murder and other charges Friday after police reportedly found a newborn baby in the trunk of a car wrapped in a trash bag inside a five-gallon bucket .
Basma Abdul Alkelezli, 36, and her daughter Hanan Ahmad Al Jabouli, 19, also are charged with strangulation or suffocation, endangering children, tampering with evidence, abuse of a corpse and obstructing justice in the death of Alkelezli's newborn son at the home outside Columbus.
The Hilliard Division of Police Chief Mike Woods said paramedics were called to a home shortly before 8 a.m. Sept. 20 for a medical emergency and transported a woman later identified as Alkelezli to a hospital.
"My mom is not waking up. I don't know what's going on with her," a 911 caller told dispatchers in a call obtained by local ABC affiliate WSYX.
Officials realized Alkelezli had just given birth and returned to the home in search of the baby. After searching the home to no avail, police looked inside a vehicle parked in the backyard, Woods said.
After making the grim discovery, officers began CPR and took the infant to a children's hospital where he was pronounced dead.
Citing court documents, WSYX reported that Alkelezli placed the newborn in a trash bag and instructed Al Jabouli to dispose of it. Al Jobouli then placed him in an orange five-gallon bucket in the trunk, the documents said.
Woods told reporters at the scene that the call was difficult for everyone involved.
"All of the officers that are here, most of them are parents, a couple of them here have newborn children. It's very tough on them. I'm proud of them for pushing through it," he said.
A neighbor described the tragic scene to WSYX. She said she saw a huge police response and first responders put the child on a stretcher.
"They were doing compressions, you could tell by the way they were handling the situation that it was a very small person," the neighbor said.
A neighbor saw the whole thing. She was upset. she wanted to stay anonymous @wsyx6 pic.twitter.com/Ka3wwARzBq

— Stephanie Duprey (@StephanieWSYX6) September 20, 2023
Alkelezli and Al Jabouli were initially arrested Sept. 22 on abuse of a corpse charges before their indictment, records show.
Have a tip we should know? [email protected]