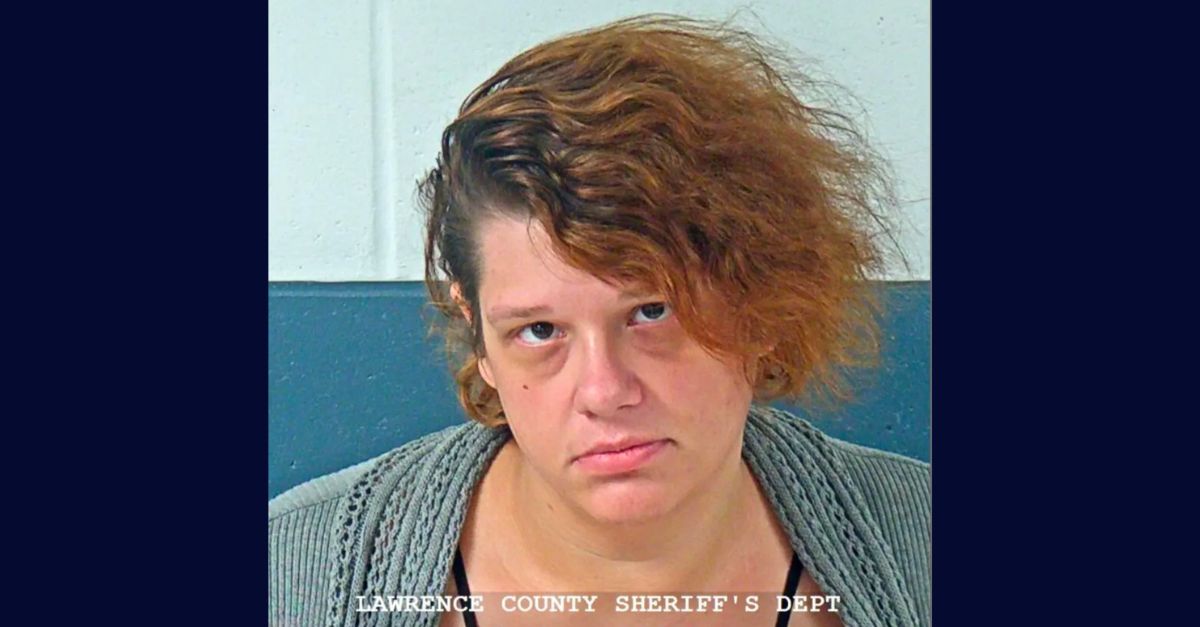 Cheyenne Hill appears in a booking photo. (Lawrence County Sheriff's Department)
An Indiana woman neglected and likely abused her 18-month-old girl to death in a particularly appalling fashion, authorities say.
Cheyenne Hill, 33, stands accused of neglect of a dependent resulting in death, according to the Lawrence County Sheriff's Department.
The final days of the child's short life are relayed in a shockingly detailed probable cause affidavit filed late last month and obtained by Law&Crime. Hill was arrested and formally charged on Tuesday.
Content warning: references to extreme child abuse follow.
An investigation begins near death
The investigation began on Nov. 23, 2022.
That day, the 18-month-old was airlifted from IU Health Hospital Bedford to a children's hospital because she suffered a brain bleed, a broken collar bone, and bruises on her head and face.
"Pictures of [the girl] prior to being transported to Indianapolis revealed a swollen and deformed head and bruising on her forehead and the left and right sides of her face," a detective wrote. "Red-brownish marks were observable underneath both eyes."
The same caseworker who called law enforcement also reported that two Department of Child Services tips had been left anonymously about Hill in the days leading up to the initial hospital visit – reporting about possible drug use and almost certain child abuse.
The second call came the same day the child was taken to the hospital, the affidavit says.
"The caller reported [the girl] had had what appeared to be three fingerprint marks on one side of her face and one on the other consistent with what seemed to have been caused by someone grabbing her face and squeezing," the document reads. "The caller described [the girl's] condition as lethargic, that she would not wake up, appeared 'half dead,' and could barely hold her head up. The caller stated [the girl's] mother left for work, leaving [the girl] with the individual she had been living with despite [the girl's] condition."
Hill later told the detective that the first warning signs came at around 3:40 a.m. that day – when she noticed swelling on her daughter's forehead "had returned," according to the affidavit.
Hill said at around 8 that day, she woke up "surprised [the girl] was sleeping that late and was not whining," according to the affidavit. At around 8:40 a.m., Hill said, she tried several times to wake her daughter up, with no success, before she left for work at 9:30 a.m.
Roughly 90 minutes later, the toddler was at the hospital.
Warning signs and brutal last days
A babysitter told police the warning signs came quite a bit earlier.
On Nov. 15, 2022, the babysitter said she noticed a large "goose egg" on the girl's forehead, according to the affidavit. After raising the issue, the babysitter said, Hill allegedly told her she had already consulted a doctor and that it would subside in five days or so.
"Under no circumstances are you to call an ambulance or take her in yourself," Hill allegedly told her daughter's babysitter on Nov. 15, 2022. "I will make the decisions. That is my child."
The babysitter came back on Nov. 16, 17, and 22 of that year, the affidavit says. And she says she noticed more injuries – and again raised the issue of medical care.
"[The babysitter] reported during this time frame [the girl's] personality seemed to change, that she seemed clingy, wanting to be close to her and did not want to do anything by herself," the affidavit reads. "[The babysitter] reported when she babysat [the girl] on November 22nd, 2022 the swelling was back."
On Nov. 23, 2022, a child protection nurse at Riley Children's Hospital issued a report that said the child's "constellation of injury" is "most characteristic" with "inflicted injury" and "child abuse" and that neither accidental injuries nor any prior medical condition could account for what happened to the girl.
On Nov. 25, 2022, in an interview with a representative for a donor network, Hill allegedly described her daughter as "not a nice kid" and said that she believed her child would have been the next "Jeffrey Dahmer" because "something wasn't right with her."
The girl died the next day.
An appalling history
The probable cause affidavit contains numerous instances in which the defendant allegedly expressed extreme disdain for her daughter. The document also cites multiple witnesses attesting to cruel behavior and signs of child abuse.
On Oct. 7, 2022, Hill allegedly sent her boyfriend Cameron Fleming a message that reads: "[She] was f–––––– terrible last night when we came back. I wouldn't stop crying. I wanted to throw her."
In his interview with police, Fleming, married to another woman, said Hill would throw food on the floor for her daughter to eat. The defendant called it "free roaming," Fleming told police. His wife shared a similar story – saying she saw Hill toss doughnuts on the floor for the girl to eat and explaining that her daughter "free ranges" or "free roams."
On Oct. 13, 2022, Hill allegedly sent Fleming the following message: "Let me get this a–––––– to bed."
On Nov. 13, 2022, another person who lives in the same apartment building – and who knows Fleming – noticed that the girl had black eyes and that her hair was falling out, the affidavit says.
On Nov. 21, 2022, Hill allegedly told a coworker: "[She] used to be beautiful and now she is ugly."
On Dec. 7, 2022, an investigating officer asked Hill why she went to work the day her daughter wouldn't wake up.
The detective provided the following summary of their conversation:
Cheyenne replied, because I had to provide for my daughter. I ask Cheyenne who would do that. She replied, someone who is about to be homeless.

I told her being in a time of crises that is unimaginable and her (Cheyenne) referring to [her daughter] as being Jeffrey Dahmer. Cheyenne Hill began to laugh and said she [her daughter] is an asshole.
Police allege the neglect and abuse began, at the latest, in October 2022 and continued up until the young girl's death.
Have a tip we should know? [email protected]