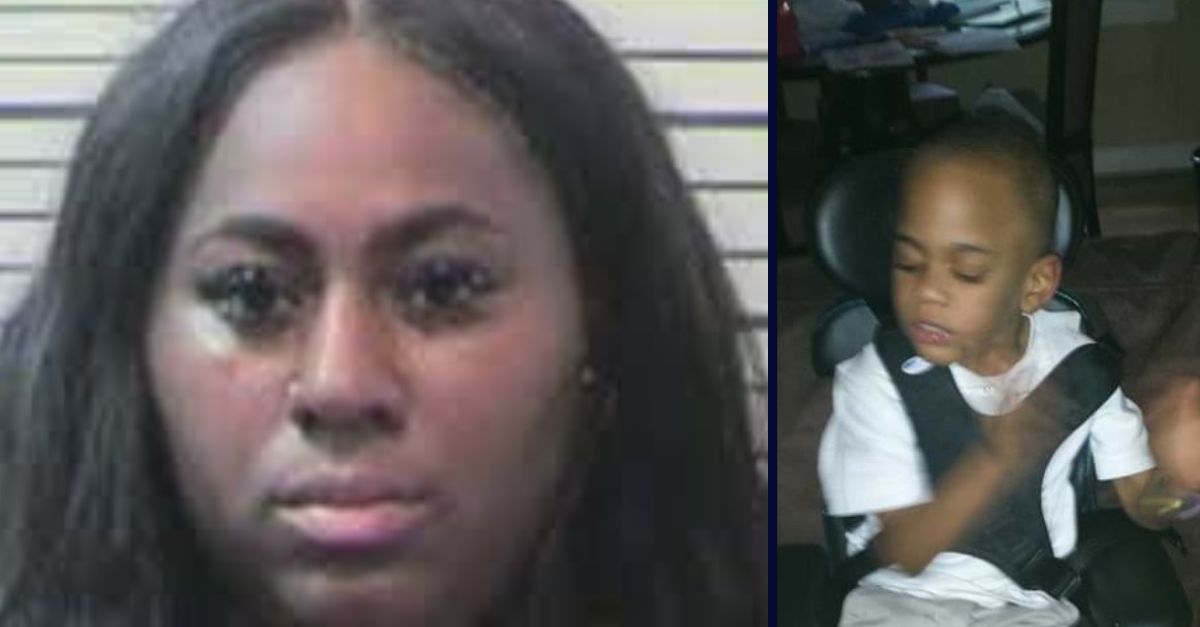 Zedria Rankin was indicted in 2021 for manslaughter and aggravated child abuse in the 2018 death of her 8-year-old son LeBrawn Rankin, who had cerebral palsy and weighed just 23 pounds when he died. On Tuesday, she pleaded guilty to the lesser charge of child abuse and will serve three years probation. (Mug shot: Mobile County Jail; Lebrawn photo via a family attorney)
A plea deal allowed an Alabama mother to skirt any jail time from her indictment for manslaughter and aggravated child abuse after her 8-year-old son with cerebral palsy starved to death.
Zedria Rankin pleaded guilty Tuesday to the lesser charge of child abuse and will serve three years probation, according to her attorney.
On April 6, 2018, Rankin's son LeBrawn was found unresponsive at their apartment in Mobile, where he was pronounced dead. A civil lawsuit against Rankin and the Alabama Department of Human Resources alleges that officials from LeBrawn's school reported to DHR concerns he was being abused and neglected. LeBrawn, who was confined to a wheelchair, "suffered from severe dehydration, bed sores, poor hygiene and his diapers were not being changed for extended periods of time," the lawsuit said.
LeBrawn weighed just 23 pounds at the time of his death, AL.com reported.
A grand jury indicted Rankin in 2021 of manslaughter and aggravated child abuse for "failure to provide food and/or care him" and "did willfully torture, willfully abuse, cruelly beat or otherwise willfully maltreat said child by failure to provide food and/or care for him, said abuse having taken place on more than one occasion," the indictment said.
But two years later, Rankin pleaded down.
"We are prosecutors, we want to get the bad guys, we have to do it in a way that is right, and is just, we don't manufacture evidence," Mobile County District Attorney Keith Blackwood told Mobile Fox affiliate WALA. "We don't make up evidence. And in this case, the evidence pointed to the neglect being done on the part of the defendant. She pled guilty for her part in that and was sentenced. At the end of the day, no matter how you look at it, it's just a tragic situation."
In a statement to Law&Crime, Rankin's attorney, Rolando Rankin, said had she been convicted at trial, she would have faced 99 years in prison. Her "best interest" plea is not an admission of guilt, he noted.
"This has been a long, arduous and painful experience for Zedria, and she is thankful to reach some form of closure," he said. "Due to this loss, my client's life will never be the same, but at least she can now try to focus on continuing to heal."
While the criminal case is over, the civil case remains ongoing. The case was filed in 2020 by attorney Tommy James on behalf of LeBrawn's estate that alleges Rankin and DHR "acted negligently, willfully, maliciously, fraudulently and in bad faith, beyond their authority or under a mistaken interpretation of the law, proximately causing the death of LeBrawn Rankin."
Officials from LeBrawn's schools repeatedly reported to DHR suspected abuse, and officials with the agency should have removed the boy from his mother's home, according to the lawsuit.
"LeBrawn Rankin was allowed to remain in a dangerous situation where he eventually died," the lawsuit said.
A spokesman for DHR declined to comment on the lawsuit.
James said in a statement to Law&Crime that LeBrawn's death never should have happened and should serve as a wake-up call to people and institutions charged with protecting children.
"The system failed LeBrawn at every turn, and we owe it to him — and to every child in the system — to ensure this never happens again. No child should suffer the way LeBrawn did," he said.
Have a tip we should know? [email protected]