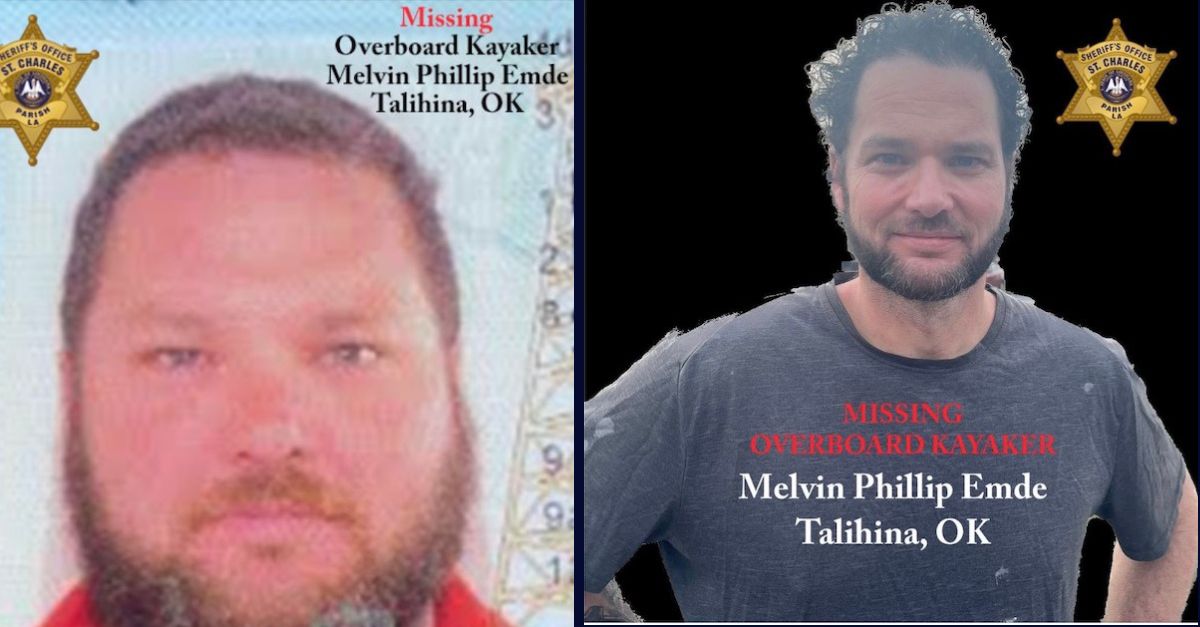 Melvin Phillip Emde (St. Charles Parish (La.) Sheriff's Office)
A 41-year-old kayaker who went "missing" and was reported to have drowned in Louisiana was arrested over the weekend for allegedly faking his own death in a haphazard attempt to avoid child rape charges in North Carolina. Melvin Phillip Emde was taken into custody in Georgia on Sunday and is awaiting extradition so he can "face the music for his charges in North Carolina," authorities announced.
According to a press release from the St. Charles Parish Sheriff's Office, Emde's son called 911 in the early morning hours of Aug. 7, 2023, and reported that his father had gone missing after "going overboard and drowning while kayaking in the Mississippi River." Deputies immediately began searching for Emde.
However, the day after Emde was reported missing, sheriff's detectives say they learned that there were charges pending against him in Brunswick County, North Carolina on one count of indecent liberties with a child and one count of statutory rape of a child by an adult. In fact, Emde was due to appear in court on Aug. 8 in connection with that case.
Due to the circumstances of Emde's sudden disappearance, investigators said they quickly realized that his drowning was a hoax.
"We immediately became quite suspicious that this may have been a faked accidental drowning and death in order for Mr. Emde to escape charges in Brunswick County, North Carolina," St. Charles Parish Sheriff Greg Champagne said in the release. "However, we could not publicly expose our suspicions for fear of tipping him off."
Despite believing the ordeal to be a sham, authorities made a public show of the search for Emde, posting multiple photos to Facebook showing how they brought a cadaver dog and drones to assist in their efforts.
Investigators in Louisiana got in contact with detectives in North Carolina and learned that at the time he was reported missing, Emde was wearing a court-ordered GPS ankle monitor as a condition of his release on bond. Based on that information, investigators were able to track Emde's movements and learned that just hours before he was reported missing he had purchased two pre-paid phones from a Walmart in Boutte, Louisiana.
Authorities said Emde only used one of the phones a few times and only for "short periods of time." With assistance from U.S. Marshals, authorities concentrated their search in Oklahoma, where Emde and his son are from, but the trail went cold when they realized that Emde had stopped using the pre-paid phones.
But that changed when a Georgia State Highway Patrol officer at about 3:30 a.m. on Sept. 17 attempted to perform a traffic stop on a motorcycle being driven without a license plate. The motorcycle attempted to avoid the stop and fled the scene but ultimately crashed. The driver of the vehicle attempted to evade the officer on foot but was apprehended and placed under arrest.
The driver allegedly gave the trooper a false name, but when he was fingerprinted, investigators said they quickly learned that it was actually Emde. He currently remains in detention in Georgia as he awaits extradition back to North Carolina.
"Now it's time for Mr. Emde to face the music for his charges in North Carolina," Champagne said in a statement following the arrest.
Champagne reportedly told USA Today on Tuesday that authorities are also likely to file charges against Emde's son, Seth Emde, for his alleged role in the scheme.
Have a tip we should know? [email protected]