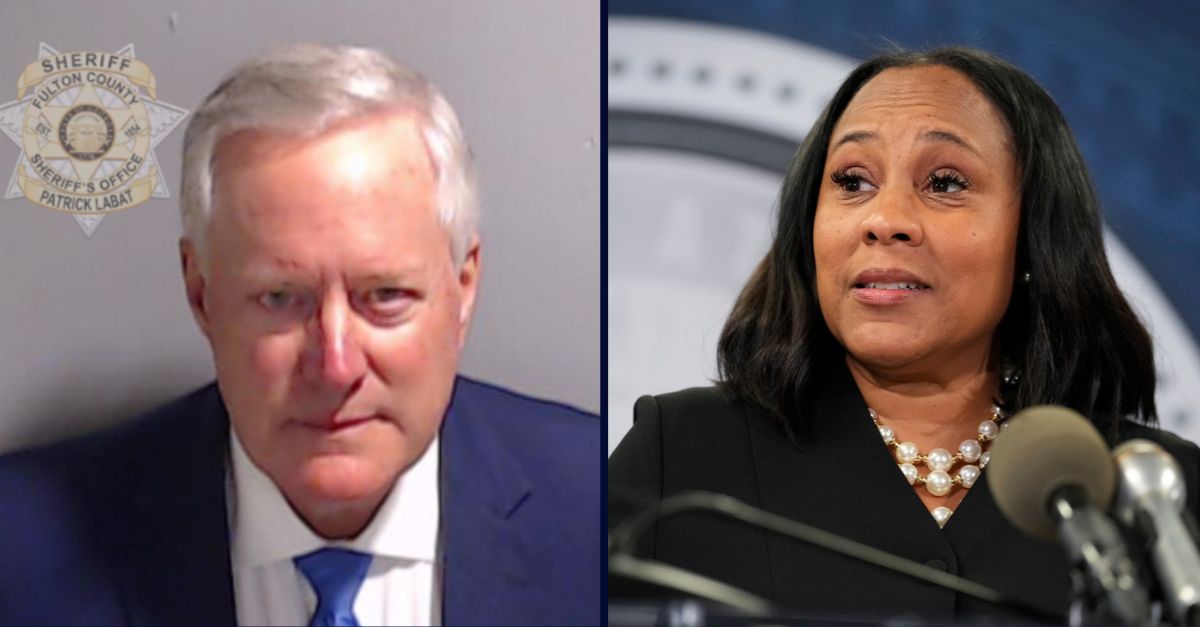 Left: Mark Meadows (via Fulton County (Ga.) Jail). Right: FILE – Fulton County District Attorney Fani Willis speaks in the Fulton County Government Center during a news conference on Aug. 14, 2023, in Atlanta. (AP Photo/John Bazemore, File)
The Georgia prosecutor pursuing racketeering charges against former President Donald Trump and some of his top allies says that his one-time chief of staff should have to face the music in the state itself — not in federal court.
Echoing language of the judge who denied Mark Meadows' motion to move the case to federal jurisdiction, Fulton County District Attorney Fani Willis argued in an appellate filing Monday that Meadows couldn't even meet the "low burden" required to remove the case from state court.
"Following a full evidentiary hearing, and having failed to meet his low burden before the federal district court for the Northern District of Georgia, Appellant Mark Randall Meadows now asks this Court to apply a jurisdiction designed to insulate federal authority from state interference to a case concerning precisely the opposite: Appellant and his codefendants engaged in activities designed to accomplish federal meddling in matters of state authority," the brief says (emphasis in original). Willis argues that the 11th U.S. Circuit Court of Appeals should uphold the lower court's ruling denying removal to federal court.
Meadows was part of Willis' August indictment of Trump and 18 co-defendants, accusing them of conspiring to subvert the 2020 presidential election in the Peach State. He is accused of having played a role in an alleged criminal enterprise that "refused to accept that Trump lost, and […] knowingly and willfully joined a conspiracy to unlawfully change the outcome of the election in favor of Trump," according to the indictment.
Willis alleges that Meadows "unlawfully solicited, requested, and importuned Georgia Secretary of State Brad Raffensperger, a public officer, to [break the law] by unlawfully altering, unlawfully adjusting, and otherwise unlawfully influencing the certified returns for presidential electors for the November 3, 2020, presidential election in Georgia," the indictment says.
The former chief of staff tried to get the case moved to federal court in August, arguing that he was acting in his official federal capacity when he undertook the actions outlined in the indictment.
U.S. District Judge Steve CarMichael Jones disagreed, denying Meadows' motion in September.
"Even under the 'quite low' bar for federal officer removal, the Court concludes that Meadows has not met his burden to show that his criminal prosecution can be removed under the federal officer removal statute," wrote Jones, a Barack Obama appointee. Meadows promptly appealed Jones' decision.
In responding to Meadows' appeal, Willis again argues that Meadows' argument is on shaky legal ground.
"Appellant can point to no law, no constitutional provision, and no lawful duty which authorized him to take the actions he did, and his testimony at the evidentiary hearing in this case underscored the case against his removal rather than for it," the brief says.
In fact, Willis says, Meadows' own legal arguments on appeal appeared to undermine his position on the matter.
"Meadows conceded that working for a political campaign, specifically the Trump Re-Election Campaign, would be outside the scope of his federal office," she wrote.
In asking the appeals court to uphold Jones' ruling, Willis noted that Meadows had the chance to testify on his own behalf during an evidentiary hearing on his motion and that it wasn't enough to convince the district judge.
"The problem for Appellant is that he was cross-examined," the brief says (emphasis in original). "The district court did evaluate his testimony, extensively; it was his own time on the stand which contributed mightily to the district court's determination that the evidence weighed 'overwhelmingly' against his claims. In order to find for Appellant, '[t]he Court would be ignoring the evidence Meadows himself submitted of his post-election related activities and the purpose of the federal officer removal statute."
Willis also noted that even though Meadows had testified that he "did not play 'any role' in the coordination of slates of 'fake electors' through several states,'" he was later "forced to acknowledge under cross-examination that he had in fact given direction to a campaign official" in the form of an email calling for "someone coordinating the electors for the states" and attaching a memo recommending the "organization of slates of presidential electors to meet and cast votes for Mr. Trump in states Mr. Trump had lost."
Willis says that Meadows simply could not support the assertion that he believed that his alleged actions in Georgia were "appropriate to carry out his federal duties," and that that belief was "objectively reasonable."
"As the record demonstrates, there is no authority anywhere for the President or his Chief of Staff to insert themselves into the electoral processes of the State of Georgia — meaning actions were neither necessary nor proper," Willis' brief says, adding that previous rulings have held that "[a] function of the presidency therefore is not to secure or perpetuate incumbency."
A hearing date on Meadows' appeal has not been set, according to the federal docket.
Read Willis' motion, below.
Have a tip we should know? [email protected]