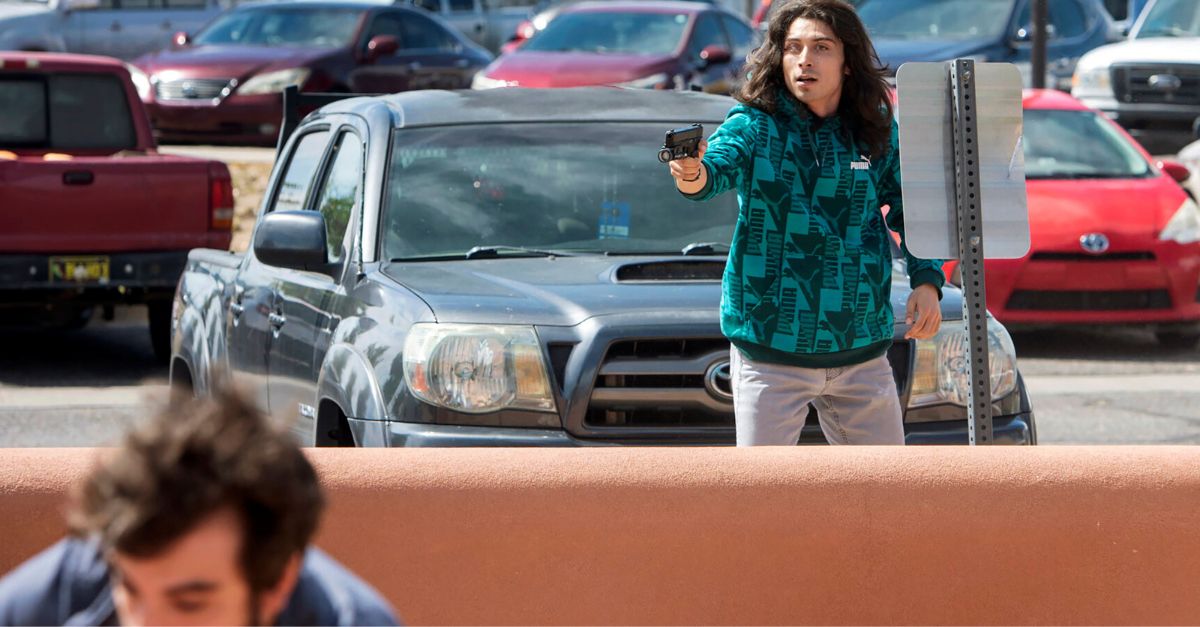 A man who identified himself to the Albuquerque Journal as Ryan Martinez, of East Mountains, pulls a gun during a rally outside the Rio Arriba County building in Española, N.M., Thursday, Sept. 28, 2023. The man scrambling at lower left was not shot. (Eddie Moore/Albuquerque Journal via AP)
What was supposed to be a celebration of local New Mexico officials' decision to not erect a statue of a controversial figure in front of a government building turned chaotic when a man fired on the gatherers.
It happened around 12:30 p.m. Thursday outside the Rio Arriba County building in Española, which is about 30 miles north of Santa Fe. People had gathered to celebrate the decision to postpone plans to erect a statue of conquistador Juan de Oñate, who helped to establish New Mexico for the Spanish in the late 1500s but has drawn ire because he's been accused of massacring hundreds of Native Americans.
There were two statues — one in Albuquerque and the other in Alcalde — but they were taken down after the racial reckoning that followed the murder of George Floyd in police custody in 2020. The statue from Alcalde was then proposed to go up in front of the Rio Arriba County building on Thursday until commissioners voted to delay it.
Demonstrators had gathered outside the county building after the decision to celebrate. According to the Albuquerque Journal, which had staff in attendance, activists had banners such as "Do Not! Resurrect Oñate." A prayer ceremony was going on when a scuffle broke out in the back between several men and another man wearing a red "Make America Great Again" hat identified by New Mexico State Police as 23-year-old Ryan Martinez.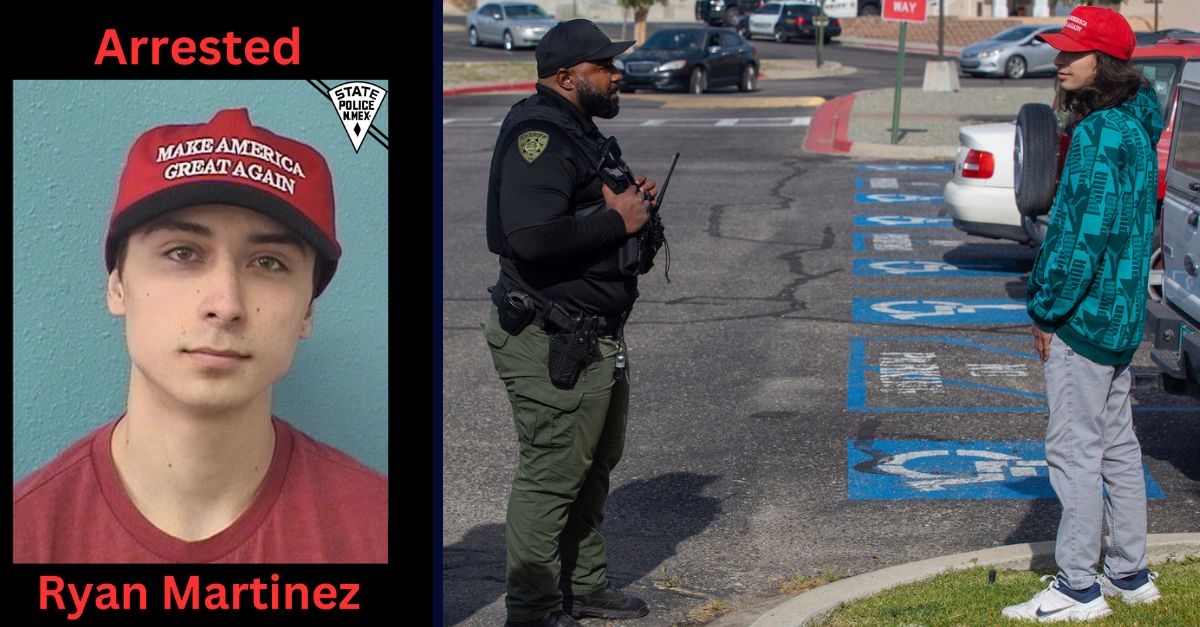 Left: The New Mexico State Police released this photo announced the arrest of Ryan Martinez. Right: Ryan Martinez, right, talks with law enforcement before violence erupted as activists protested a postponed installation of a statue of Spanish conquistador Juan de Oñate on Thursday, Sept. 28, 2023, in Española, N.M. (Luis Sanchez Saturno/Santa Fe New Mexican via AP)
"As people watching the scuffle yelled at the men to stop, Martinez broke free, hopped over a half-wall, pulled a handgun from his waistband and fired one shot, hitting Native American activist Jacob Johns in the torso. Onlookers screamed and sprinted in the other direction," the Journal reported.
According to NMSP, Martinez drove away but was arrested a short time later. He's facing charges of first-degree attempted murder and aggravated assault use of a deadly weapon. The agency released a photo of Martinez in his MAGA hat with the word "arrested" over his head.
The victim was flown to a hospital in Albuquerque. The Journal reported one of Johns' friends said he was in stable condition.
A Journal photographer captured Martinez raising his handgun.
Rio Arriba County Sheriff Billy Merrifield told reporters at a press conference following the shooting that he sent commissioners a letter urging them to delay the putting up the statue.
"More important just to present any safety concerns which we knew we were going to have and obviously we have a situation as of today," he said.
Witness Raymond Naranjo told local TV station KOAT that Jacobs was leading a prayer at the time of the shooting.
"I heard the altercation and I just walked toward it. I didn't know what was going on. The guy jumped over the wall, with the gun, point blank. I jumped over behind the wall and then I saw him run away. It just happened so fast," Naranjo said.
This is not the first time the controversy of a Oñate statue has prompted violence. A statue defender shot a protester in Albuquerque back in 2020 before it was removed.
Have a tip we should know? [email protected]