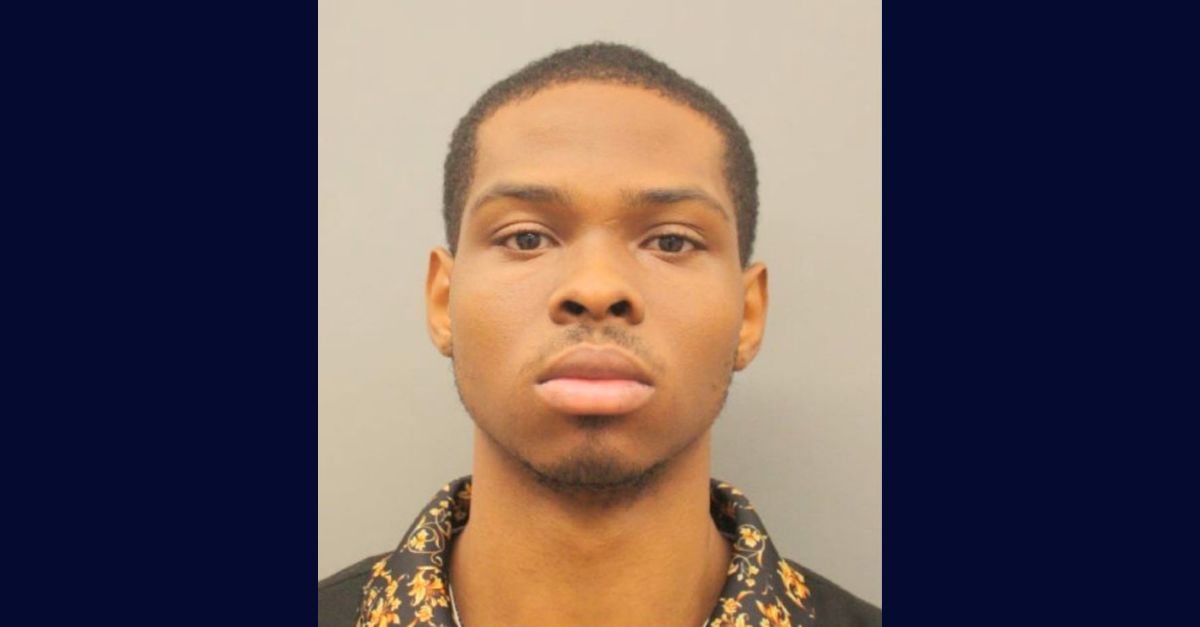 James Ray Lane appears in a booking photo (Harris County District Attorney's Office)
A Texas man will spend at least 11 years in prison for the jealousy-inspired murder of a man at a Houston Airbnb in June 2021.
James Ray Lane, 24, pleaded guilty to the murder of Gregory L. Moore on Aug. 17. For the last two-and-a-half months, investigators have been engaged in presentencing issues. Harris County Judge Natalia Cornelio sentenced the defendant to 22 years in prison on Monday, according to court records reviewed by Law&Crime.
Under Lone Star State law on aggravated felony firearm offenses, Lane will be eligible for parole after half of his sentence has been completed. He was credited with 78 days spent in pretrial detention.
The underlying incident occurred during the early morning hours of June 28, 2021, according to the criminal complaint obtained by Law&Crime. Moore and three of his friends, who were visiting from New York and New Jersey, had just returned from a night out on the town. At one club, Moore met a woman and brought her back to the Airbnb. But that woman, Lane thought, belonged to him.
Deputies arrived at the short-term rental unit on Braewin Court just after 3:10 a.m. and found Moore wounded in the doorway, according to the Harris County Sheriff's Office. The victim was taken to a nearby hospital where he later succumbed to his injuries. The defendant, his girlfriend, and a third man left the scene in a dark-colored four-door car, witnesses reported at the time, according to CBS affiliate KHOU.
Lane was arrested on July 6, 2021. During his initial bail hearing, investigators revealed how he used Instagram to track the woman's location throughout the night. Prosecutors later said he also used the woman's own cellular phone location data to find exactly where she was.
Eventually, he drove to the northern Houston suburb of Spring to shoot the other man in a fit of rage.
Upon arrival, Lane pistol-whipped both the woman and Moore, who hailed from New Jersey. Then came the fatal shots.
"This was a planned and premeditated attack on an unsuspecting visitor to Houston, and there have to be consequences," Harris County District Attorney Kim Ogg said after the sentencing. "We were ready and willing to go to trial and seek justice in this case when the defendant opted to ask the judge to decide punishment, and that's his choice."
The case dragged on for years after motions were filed by the state, defense, and at the court's own request. Delays were made for various reasons, including, once, the lack of a material witness who was out of the country, court records obtained by Law&Crime show.
Lane made bail after his bond was substantially reduced in mid-July 2021.
During the daylong hearing on Monday, prosecutors offered several comments about the defendant's alleged state of mind – during the crime and, years later, after the fact of the slaying.
"This was a jealous ambush – he ran up to them with a flashlight and a gun and ended up shooting nine times," Assistant District Attorney Kasie Herring testified. "People in Harris County want to know that things are getting safer. I pray to God that the justice we seek in these cases makes this a safer place."
At the hearing, friends and family of Moore gave victim impact statements.
"They talked about how he drove all the way to Spring from southwest Houston and could have changed his mind anywhere along the way," Assistant District Attorney Rodulfo Martinez said in a press release. "He did not show any true remorse or accountability, even after pleading guilty."
Have a tip we should know? [email protected]