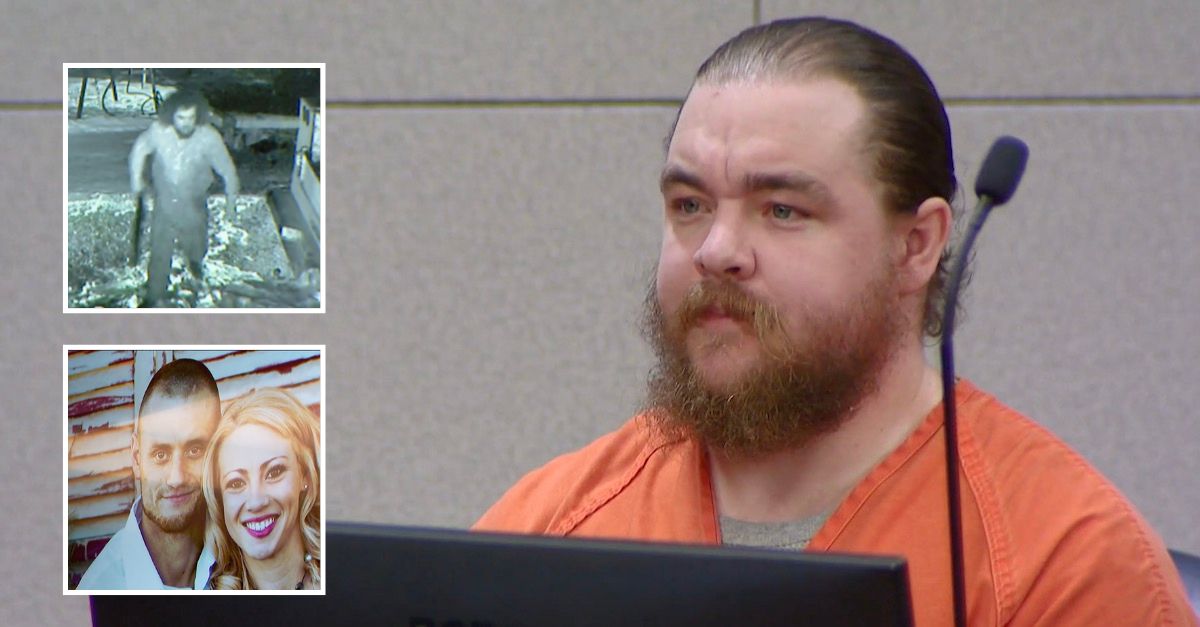 Casey Devol, Jessica Mitchell, and Bryan Gray (KUSA screenshots)
A 31-year-old man in Colorado will likely spend the rest of his life behind bars for fatally shooting his sister and her boyfriend inside their home last year in an unprovoked attack that was recorded by one of the victims. Douglas County District Judge Patricia Herron on Monday ordered Casey Devol to serve a sentence of 97 years in a state correctional facility for the slayings of Jessica Mitchell, 32, and her boyfriend, Bryan Gray 34, authorities announced.
Devol pleaded guilty last month to two counts of second-degree murder in the brutal slayings and one count of felony animal cruelty for beating the couple's dog to death with a hammer.
Following the sentencing hearing, authorities repeatedly reiterated the significance of the audio recording of the attack produced by Mitchell in bringing her brother to justice.
"When no eyewitnesses to these murders existed, a digital recorder device became a voice for the victims," District Attorney John Kellner said. "Jessica likely sensed something was wrong, and her instincts to start a recording and archive the tragic turn of events helped detectives and my prosecutors piece this mystery together and bring justice to their families."
According to a press release from the Office of the District Attorney for Douglas County, deputies with the Douglas County Sheriff's Office on Feb. 8, 2022, responded to a call regarding a deceased adult male and a deceased adult female at a home located on S. Russellville Road. The caller stated that he was bringing a car title over to one of his employees and when he walked into the garage, he found the man and woman already dead and called 911.
Upon arriving at the scene, first responders located the two victims — who were quickly identified as Mitchell and Gray. Subsequent autopsies of the victims determined in both cases that the manner of death was a homicide and the cause of death was fatal gunshot wounds.
During the investigation, DCSO detectives located surveillance cameras on the property. After reviewing the footage, they were able to see a suspect carrying multiple firearms and entering the garage where the victims were found. Shortly after the murders, one of Mitchell's friends contacted investigators and provided information indicating that Mitchell's brother, Devol, was a likely suspect in her murder. Devol's driver's license photo matched the characteristics of the suspect seen on video entering the victims' garage before the murders.
During the autopsy, investigators discovered a key piece of evidence that helped lead them to Devol: Mitchell had a digital recording device on her that captured a lengthy audio recording of the events leading up to and including the murders.
He was located and arrested at a hotel in Kansas the day after the bodies were discovered.
"While we may never know why Jessica decided to start a recording, it was instrumental in helping us place the defendant at the home with the two victims," Chief Deputy District Attorney Andrew Steers said in a statement following the sentencing. "On the recording, you hear three people talking over dinner. The recording is unclear as to what the motive was behind the shooting. What is clear is that two of the three people having dinner that night were murdered and the only person who can answer 'why' is Mr. Devol."
According to the Denver Gazette, Mitchell began recording while the three were having dinner and never turned the device off. A family member who heard the recording addressed the court and said she could hear Devol "staging and taunting the bodies" and then "beating their dog with a hammer." Prior to the shooting, she said the conversation between the three was "jovial."
Have a tip we should know? [email protected]