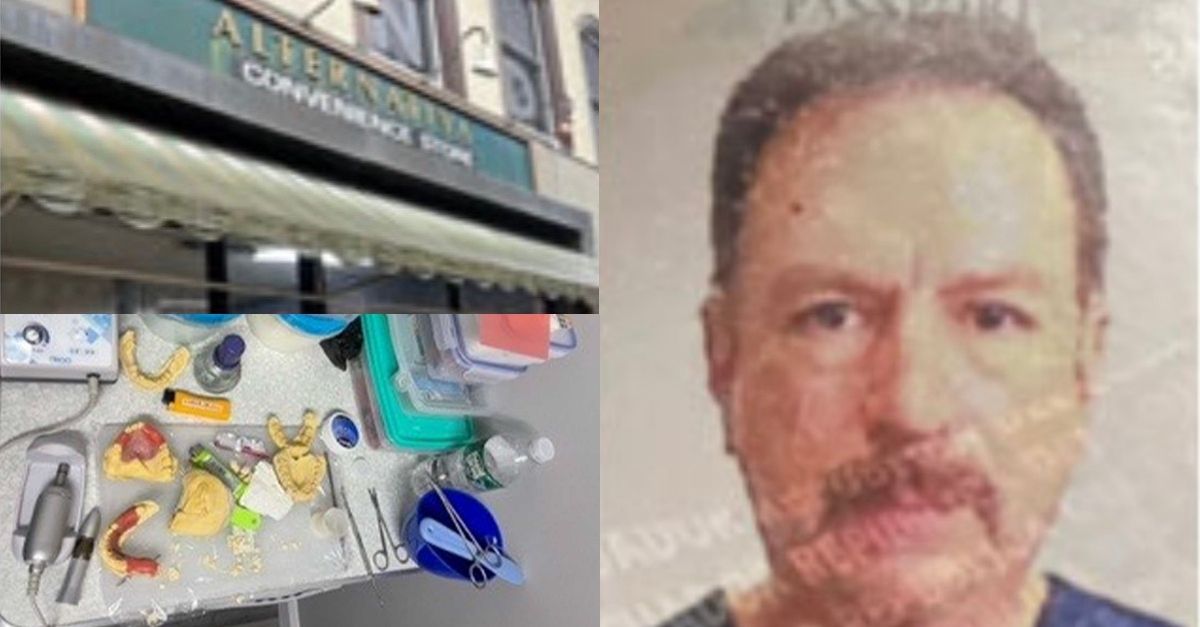 Juan Hermida Munoz and the convenience store where he allegedly ran an illegal dental operation (Milford Police Department)
A 64-year-old man in Massachusetts was arrested for allegedly running an illegal dental office out of the back of a convenience store located just a few hundred feet from the local police station. Juan Hermida Munoz was taken into custody last week and charged with one count of unauthorized practice of dentistry and one count of unauthorized practice of medicine, authorities announced.
Maria Magdelena Guaman-Castro, the owner of the convenience store, was also arrested in connection with the unlicensed dental practice and charged with one count of conspiracy.
According to a press release from the Milford Police Department, officers with the Milford Detective Bureau and Milford Patrol Division, in conjunction with the Board of Health, conducted an "extensive investigation" of what they described as "an elaborate illegal dental operation" being run out of a back suite of the Alternativa Convenience Store located in the 100 block of Main Street. The store is about 30 miles west of Boston and less than a quarter mile down the block from the Milford Police Department headquarters.
Police say that Guaman-Castro rented the suite to Munoz who, without a license, "provided dental services including examinations, tooth extractions, anesthetics, and cleanings."
"Mr. Munoz is not Board Certified and holds no certifications to practice medicine with the United States," police wrote in the release. "This practice puts the lives of patients in danger by unsanctioned and unsanitary conditions in receiving medical treatments."
The Milford Health Department came across the allegedly illegal dental operation by chance as departmental employees were conducting a routine inspection of the Alternativa Convenience Store, Milford Police Chief Robbie Tusino told Boston ABC affiliate WCVB-TV.
Tusino told the station that investigators found everything from "tooth extrication instruments to implant instruments" as well as anesthetic and oral cleaning instruments in Munoz's rented suite, referring to the makeshift dental office as a "pretty significant operation."
"You're taking your life in your own hands, I mean, you're talking about dental surgery. There are a lot of patients that need to be pre-dosed with antibiotics because of heart conditions and that's just a set-up for disaster," Tusino, a former emergency medical technician told the station. "I'm sure his intention is not to infect somebody or do a bad job, but unfortunately, the safeguards aren't in place, the regulations aren't in place, so it's really a sad situation."
An unidentified employee at the Alternativa Convenience Store told Nashua, New Hampshire, NBC affiliate WBTS that prior to coming to the U.S., Munoz had a lengthy career as a dentist and dental instructor at a university in Ecuador. Additionally, the employee said that Munoz was only providing dental work to help the people in the community who otherwise could not afford such services.
A Milford man who works across the street from the convenience store reportedly told Boston CBS affiliate WBZ-TV that he was surprised to learn about the existence of the unlicensed dental office, but ultimately understood why Munoz might be running such an operation.
"I was surprised because, obviously, that's just crazy," the man, identified only as "Jeremy," told the station.
Have a tip we should know? [email protected]