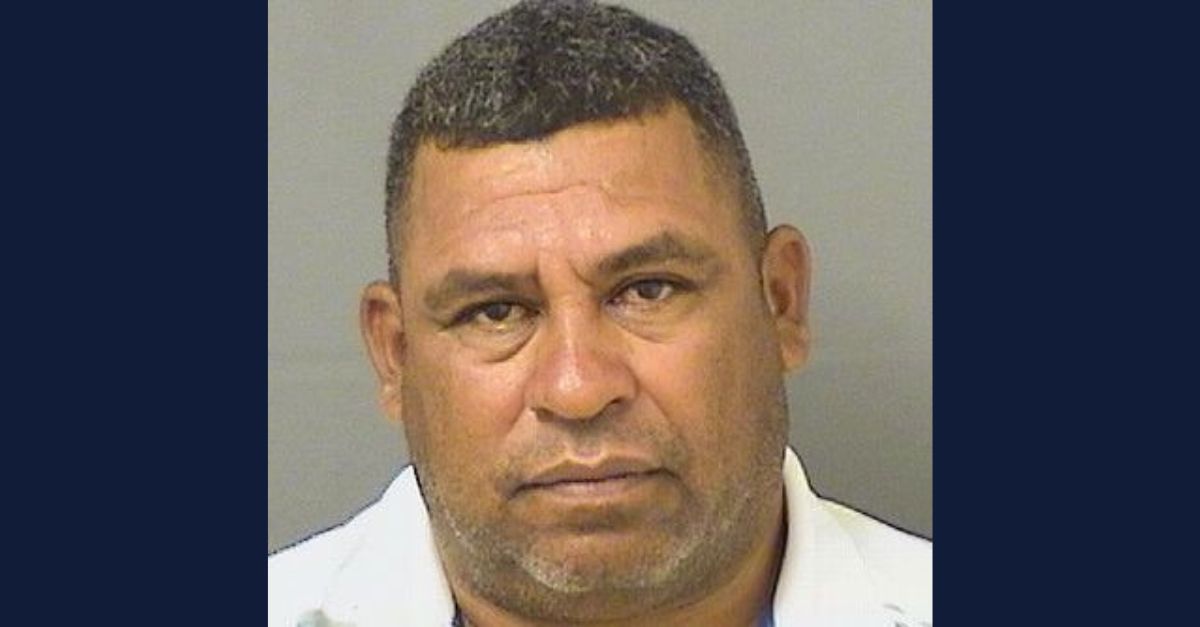 Delmin Echeverria (Palm Beach County Sheriff's Office)
A 43-year-old man in Florida was arrested for allegedly driving to his ex-wife's home, slitting her dog's throat, then calling her new family to confess to the crime and ordering them to "return his wife to him" or they would be next. Delmin Echeverria was taken into custody last month and charged with one count each of cruelty to animals, burglary to a dwelling while armed, and criminal mischief, authorities announced.
According to a probable cause affidavit obtained by Law&Crime, officers with the Palm Beach County Sheriff's Office at about 6:36 p.m. on Sept. 22 responded to a call about a dog being found deceased at a home located in the 13000 block of 41st Lane North. The caller, a 20-year-old male, told the emergency dispatcher that he believed his stepmother's ex-husband was responsible for killing the animal.
Upon arriving at the scene, first responders found the animal in the home's fenced-in backyard about 20 feet away from the house. The dog was a 3-year-old pit bull named "Luna."
"Upon inspecting the victim's dog [deputies] found it had an injury on the bottom of the neck that was bleeding and the dog was deceased but still warm," police wrote in the affidavit. "[Detectives] found that she had a circular shaped cut/puncture wound under her left jaw area, and that there was blood coming from the wound."
Deputies spoke to the 20-year-old's father who also stated that he believed his wife's ex-husband was responsible for killing the dog. He identified the ex-husband as Echeverria, who he said had "called both of them from a blocked number and stated that he killed the dog."
In a sworn interview with a detective, the current husband said that he was hanging out at a trailer in West Palm Beach earlier in the day when he picked up a call from a blocked number and Echeverria was on the other end.
"[The current husband] stated that he personally knows Echeverria because Echeverria was previously married to his current wife and Echeverria has been harassing him because he wants his ex-wife back," the affidavit states. "During the phone call, Echeverria called him names, told him that he killed his dog, and told him that he was going to kill him. [The current husband] then started to head home to check on his house and upon his arrival he did find his dog had been killed."
The current husband had previously reported Echeverria for repeatedly calling him and threatening to kill him and his family.
The 20-year-old son also confirmed in a sworn statement that Echeverria called from a blocked number and said that he had killed his dog and added that "his dad needs to return his wife to him or he was going to kill him and his family," police wrote.
The detective concluded that Echeverria cut a hole in the fence then fatally wounded the dog and let her run between the victims' yard and the neighbor's yard until she died, which "prolonged her suffering."
Echeverria is currently being held in the Palm Beach County Detention Center on $13,000 bond, jail records show.
Have a tip we should know? [email protected]