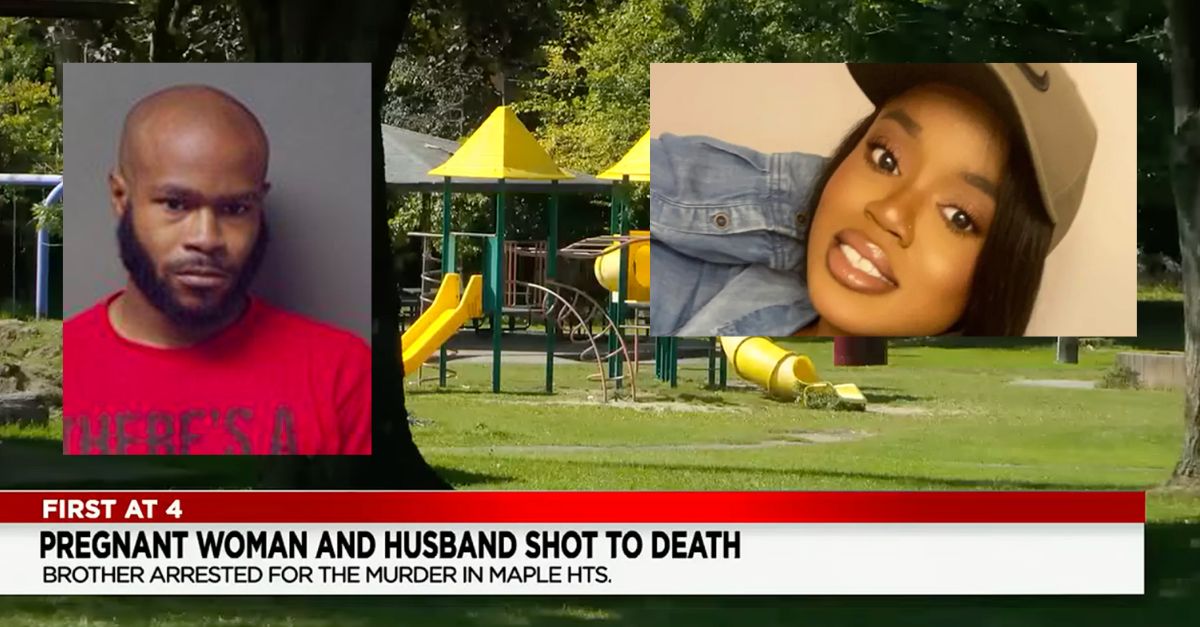 Jason Iverson, on the left, and Mercedes Iverson-Carter, on the right, appear inset against an image of a park in Maple Heights, Ohio where a fatal shooting occurred on Sept. 4, 2023. (Screengrab via WOIO; Maple Heights Police Department; GoFundMe)
An Ohio man faces myriad criminal charges for allegedly shooting and killing his pregnant and recently married sister along with her husband during a Labor Day family picnic in a Cleveland suburb.
Jason D. Iverson, 29, stands accused of three counts of aggravated murder, five counts of murder, one count of attempted murder, and eight counts of felonious assault, according to the Cuyahoga County Prosecutor's Office. The defendant was charged on Tuesday afternoon in a 17-count indictment obtained by Law&Crime.
Mercedes Iverson-Carter, 30, and her husband, Trea "Norbert" Carter, 31, had been married for less than a year when they were shot and killed on Sept. 4 at Stafford Park in Maple Heights. The pair were set to celebrate their one-year wedding anniversary in October and had just announced they were expecting a baby girl to be named Ava, the victim's and defendant's mother told local NBC affiliate WEWS.
"Siblings have squabbles, you know, they have disagreements, you know, nothing would have ever made me think that it would have gone that far if your son had never gotten violent like this in the past," Cynthia Ivey said of the violence that took her daughter's life.
The gunman arrived at the park located near the corners of Mayville Avenue and Beverly Avenue on the day in question and "started to engage in an altercation with his sister," the prosecutor's office said.
Reports about a fight started coming in around 3:15 p.m. that day, according to the Maple Heights Police Department.
"The shooter came to the park, and when he realized these family members were there, he immediately began trying to physically fight with them," police said in a statement provided to The Plain Dealer.
The pregnant woman, her husband, and the defendant's 13-year-old son – whom the couple had custody of at the time – decided they had had enough and tried to leave, prosecutors said. So they went to the parking lot and got into their vehicle. But this effort to disentangle themselves from the drama seemingly enraged Jason Iverson – who followed the trio before taking out a gun and shooting at them multiple times, according to prosecutors. One bullet grazed the face of the defendant's own son, the HCPO told Law&Crime.
The shots incapacitated Mercedes Iverson-Carter.
Carter, however, was able to escape from the barrage of gunfire – at least for a while. He jumped out of the car and ran into a nearby bathroom at the park. But his assailant hunted him down and shot him to death there before attempting to flee, law enforcement said.
Carter was pronounced dead at the scene, prosecutors said. Iverson-Carter and her unborn child were rushed to a nearby hospital where they both were pronounced deceased.
The 13-year-old was also taken to a hospital and treated for a graze wound before being released, police told the Plain Dealer.
Iverson was quickly apprehended by the MHPD while attempting to leave the park on foot, according to the prosecutor's office.
"This incident was specifically between the shooter and the victims; there was no randomness to the event," Maple Heights Police Chief Todd Hansen told Shaker Heights-based CBS affiliate WOIO. "The scene was rendered safe very quickly with the apprehension of the shooter."
According to law enforcement, the defendant and his sister had been engaged in a long-running dispute before the fatal violence.
The grieving mother started a GoFundMe to deal with unplanned funeral expenses.
"My daughter and granddaughter (unborn) were killed on Labor Day while attending a community picnic," Cynthia Ivey wrote. "Mercedes was shot and killed by her brother. My family is devasted [sic] and heartbroken. As many of us know, no one wants to bury their child, but now I am a mom living a horrific nightmare. Trust me when I say no one wants to endure the pain of losing a child—the stress, pain, and financial burden are too much to bear."
Have a tip we should know? [email protected]