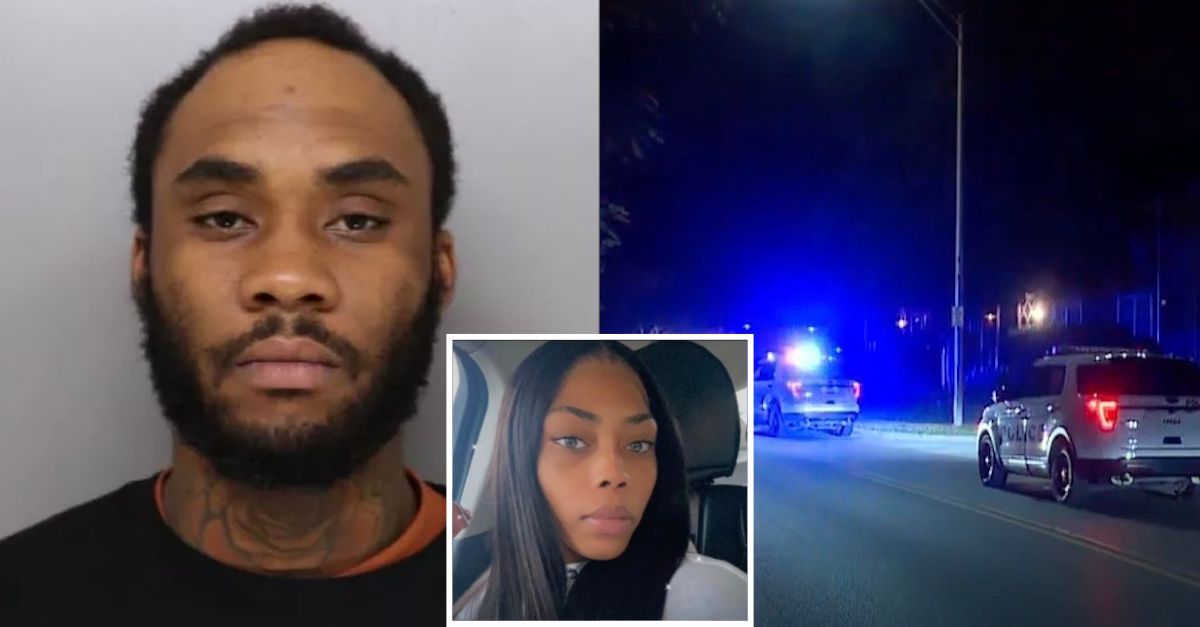 Tyrone Hunter (Hamilton County DA's Office), Isis Roseman and the scene outside of her home after the shooting (WCPO screenshot)
A 25-year-old man in Ohio has been indicted for allegedly killing a 26-year-old pregnant woman last month, fatally shooting her after the two got into a verbal altercation over a laser pointer. A Hamilton County grand jury returned a true bill indicting Tyrone Hunter on two counts each of murder and felonious assault, as well as one count each of improper discharge of a firearm into a habitation and having a weapon while under disability in the slaying of Isis LeShay Roseman, authorities announced.
The incident began when Roseman and her younger brother on July 6 were "playing with a laser pointer" in the front yard of a home located in the 10 block of Kings Run Court in Cincinnati, according to a press release from the Hamilton County District Attorney's Office.
While the two were playing, Hunter allegedly "approached" the duo and "started a verbal altercation about the laser pointer." He then threatened to "shoot up" Roseman's home before leaving the scene in a vehicle, authorities said.
A short while after the initial altercation, Hunter allegedly returned to the Kings Run Court address and "opened fire on the home," authorities said.
"The victim and her family ran inside their home before a second round of shots were fired at the home," prosecutors wrote in the release. "At that time, Roseman was shot at least once."
The fatal bullet traveled through Roseman's window before striking her.
Emergency Medical Services personnel responded to the scene and immediately transported her to the University of Cincinnati Medical Center. Unfortunately, Roseman succumbed to her injuries and was pronounced dead shortly after arriving at the facility.
A subsequent autopsy performed by the Hamilton County Coroner's Office determined that Roseman was 16 to 17 weeks pregnant at the time of her death.
At the time of the shooting, Hunter was out of jail after posting bond for two violent felonies and another drug-related felony last year. Hunter in 2022 was indicted on one count of felonious assault, one count of improper discharge of a firearm, and several counts of drug trafficking, prosecutors said.
A felony magistrate originally set his bond on that case at 10% of $105,000 on the condition that Hunter wear a GPS device upon his release. However, a trial judge on May 9, 2022, reduced Hunter's bond to $10,000. Hunter was later arrested for robbery and his bond was revoked, but those charges were" ignored" by a grand jury, prosecutors said. The trial court judge then reinstated Hunter's $10,000 bond and removed the ankle monitor requirement prior to his release.
"This is absurd. Criminals must be kept off the streets and remain accountable for their crimes," Hamilton County Prosecutor Melissa Powers said in a statement. "This guy took two lives by killing a pregnant victim while out on a $10,000 bond."
Hunter appeared in court for his arraignment on Tuesday where his defense attorney, Clyde Bennett, told Cincinnati ABC affiliate WCPO-TV that his client had no involvement in Roseman's death.
"He told me that he wasn't involved, he wasn't there, and he didn't do it," Bennett said in an interview with the station. "It's not up to him to explain what happened, it's up to the state of Ohio to explain what happened and also to prove what happened."
If convicted on all charges, Hunter will face a maximum possible sentence of life in prison with parole eligibility after serving 24 years.
Have a tip we should know? [email protected]