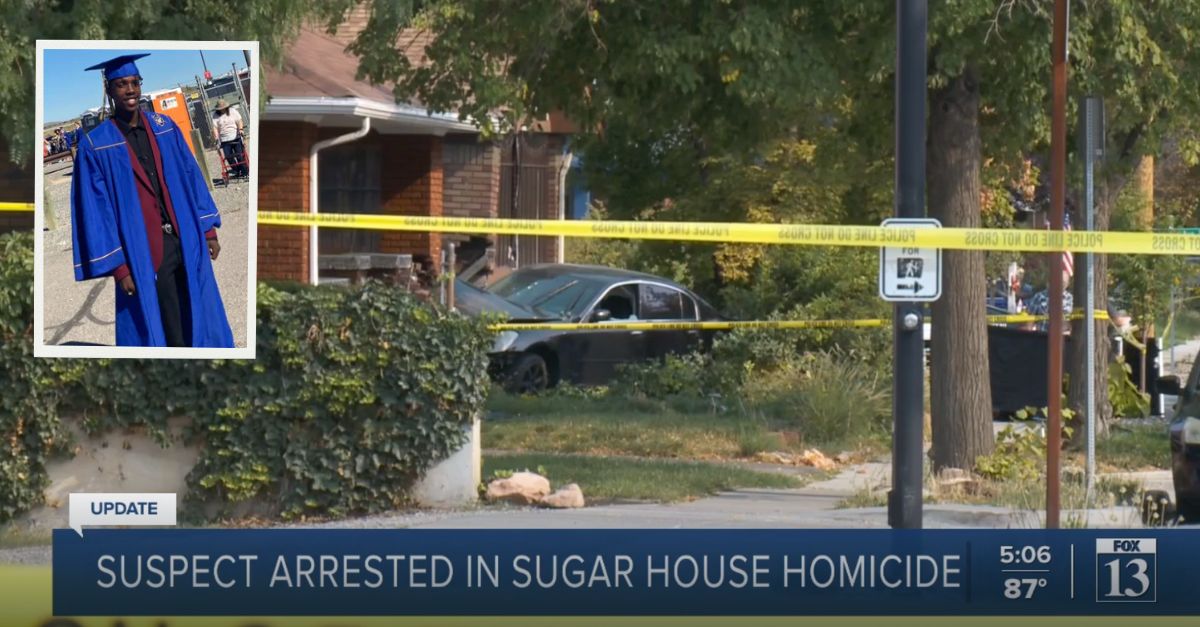 Levon Garo Meguerditchian, 40, was found guilty Friday of first-degree murder and other charges in the death of 18-year-old Abdourazak Mouhoumed, inset. Meguerditchian allegedly shot Mouhoumed over a stolen bottle of liquor at a house party in Salt Lake City on Aug. 28, 2021. (KSTU, Inset: GoFundMe)
A jury in Utah convicted a man of fatally shooting a teen and kidnapping several partygoers after he accused them of stealing a bottle of liquor from his home.
Levon Garo Meguerditchian, 40, was found guilty Friday of first-degree murder, multiple counts of aggravated kidnapping, second-degree obstructing justice and third-degree discharge of a firearm, according to Salt Lake County District Attorney Sim Gill. Meguerditchian was accused of killing 18-year-old Abdourazak Mouhoumed.
"The jury sent a strong message to Mr. Meguerditchian when they handed down this conviction. The amount of violence that we saw over a bottle of liquor was astounding," Gill said in a statement.
The incident occurred during a party at Meguerditchian's St. Lake City house on Aug. 28, 2021. Around 3 a.m., some people at the party stole a bottle of liquor and ran out of the home. Mouhoumed was also fleeing the home and got in his car to drive away. Meguerditchian fired several shots at the car hitting Mouhoumed in the head, prosecutors said. Mouhoumed's vehicle crashed into several homes after he was shot.
Meguerditchian forced other people at the party inside his laundry room and threatened violence against them. Salt Lake City police officers responding to a shots-fired call initially did not see Mouhoumed's car or evidence of a shooting and closed the call. Most of the hostages were allowed to leave after about 20 minutes when police were gone, prosecutors said. But police returned after someone called 911 around 6:30 a.m. to say they believed their friend was being held captive.
Officers found a 17-year-old girl in the garage with several facial injuries. Meguerditchian believed she invited the people who stole the bottle of liquor to his home. Police also found Mouhoumed's crashed vehicle. He was pronounced dead on the scene.
Meguerditchian will be sentenced on Jan. 10. The Salt Lake Tribune reported Meguerditchian's girlfriend, Mary Akopyan, 37, is still facing charges of kidnapping, obstruction of justice and assault for allegedly helping detain the victims.
Have a tip we should know? [email protected]