It was a man's alleged carelessness that exposed his ruthlessness, and now he's spending the rest of his life behind bars for murdering a father in front of his daughter.
Miguel Vasquez took his 10-year-old daughter out for a night of fun at a Houston Dave & Buster's on Easter Sunday 2021. Vazquez, 37, and his daughter were walking to the car when a man attempted to rob them, Houston police said. An arrest affidavit obtained by The Associated Press said the suspect demanded Vasquez's watch, putting him into a chokehold. The suspect then shot Vasquez before fleeing without anything. The girl was not injured. Vasquez was taken to the hospital where he was pronounced dead. Detectives recovered a 9 mm cartridge at the scene.
The random murder initially stumped investigators. A week after the crime, they released a composite sketch of the suspect and surveillance video of the car the suspect drove away in. What they didn't know at the time was the suspect had already been arrested in another crime and they were in possession of the murder weapon. Four days after Vazquez's murder, police were called to a home after a 3-year-old boy had grabbed a gun, which was allegedly left on top of a bathroom by his father, and accidentally shot himself.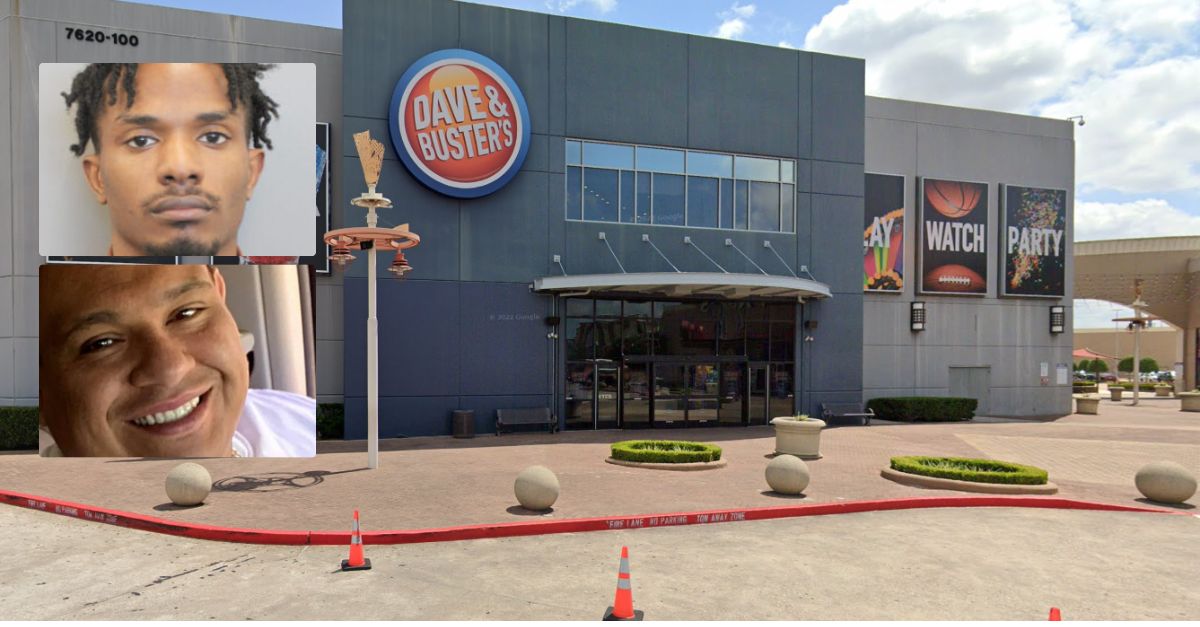 A jury convicted Nicholas Thomas, top, of murder in the shooting death of Miguel Vasquez, who was killed in front of his daughter outside a Houston Dave & Buster's.
The boy survived, and his father, Nicholas Dwayne Thomas, was arrested on an endangering a child charge. Investigators were able to match the gun used in the accidental shooting to the one used in the murder, and on June 16, 2021, Thomas was arrested on a first-degree murder charge.
A trial earlier this month ended in a hung jury, but prosecutors tried again and on Friday a jury convicted Thomas, 26, court records show. A judge then sentenced him to life in prison without parole. Court records show that his separate accidental shooting case was dropped after the murder conviction.
"It's not going to bring him back, but it's just so another family doesn't have to go through what we went through," Vasquez's sister Angeles Alcantara told local ABC affiliate KTRK.
Vasquez left behind his wife and two children.
"Miguel also aimed and worked hard to support his family and provide a loving home. He was the sole provider for his family," a GoFundMe page said. "As one can imagine the family is going through unimaginable and unbearable pain."
We want Law&Crime to be your favorite destination for all things true crime
To continue bringing you the very best content, we rely on valuable feedback from our loyal viewers. We invite you to take a brief survey about the kind of programming you want to see more of from us. Participation is anonymous and will only take about 3 minutes.
Have a tip we should know? [email protected]