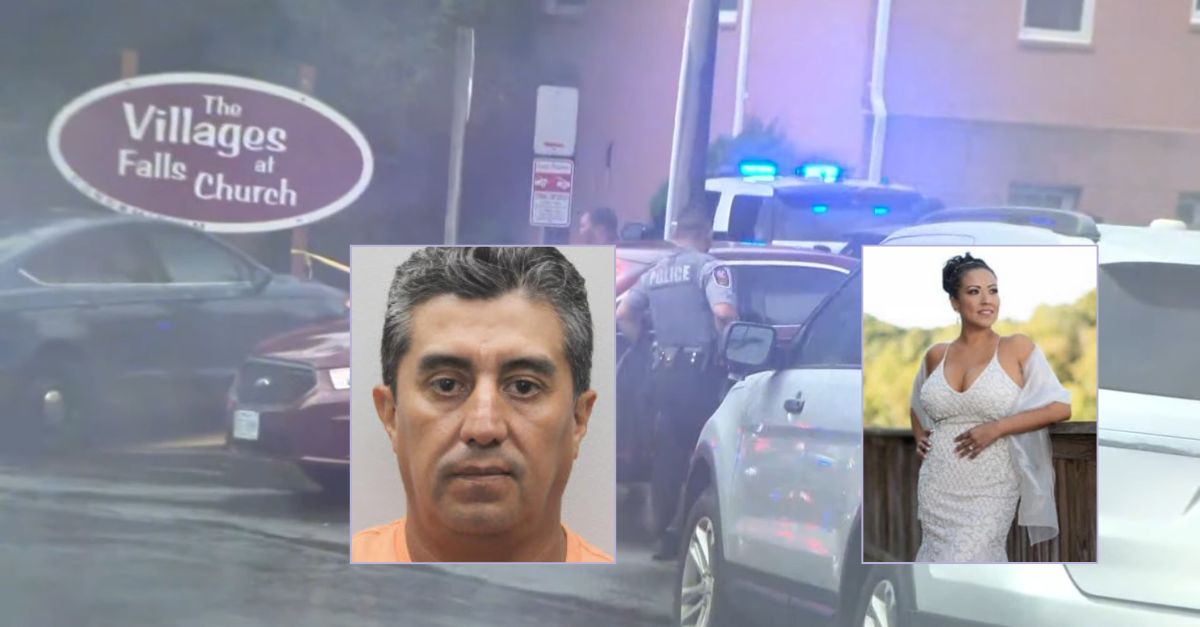 A jury convicted Richard Montano, left, of first-degree murder and arson in the death of Silvia Vaca Abacay, right. (Mug shot from the Fairfax County Police Department; victim's photo from her obituary; crime scene screenshot via YouTube screenshot/WUSA)
A Virginia man has been convicted of beating, stabbing and setting fire to a mother of two he mistakenly thought was his ex-girlfriend in whose apartment she had been temporarily staying.
Richard Montano was found guilty on Thursday of first-degree murder and arson in the death of Silvia Vaca Abacay.
Montano's ex, Fatima Via, was in court to hear the verdict.
"I feel guilty," Via said, Washington NBC affiliate WRC reported. "Part of me feels guilty because he came for me, not for her, and she has to pay for something that's supposed to happen to me."
The murder happened on Aug. 10, 2022. Police responded to an apartment in the 2900 block of Willston Place in Falls Church on a report of a domestic dispute that afternoon. A neighbor called police after hearing a man and woman arguing in an apartment, prosecutors said in a news release.
When officers arrived, they saw smoke coming from the unit. They found Abacay on fire and suffering from stab wounds to the upper body. The fire was put out, and first responders tried to save her life, but she was declared dead.
She had been stabbed 10 times, a medical examiner reported.
Fairfax County Police Major Ed O'Carroll said it was horrific and profoundly sad.
"Officers did everything they could to save her life, but she succumbed to her injuries," he said, Annandale Today reported.
Fairfax County Commonwealth's Attorney Steve Descano said it was one of the most disturbing crime scenes he's seen.
Detectives quickly identified Montano as a person of interest, saying surveillance footage showed him entering the home before the murder. He had forced his way in, killed Abacay, and set her on fire to cover up the crime before fleeing the apartment and going to his home in Arlington, where he was arrested, authorities said.
Montano is set to be sentenced on Jan. 19.
A fundraising page described the victim as a devoted mother of two and a loving wife.
"Kelly was friendly and full of joy, and always there to help others," said the raising money to bury her in her native Bolivia. "She was loved by so many and will be deeply missed. Her family and friends are heartbroken at their loss."
After the killing, Abacay's friend Yerin Ronero was stunned.
"I couldn't believe it," Ronero told Fox Washington affiliate WTTG. "The person who did it is a friend of ours. We've known each other for a long time. It's just shocking."
Have a tip we should know? [email protected]