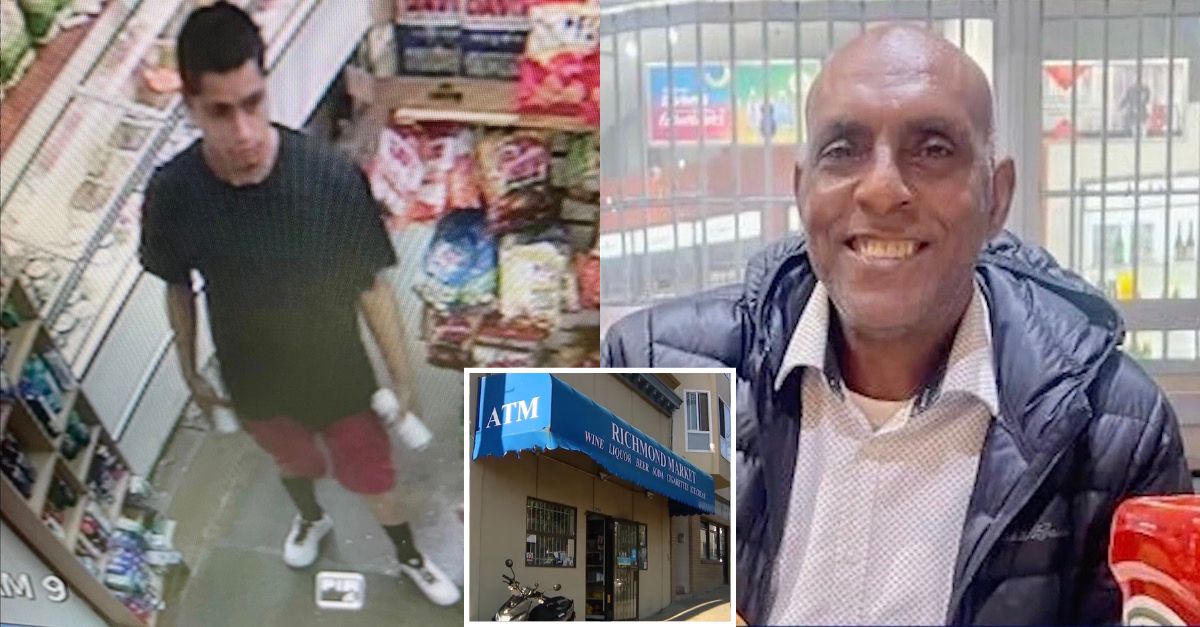 Santos De La Rosa allegedly appeared in surveillance footage from the attack that left Yowhannes "John" Tewelde dead (San Francisco DA's Office), Richmond Market (KTVU screenshot)
A 21-year-old man in California was arrested last month for allegedly beating a convenience store clerk to death with a baseball bat after the victim caught and confronted him for trying to steal two cans of beer from the store. Santos De La Rosa this week was formally charged with one count of murder, one count of second-degree robbery, and one count of assault with a deadly weapon in the brutal August slaying of Yohannes "John" Tewolde, authorities announced.
According to a press release from the San Francisco Police Department, SFPD officers from the Richmond District at about 9:31 p.m. on Aug. 24 responded to a call about a reported robbery and aggravated assault at a Richmond Market convenience store located in the 3900 block of Balboa Street.
Upon arriving at the scene, first responders located the 60-year-old store clerk — later identified as Tewolde — "lying on the ground and unconscious." Police called for emergency medical assistance and the victim was transported to a local hospital after suffering "life-threatening injuries" in the attack. Despite the best efforts of hospital staffers, Tewolde succumbed to his injuries after spending several days in a coma and was pronounced dead on Aug. 29.
Police obtained surveillance footage from the store's security camera and investigators released screenshots of the suspected assailant. The photos showed a young man in a black T-shirt, red shorts, and white sneakers who appeared to be carrying a pint-sized can of beer in each hand prior to the attack.
An arrest warrant for De La Rosa was initially issued on Sept. 12 over the Aug. 24 attack that ultimately led to Tewolde's death, according to a press release from the San Francisco County District Attorney's Office.
In a criminal complaint, authorities allege that De La Rosa was "stealing two cans of beer" when Tewolde spotted him. The clerk then attempted to prevent De La Rosa from exiting the store by standing in front of the exit holding a baseball bat. That did not deter De La Rosa, who went after Tewolde, got the bat away from him, and thrashed him mercilessly.
"After the beating, the complaint further alleges, Mr. De La Rosa retrieved one of the beers he had tried to steal previously, throws the bat at a second victim who was present in the store and then runs in to the passenger side of a waiting vehicle that departs westbound on Balboa Street," prosecutors wrote in the release.
"I would like to thank the San Francisco Police Department's Homicide division for their outstanding work to identify and apprehend, Mr. De La Rosa," San Francisco District Attorney Brooke Jenkins said in a statement after the charges were filed. "I would also like to thank the family and friends of the victim for their patience and trust in the system. Previously, I offered my condolences, and now I offer my office's unwavering commitment to fighting for justice in the courtroom."
De La Rosa is currently scheduled to appear for his arraignment on Friday. Prosecutors said they plan to file a motion seeking to keep De La Rosa in detention pending trial, arguing that he poses a "public safety risk" if allowed out.
Tewolde's family set up a GoFundMe page to help with his hospital bills and funeral expenses.
Have a tip we should know? [email protected]