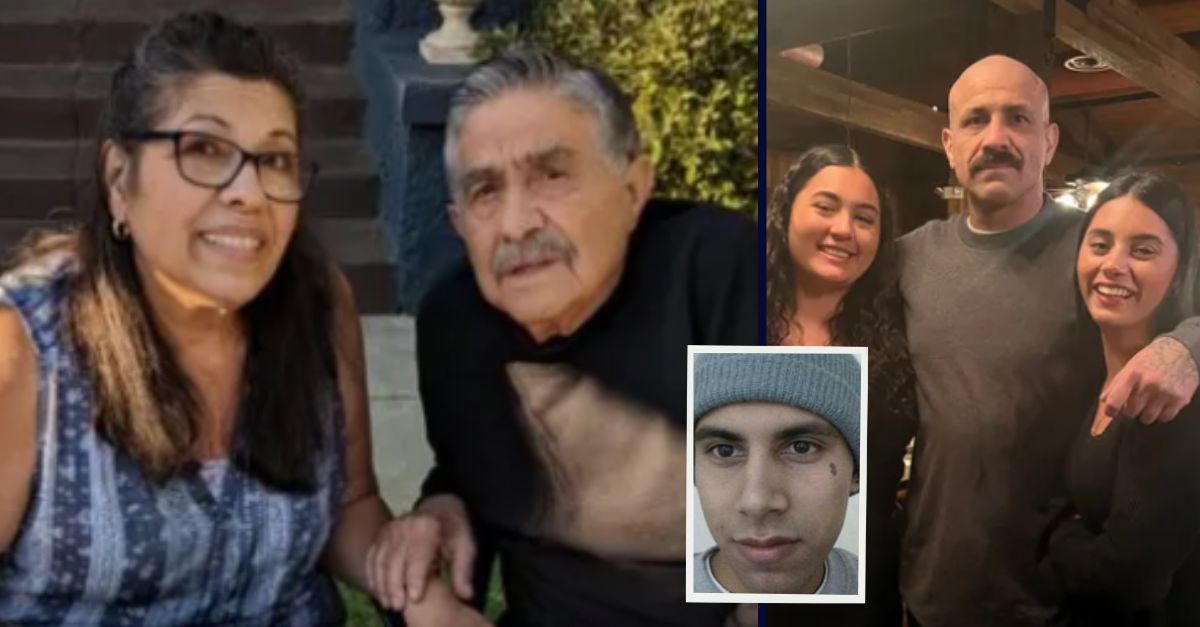 George and Sonia Ramirez, photo on the left, and David Ramirez, photo on the right, were found shot to death in their San Bernardino, California, home on Jan. 30. George and Sonia's grandson and David's nephew, Pete Renteria, inset, was named a suspect in the case. Renteria allegedly killed another man Sept. 30 at a park in Upland, California. He was arrested a short time later. (George, Sonia and David photos from GoFundMe page, Renteria mugshot via the San Bernardino Sheriff's Office)
A man accused of murdering his grandparents and uncle in January allegedly killed again exactly eight months later, according to police in Southern California.
The Upland Police Department responded to Memorial Park just before noon Saturday after reports of a shooting, according to a press release. Eyewitnesses said the suspect ran away in a south-west direction and deputies who arrived on the scene were able to arrest him and retrieve the handgun believed to be used in the shooting.
According to jail records, the suspect is 29-year-old Pete Anthony Renteria who was wanted by the San Bernardino County Sheriff's Office in the Jan. 30 shooting of his grandparents, Sonia Ramirez, 68 and George Ramirez, 72, and his uncle David Ramirez, 43. All three were found shot dead around 9 p.m. at their home in unincorporated Montclair, about 30 miles east of Los Angeles.
The Daily Bulletin newspaper reported that San Bernardino deputies responded more than 60 times to the home in the three years leading up to the shooting for calls such as welfare checks and keeping the peace.
Michele Akbari, who is Sonia and George Ramirez's daughter and David Ramirez's sister, started a GoFundMe page to help pay for the funeral and other expenses. It's raised over $21,000.
"Our family is devastated by the great loss we are suffering," she wrote. "It is an understatement to say that George and Sonia Ramirez were devoted, compassionate, selfless and kind. As parents, their love was boundless. Our brother, David Ramirez, was our family protector, a doting father and an incredibly supportive son."
San Bernardino deputies identified Renteria as a suspect nearly three weeks after the shootings, although they haven't released a motive. He has been on the run ever since.
Authorities could not catch him before he allegedly killed again.
Upland police say Renteria and the victim previously had an altercation at the park on Saturday. Renteria left but returned "specifically to target the victim" and opened fire. Officers found the victim, 34, suffering from multiple gunshot wounds.
"Officers and members of the San Bernardino County Fire Department rendered aid to no avail," the press release said.
The victim was pronounced dead. His name has not been released.
Upland police credited witnesses and the swift response of officers for Renteria's arrest.
Records show he is being held without bond at the San Bernadino on murder charges.
Have a tip we should know? [email protected]