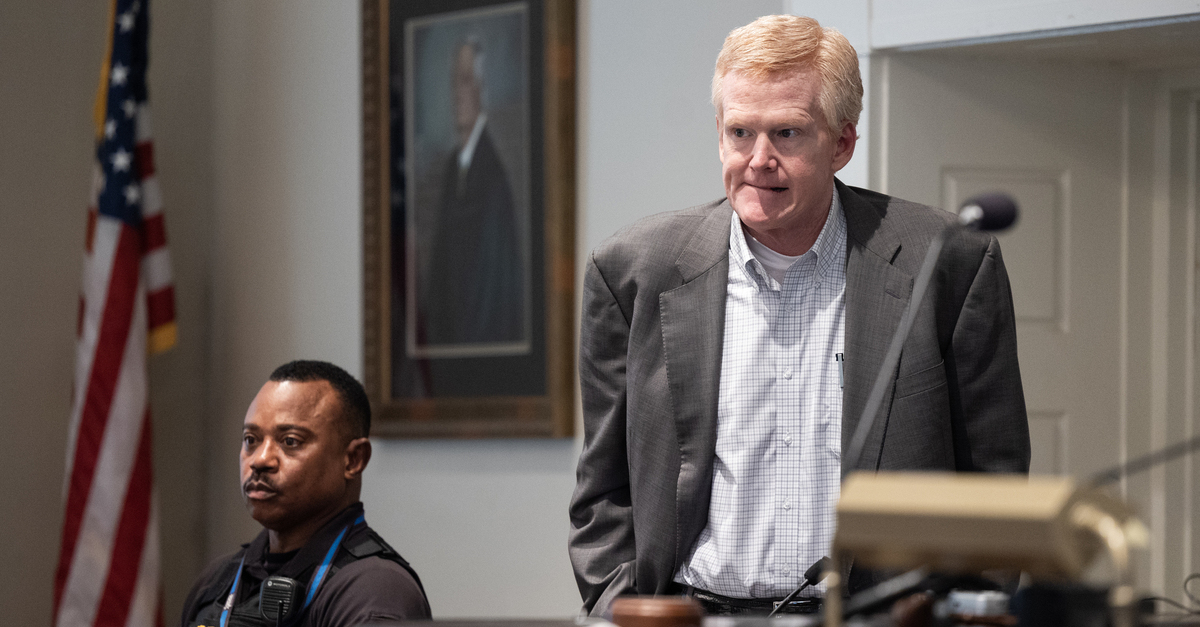 Alex Murdaugh stands during a break in his trial for murder at the Colleton County Courthouse on Friday, February 24, 2023. (Image via Joshua Boucher/The State/Pool)
Alex Murdaugh is certainly a disgraced lawyer and convicted killer – but the latter could very well change in due course of time and law after his attorneys highlighted several alleged instances of egregious jury tampering by a court official during his double murder trial.
South Carolina case law leans heavily toward the convicted criminal defendant in such instances. And if the allegations are substantiated and found true, the once-powerful trial lawyer and Lowcountry legal scion's motion for a new trial would very likely be granted.
The prospect of a second "trial of the century"-like legal drama in the Palmetto State would be an unkempt embarrassment for state law enforcement, the almost-retired judge who oversaw the case, and the citizens of Colleton County – where the elected clerk of court, Rebecca "Becky" Hill, has just hired defense attorneys.
But that's all a bit of a sideshow.
There would be substantial knock-on, perhaps even novel, legal effects in the event of a successful Murdaugh appeal. The potential of having the conviction reversed has legal experts in a wide state of disagreement over what becomes of the huge amount of testimony amassed during the longest criminal trial in South Carolina history.
The basic law on point here is contained in South Carolina Code Section 19-11-50, according to Charleston-based criminal defense attorney Chris Adams.
More or less straightforward, the statute reads:
The testimony of a defendant in a criminal case shall not be afterwards used against the defendant in any other criminal case, except upon an indictment for perjury founded on that testimony.
But, Adams said, case law has created a decided lack of clarity here.
In a 1999 death penalty re-sentencing case where the defendant took issue with a lower court allowing the use of his previous trial testimony, the Supreme Court of South Carolina added italics to the law to illustrate the way the statute operates in practice.
According to the state's highest court:
This section provides: "The testimony of a defendant in a criminal case shall not be afterwards used against the defendant in any other criminal case, except upon an indictment for perjury founded on that testimony."
The court noted that "the testimony was offered in a resentencing proceeding in the same criminal case," and, as a second point, that "the testimony was merely cumulative to appellant's statements which had already been admitted in the guilt phase." In a footnote, the court added a third, distant but still related point, that re-sentencing hearings can draw on "anything that is properly put into evidence during the guilt or sentencing phase of the previous trial."
A speculative re-trial after a tossed conviction, of course, is not the same as a re-sentencing hearing in a decided case. But there is an argument for the state that opens the door wider than usual.
In Murdaugh's case, this understanding of the law brings up several issues – the key issue likely being what specific parts of his murder trial testimony the state would want to use in a second trial and why they would want to use them.
Some legal experts say it's a matter of what, exactly, the state would intend to use those statements for.
"His testimony can't be used against him unless he takes the stand and it is used to impeach him as a 'prior inconsistent statement,'" Law&Crime Network host and former Morris County, New Jersey prosecutor Bob Bianchi said. "As to the other witnesses, that is a little more complex and the judge would have to make a ruling, and most will need to re-testify. All witnesses who take the stand can be impeached with the last trial's testimony if there is in-court testimony that contradicts what they have said before."
Others disagreed.
"Murdaugh's prior testimony could be used in other cases whether he testifies again or not," former Los Angeles County prosecutor and current criminal defense attorney Joshua Ritter, a partner with El Dabe Ritter Trial Lawyers, told Law&Crime. "It would be treated like a statement given to police. This is called a 'party admission,' meaning the opposing party – the defendant – has made a statement that can be used against him, just like if he gave a statement to police. When arrested, you're read your Miranda right to remain silent, or you can give statements to police. Because he gave statements, it is the same as waving his 5th Amendment right to testify, and the prosecution could use it."
In a federal proceeding, it's more clear-cut, experts say. Murdaugh's statements from his double murder could easily be cited again, and Ritter's understanding tracks the federal evidentiary rule.
"If he decides to testify in a second trial, and there are inconsistencies with statements made in the previous trial, then those statements could come in as part of the prosecution's ability to impeach him for inconsistent statements," Ritter continued. "They could play it as another piece of evidence, just as they could if it was a statement to police."
University of South Carolina Law Professor Seth Stoughton said Murdaugh's prior testimony "is likely admissible even if the conviction is ultimately overturned" and he suggested that it could "be introduced for any reason" because of a hearsay exception.
Another member of the school's faculty, University of South Carolina Law Professor Madalyn K. Wasilczuk said that, in general, "anything that is said under oath could still be used to impeach any future testimony," essentially aligning with the statute.
Adams told Law&Crime that in most jurisdictions it would obviously be easy enough to introduce a prior in-court statement under their rules of evidence – but noted that South Carolina has a unique statute that addresses the issue. And a statute will always trump a rule. But, he said, Murdaugh's earlier in-court statements could likely be used in almost any other jurisdiction.
Whether a true issue of first impression, the matter would likely be the subject of a hypothetical hearing – related to but separate and aside from a hypothetical re-trial – should the new trial motion succeed.
Underscoring the academic nature of the questions is that prosecutors might just opt to skip the trouble altogether.
Introducing the transcript and reading it in court without the demeanor of the defendant might not help the prosecution in a would-be murder trial anyway, Adams told Law&Crime.
"If there is a re-trial, my view is the prosecution creates problems for themselves when they get greedy and try to do something that is not clearly granted by case law," Adams said. "I would think that they would not want to introduce his trial testimony because it's not clearly admissible under South Carolina law. I would think they would hold it back for impeachment if he contradicts anything he previously said – if, and hope, he takes the stand."
Have a tip we should know? [email protected]