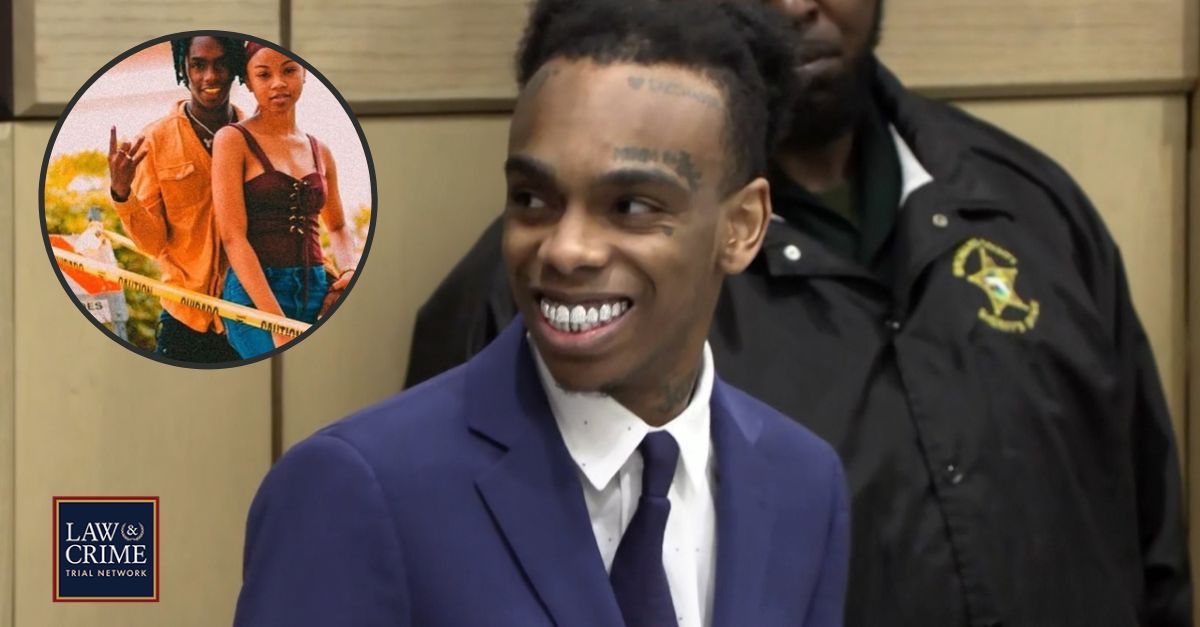 Rapper Jamell Demons, also known as YNW Melly, smiles after his first murder trial ends in a mistrial on Saturday, July 22, 2023 (Law&Crime Network). Inset: Demons and Mariah Hamilton (via handout).
The lead prosecutor in the YNW Melly double murder retrial has been removed after the rapper's defense attorneys accused her of withholding information that the lead investigator had been previously accused of asking a deputy to lie.
Broward County State Assistant Attorney Kristine Bradley has been removed from the high-profile case, The Associated Press reported. Jury selection in the retrial of the 24-year-old rapper, whose given name is Jamell Demons, was set to start this week. A decision hasn't been made on who will replace Bradley. That decision could come on Tuesday.
Bradley's removal came about after Melly's lawyers asked the judge to remove the Broward State Attorney's Office from the case.
As previously reported by Law&Crime, Assistant State Attorney Michelle Boutrous testified during an Oct. 6 pretrial hearing that she was in a conference room with the lead detective in the case, Miramar Police Department Detective Mark Moretti, and Jamie King, Demons' mother. Moretti reportedly wanted to seize King's phone as part of the investigation into witness tampering. At the time, Moretti wasn't in his jurisdiction but took the phone away from King anyway, according to Boutrous. Boutrous testified she overheard Moretti ask a Broward County deputy, Adam Gorel, to lie about being in the room when he served the search warrant.
"I'm like in the Twilight Zone like this can't really be happening," Boutrous testified. "It was just a very awkward moment after Detective Moretti said that. I vividly remember what he said."
Prosecutors allegedly said the whole exchange was a joke and irrelevant to the trial. Bradley testified that the actual wording of what happened has gotten jumbled.
In July, a judge declared a mistrial after jurors could not agree on a verdict after more than 14 hours of deliberations.
The up-and-coming star was accused of killing two of his friends — also rappers — then staging the murders as a drive-by shooting in the Miami area.
It all started in October 2018, when YNW Melly's best friend, Cortlen "YNW Bortlen" Henry, showed up at a Miami hospital claiming two of his friends were struck by bullets in a drive-by shooting and they were bleeding out in his car, an arrest affidavit said. Anthony "YNW Sakchaser" Williams and Christopher "YNW Juvy" Thomas Jr. were declared dead from multiple gunshot wounds.
Henry told detectives he had just left a recording studio with Williams and Thomas in Fort Lauderdale when a car pulled up and started shooting. Henry said he ducked to avoid getting hit, but Williams and Thomas were hit.
As officers investigated, surveillance video showed Melly, Henry, Williams and Thomas together in Henry's car when Henry claimed the shooting happened.
After looking at phone data and blood spatter evidence, detectives determined the group was together the night of the crime, and the victims were shot in the car.
Police arrested Melly for two counts of first-degree murder in February 2019. He pleaded not guilty in March 2019.
Law&Crime's Vanessa Bein and Colin Kalmbacher contributed to this report.
Have a tip we should know? [email protected]