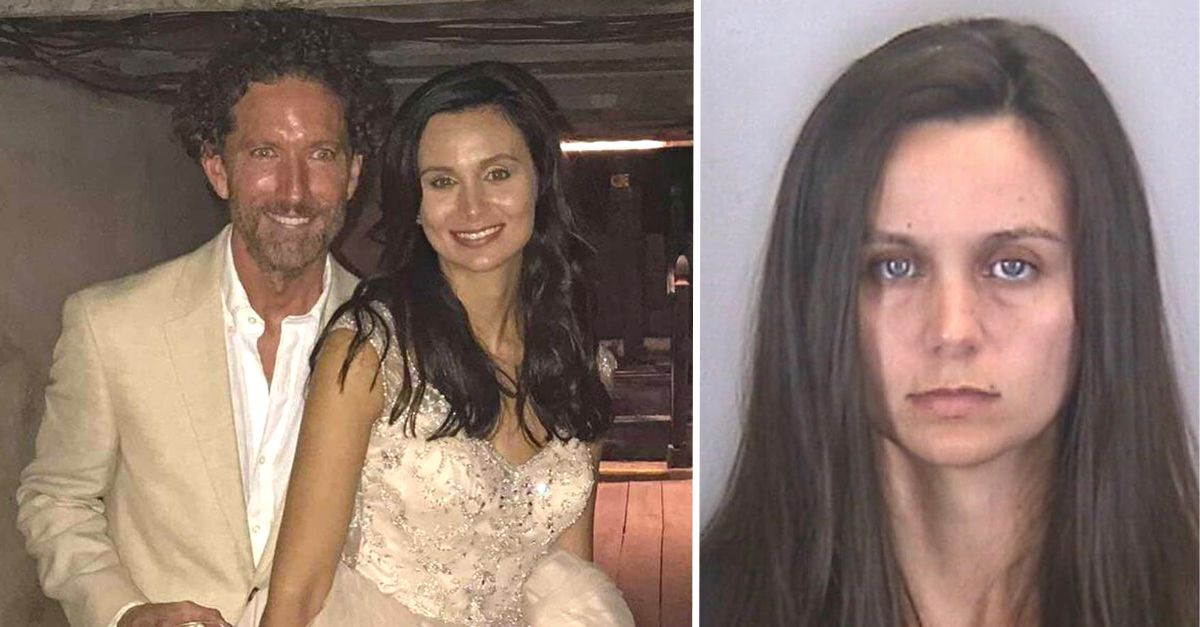 Ashley Benefield, seen in a booking photo on the right, is accused of killing her husband, Doug Benefield, who appears in an image with his then-wife on the left. (Facebook; Manatee County Sheriff's Office)
A former ballerina in Florida had her self-defense claim denied by a judge in a pretrial order issued this week, Law&Crime has learned.
Ashley Benefield, 31, stands accused of murder in the second degree for shooting and killing her estranged husband, Douglas "Doug" Benefield, 58, inside their Lakewood Ranch, Florida, home in September 2020. The defendant has consistently maintained she acted in self-defense since being arrested in November of that year.
On Monday, 12th Judicial District Circuit Court Judge Stephen M. Whyte issued an order more or less agreeing with the state's understanding of the events that led to Doug Benefield's death.
"The competent and substantial evidence presented by the State proves clearly and convincingly that the defendant is not entitled to court-ordered immunity from criminal prosecution, as she was not justified in using deadly force against the victim on September 27, 2020," Whyte wrote in the order obtained by Court TV.
In July, Ashley Benefield's defense team filed a motion for dismissal based on Florida's "stand-your-ground" law. The affirmative defense can result in criminal charges being dropped against someone who uses deadly force – if and when they believe their life, or someone else's life, is in imminent danger or if they reasonably believe they are being threatened with great bodily harm. The law does not require the person using deadly force to retreat, but they must not be committing a crime and must be in a place they have a legal right to be.
On Sept. 27, 2020, Manatee County emergency dispatchers received a 911 call around 6 p.m. from a man who said his neighbor had just run over to his residence, shouting for help, claiming her husband had just attacked her, and she shot him in reprisal.
According to the defendant, her husband had long been abusive – previously filing several domestic violence claims against Doug Benefield that went nowhere as judges found her earlier allegations of abuse and poisoning unpersuasive. Her defense team cast the fatal violence as the culmination of that long alleged history.
In 2016, the Benefields first met at a Republican fundraiser in Palm Beach. Ashley Benefield was a 24-year-old model and ballerina. Doug Benefield was a recently widowed 54-year-old Navy veteran.
Two weeks after meeting, they were married.
The whirlwind romance would eventually sour.
Ashley Benefield wanted to start her own ballet company. So, the couple founded "The American National Ballet" in Charleston, South Carolina. Their ballet company quickly failed.
Soon after that failed effort, the Benefields learned they were expecting a baby. Due to a challenging pregnancy, Ashley Benefield moved from South Carolina to Florida to be with her mother and gave birth in March 2018. After that, things started to crumble, and a contentious battle over custody of the child began.
On the day in question, Ashley Benefield was preparing to move to Maryland with her mother and the then-separated couple's young daughter, the defense's motion to dismiss says. Doug Benefield arrived to help with the move – a move he also planned to make, though the two would be living in separate houses up north.
After arriving "happy, hyper and animated," the man eventually became "agitated, sullen and intimating," the motion alleges. Eventually, after verbally insulting his wife, Doug Benefield rammed her with a moving box, leaving abrasions, or small cuts, the motion says. The altercation escalated from there.
The defendant says she tried to leave but was grabbed by her husband – who said she couldn't leave him. Then, the motion says, she demanded that he leave the property, enraging him further.
"Raising his right hand, with a closed fist, the decedent drove his knuckles, at the second joint, into the left side of Ms. Benefield's head," the motion reads. "Her worst fears realized, Ms. Benefield now believed her life was in danger."
Four shots were fired. Two connected.
The state, however, hotly disputed that story.
"Based on the entry wounds on Douglas, it does not appear that he was facing Ashley when she began shooting," a law enforcement affidavit alleges. "It also does not appear that Douglas had taken any kind of defensive or combative stance."
At least one expert has already contradicted law enforcement.
During the motions hearing earlier this summer, Chief Medical Examiner of the 12th Circuit, Dr. Russell Vega, said Doug Benefield was most likely facing his wife when she shot him in the chest.
In the unsuccessful motion for dismissal, Ashley Benefield's attorneys added evidence, documents, and photos to support their argument. Those included images of Doug Benefield that show his impressive physique and strength, along with the cut on the side of Ashley Benefield's body she allegedly received from the moving box and a photo of Ashley Benefield with a black eye. The defense says the injury photos were taken on the day of the shooting.
The former model is filing an appeal of the court's order with the Sunshine State's Second District Court of Appeal, Law&Crime has learned. On Tuesday, at a hearing, the trial was stayed until Nov. 29. The jury trial was previously slated to begin on Oct. 16.
"I have nothing but respect for Judge White," Neil Taylor, Ashley Benefield's defense attorney, told Law&Crime. "But we are going to appeal the decision and see what the Second DCA says."
If the defendant's appeal is unsuccessful, she can still use self-defense as an affirmative defense during a potential trial – a denial of a broad-based stand-your-ground motion for immunity does not preclude using self-defense as an argument during a trial.
Vanessa Bein and Alyssa Fisher contributed to this report.
Have a tip we should know? [email protected]