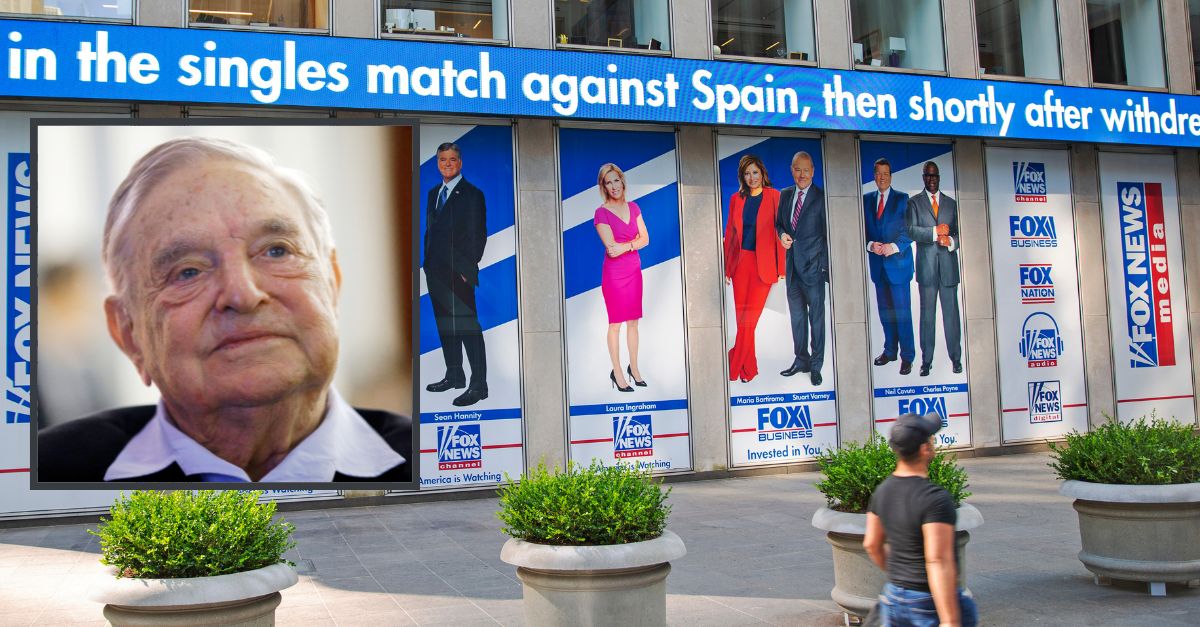 FILE – A man walks past promotional posters outside Fox News studios at News Corporation headquarters in New York on Saturday, July 31, 2021. (AP Photo/Ted Shaffrey, File). Inset: FILE – George Soros, founder and chairman of the Open Society Foundations, attends the European Council on Foreign Relations Annual Council Meeting, May 29, 2018, in Paris. (AP Photo/Francois Mori, File)
A New York judge has rejected an attempt by Fox News to subpoena George Soros — the liberal philanthropist and frequent target of right-wing conspiracy theories — in the Smartmatic defamation case.
Manhattan Supreme Court Justice David B. Cohen said Monday that the media giant will not be allowed to force Soros to provide documents in response to the subpoena, CNN reported. According to court filings, Fox wanted Soros, his son Alexander Soros, and representatives from their Open Society Foundation to produce "all documents and communications relating to Smartmatic" and all communications between Soros and Smartmatic and its officers.
Cohen denied that request, calling Soros' potential role in the case a "peripheral matter."
"I base that on the finding that the crux of Smartmatic's claims is that Fox has asserted they were part of rigging [the election], not that Smartmatic was affiliated with George Soros, Alex Soros, or the OSF," Cohen said, according to CNN. "That's a peripheral matter — at best, it's a possible rationale for defamation."
Stalwart Donald Trump allies and regular Fox News guests Rudy Giuliani and Sidney Powell alleged that Smartmatic, a voting technology company, has links to George Soros, the billionaire who created the Open Society Foundation, which funds pro-democracy organizations and causes. These allegations tied Soros to the unsupported conspiracy theory that voting machines switched votes for Trump in favor of the ultimate winner in the election, President Joe Biden.
"Why did we serve the Soros group?" Fox lawyer Aaron Marks said in court on Monday, CNN reported. "In the complaint, there are allegations by Smartmatic that Rudy Giuliani and Sidney Powell, on the airwaves of Fox News, made defamatory remarks, largely implying that Smartmatic — a supposedly neutral and apolitical voting machine company — was rather, in fact, biased and was likely to chat in the direction of Democrats."
According to CNN, lawyers for Fox said that Mark Malloch-Brown, a longtime friend of Soros, was the chair of Smartmatic's parent company before the 2020 election and was also a board member for Soros' foundation.
Lawyers for Soros said the subpoena was nothing more than an attempt to distract from the issues in the case.
"They're trying to prove something that's not in dispute," attorney Benjamin McCallen, a lawyer for Soros, said in court on Monday, according to CNN. McCallen said that the relationship between Soros and Malloch-Brown is irrelevant to Smartmatic's defamation claims.
"We are non-parties to this case and we wish to remain so," McCallen said.
Soros' legal team had vehemently objected to the subpoena, arguing that any alleged connection between the voting machine group and the Jewish, Hungarian-born Holocaust survivor, is tenuous, at best.
"Mr. Soros objects to the Subpoena in its entirety on the grounds that its service is an abuse of process that constitutes harassment of a non-party," attorneys for Soros said in a court filing. "The Complaint in this Action cites, within its hundreds of pages, only a handful of vague allusions, made by Fox personnel or their guests, to a purported 'connection' between Smartmatic and Mr. Soros. This handful of stray, imprecise remarks does not provide grounds for the broad requests served on Mr. Soros, a private non-party to this Action. The alleged defamatory remarks, which are at most peripheral to this action, do not justify the expense required to respond to this Subpoena, nor do they provide a basis to obtain the personal and professional communications of Mr. Soros."
Smartmatic is one of two voting machine companies that has sued Fox for defamation relating to the 2020 presidential election. Dominion settled its lawsuit against Fox in April for a jaw-dropping $787.5 million.
"We are pleased that counsel for Soros and Smartmatic conceded during the hearing today that there are connections between Smartmatic and Soros, as confirmed by documents from Smartmatic and the public record," Fox News Media said in a statement.
Have a tip we should know? [email protected]