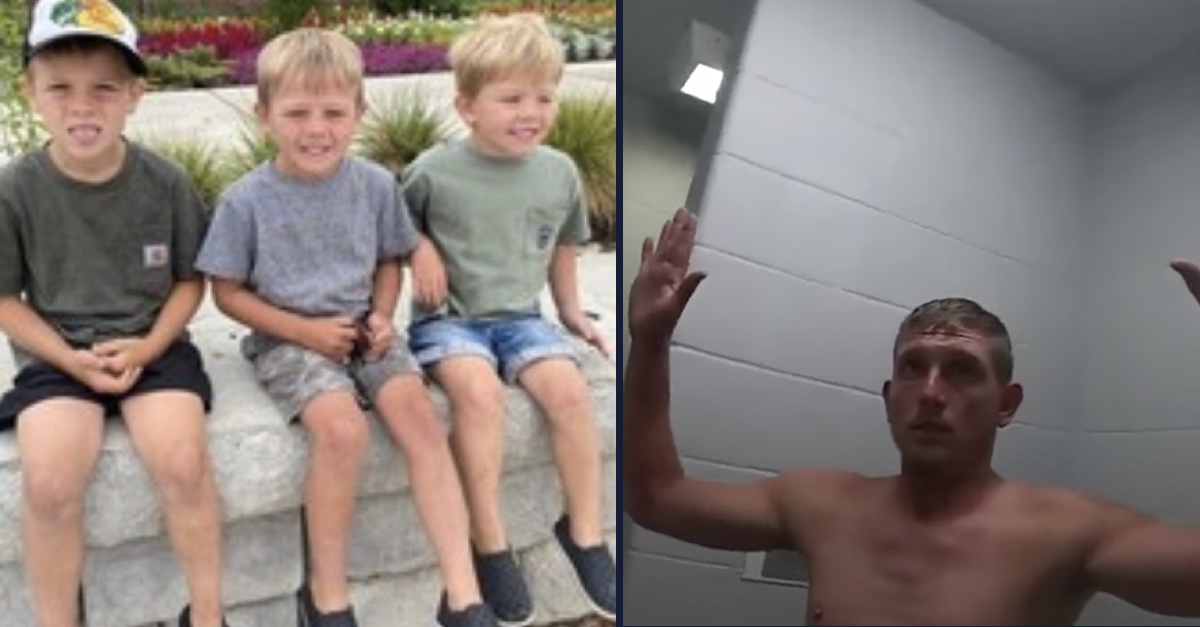 Clayton, Hunter, and Chase Doerman (as pictured in obituary); Chad Doerman (pictured in custody in Clermont County, Law&Crime Network/YouTube)
Ohio prosecutors will have close to a year to prepare for a potential death penalty trial against the father charged with executing his three young sons with a rifle just before Father's Day last June.
Chad Christopher Doerman, 32, is currently set to face a jury of his peers in Clermont County from July 8, 2024 to Aug. 2, 2024 in the deaths of 3-year-old Chase, 4-year-old Hunter, and 7-year-old Clayton Doerman, court records show.
Common Pleas Court Judge Richard P. Ferenc set the trial date Friday, Sept. 22, anticipating the proceedings will span four weeks.
In July, prosecutors alleged for the first time that Doerman began shooting the victims after asking his wife and sons to join him for a nap in the then-couple's bedroom at their Laurel Lindale Road home in New Richmond, Monroe Township. The defendant, home from work early on June 15 (a Thursday), then allegedly got out of bed and opened fire.
Prosecutors said that Doerman planned the murders for months and admitted he hadn't slept for days prior to the slayings because the "thoughts of having to kill his sons was so heavy on him."
Video recorded after Doerman was taken into custody showed the suspect banging his head against a wall.
In late June, the day after Doerman was indicted by a grand jury, Clermont County Prosecutor Mark Tekulve was clear that the prosecution views the "unspeakable tragedy" as death penalty crimes.
"I can't go into a whole lot of facts because this is a death penalty case, and my goal is to have this man executed for slaughtering these three little boys," Tekulve said. "It is an incomprehensible act of horror that he perpetrated on this family."
"Factually, I've said what I said on the record and I'm going to stick with that," Tekulve continued. "I'll let the facts speak for themselves. He slaughtered his 3 children in the most brutal fashion you can imagine, as I mentioned in court."
In court, Tekulve said that Doerman shot Hunter first and then shot " Clayton "from behind" while the boy tried to escape, executing the oldest brother when he fell. The defendant allegedly "ripped" 3-year-old Chase from his mother's arms and "put a bullet in his head."
Prosecutors further said in court that Doerman made "a full admission" to the unconscionable crimes.
"In an act of incomprehensible cruelty, the father that stands before you lined up his three young boys and executed them in his own home with a rifle," prosecutor David Gast said. "In an act of desperation, the mother at some point grabbed the gun the father was wielding to attempt to protect them."
Doerman "confessed to what I believe is the worst crime, at least I hope, that I see in my lifetime," the prosecutor added.
Bodycam video from the day of the family murders showed a calm Doerman sitting on the front step of the residence with a rifle next to him as the victims were dead nearby.
"Can I stand up?" Doerman asked responding deputies. "It's kind of uncomfortable."
The deputies arrived on scene after the victims' mother, while wounded, cried out on a 911 call that "her babies had been shot." She was heard on bodycam shouting that Chad Doerman "took my life from me! My life!"
At least one neighbor said that Chad Doerman was abusive to his wife and kids and that the defendant was "angry every day."
A sister of the boys' mother, a family friend, and the New Richmond Youth Sports Association (NRYSA) — a baseball and softball organization — started fundraising campaigns to support the family; the victims' older sister Alexis was the only child to escape alive.
One day after the murders, the NRYSA revealed that three of the four child victims played baseball and softball locally.
The NRYSA's president in July said that 3-year-old Chase would "always" go to games to watch his older brothers play baseball.
"He knew when his brothers were on first, second, or third. So he was just waiting for his turn to be able to play," Kristin Bennett, according to WKEF.
Coaches remembered Hunter and Clayton both for their skill on the diamond and for the joy they had with their friends and teammates.
"We just try to continue to remember how they lived. We talk about the things that they did as kids, the stories that they have with how they've lived their lives. The things they did on the baseball field, the things they did in the dugout. The fun things they did as being playful, joyful, loving kids," Clayton's coach Dwayne Kuhn reportedly said. "Those are the things we really focus on and the things we think about. And we continue to do that, it'll help us get through this."
An obituary for the children said that the three brothers "bonded together in life and now for eternity as God has reeled them in to heaven for unending days of fishing, playing outside way past bedtime, laughing loudly, and non-stop giggling."
"They loved unconditionally, sharing their big hearts with anyone who they could make laugh and give them love," the heartbroken family said, adding that Chase "couldn't wait to be a baseball player like his brothers."
Chad Doerman remains in the custody of the Clermont County Jail on charges of aggravated murder, kidnapping, and felonious assault. He has pleaded not guilty.
Alberto Luperon contributed to this report.
Have a tip we should know? [email protected]