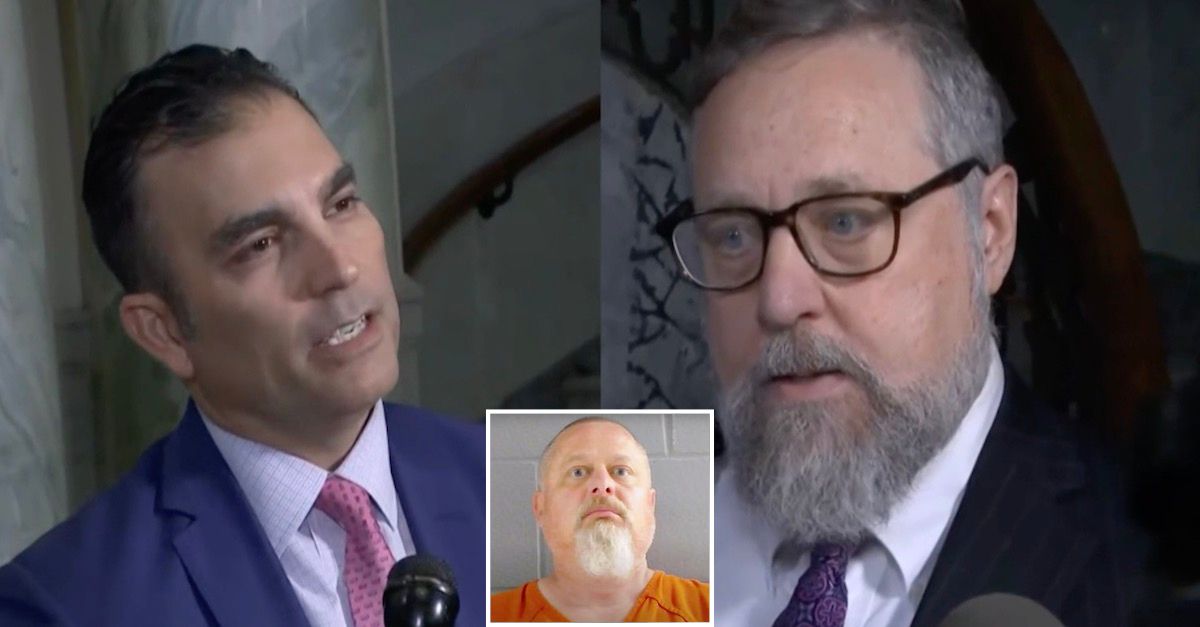 Brad Rozzi and Andrew Baldwin (WTHR screenshot) and Richard Allen (Carroll County Detention Center)
The judge appointed to preside over the high-profile Delphi murders case on Tuesday formally removed the two court-appointed defense attorneys who had been representing accused murderer Richard Allen. The decision from Special Judge Fran C. Gull came after Brad Rozzi and Andrew Baldwin had both agreed to remain on the case pro bono (free of charge), marking yet another bizarre twist in a case that has seen several in the last few months.
"I have great concerns with your representation. I can not and will not allow them to represent you. I am sorry this happened to you Mr. Allen," Gull told the defendant during Tuesday's hearing, according to a report from Lafayette, Indiana CBS affiliate WLFI.
The "will they, won't they" surrounding Rozzi and Baldwin's representation of Allen began when Gull came out of chambers at the start of an Oct. 19 hearing and announced that both Rozzi and Baldwin had withdrawn from the case in an "unexpected turn of events."
During that hearing — the first to allow broadcast cameras to film the proceeding — Gull said that Baldwin had orally withdrawn from the case after sealed evidence was leaked from his office and provided to a true crime podcast. She then claimed that Rozzi was also withdrawing and planned to submit a written notification to the court.
But Rozzi never submitted his resignation. Instead, last week he filed a series of motions seeking to have himself reinstated as Allen's attorney and also have Gull disqualified from presiding over the trial. In the motion to have Gull disqualified from the case, Rozzi said Gull "ambushed" him and Baldwin with "a planned Hobson's choice designed to coerce withdrawals." He also alleged that Gull "coerced an oral request to withdraw from Attorney Rozzi" and gave neither the opportunity to defend themselves from her accusations.
Gull said the decision to not allow Rozzi or Baldwin to remain on the case, even pro bono, was due to their alleged "gross negligence," Indianapolis NBC affiliate WTHR reported. David Hennessy, an attorney representing Baldwin in the dispute, argued that Gull did not give them proper notification about the alleged negligence, reportedly claiming that her decision to unilaterally remove them from the case violated Allen's rights and the Constitution.
That notion was shared by Bob Motta, criminal defense attorney and host of the true-crime podcast "Defense Diaries," who attended Tuesday's hearing.
"Judge Gull just obliterated Richard Allen's 6th Amendment right to counsel and right to a fair trial as she conjured up a bizarre notion that at some point she made a 'finding' of gross negligence, despite no hearing ever taking place, as to Rozzi and Baldwin's representation of their client," he wrote on Twitter. "If justice for Abby and Libby is your concern, which it should be, that concept took a massive blow today. It really did."
Motta later added that he thought Judge Gull "at the very least" would "follow the law and create a record by having a formal [disqualification] hearing."
In a petition seeking to have the state's supreme court step in, other attorneys representing Allen since Baldwin and Rozzi's departure argued that Gull had violated her judicial oath and prevented the case from being properly opened to the public.
"If there was ever a time when the openness mandated by the Trial Rules and Access to Court Records Rules was critical, it is the present case — one of the most high-profile cases this state has ever seen," the petition filed Monday states. "For many Hoosiers this is the first time they have followed the workings of a court in this state. Yet the Trial Rules and Access to Court Records Rules have been repeatedly violated, leaving the public and the media in the dark."
Allen's newly court-appointed public defenders filed a request to have his trial pushed back, which Gull granted. While originally set to begin Jan. 24, 2024, Allen will now go to trial from Oct. 15 to Oct. 31, 2024.
The new attorneys, William S. Lebrato and Robert C. Scremin, the third set to represent Allen, wrote in the filing for a continuance that they'd only been appointed three days prior and had not received any discovery material for the case, claiming it would be "impossible for counsel to be ready for trial in January 2024."
Allen is facing two counts of murder in the 2017 slayings of Abigail Williams and Liberty German, whose bodies were discovered in a wooded area just off of the Delphi Historic Trails system.
Williams and German vanished while walking the Monon High Bridge Trail near Delphi, Indiana, on Feb. 13, 2017. The trail traverses an abandoned stretch of what was once the Monon Railroad and crosses an old trestle over a small river or creek. The girls were found dead the next day in an area near the trestle, and their deaths were determined to be homicides.
Have a tip we should know? [email protected]