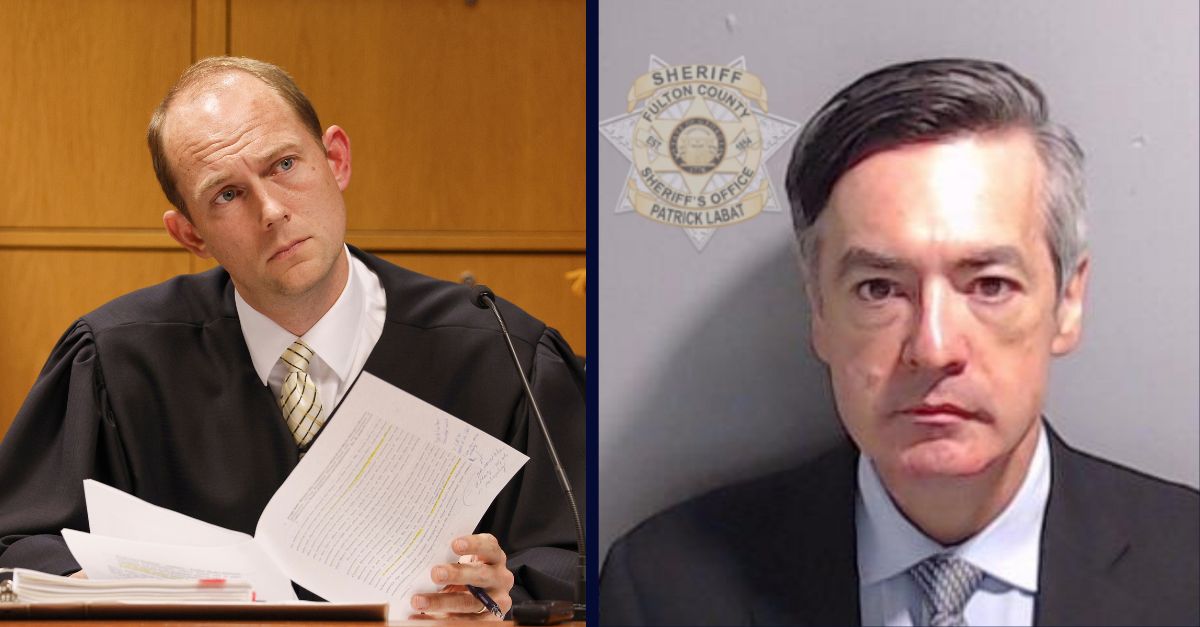 Left: Fulton County Superior Court Judge Scott McAfee listens as motions are presented in his courtroom by Brian Rafferty, attorney for Sidney Powell, in Atlanta, Thursday, Oct. 5, 2023. (Erik S. Lesser/Pool Photo via AP). Right: Kenneth Chesebro (Fulton County (Ga.) Sheriff's Office)
The Georgia judge overseeing the historic racketeering case against former President Donald Trump and more than a dozen of his allies and supporters is apparently not without a sense of humor.
In a scathing order issued Friday, Fulton County Superior Court Judge Scott McAfee denied Donald Trump RICO co-defendant Kenneth Chesebro's request to dismiss the indictment against him. Chesebro, one of the authors of the so-called "coup memo" that purported to provide a legal basis for Trump to stay in power despite losing the 2020 presidential election, argued that the office of District Attorney Fani Willis failed to file what he tried to argue was a required document before bringing the case.
Chesebro said that Willis' office "neglected to file the oath of Special Assistant District Attorney ("ADA") Nathan Wade," in violation of Georgia law, which requires that prosecutors, as "deputies" of the District Attorney, take the same oath as Willis and file it "before proceeding to act."
McAfee wasn't impressed with Chesebro's legal arguments and did little to hide his antipathy.
"First, the motion fails to establish that this code section is even relevant to Special ADA Wade," McAfee wrote, noting that the prosecutor was hired to assist with this case only. Since the law provides an exception for prosecutors handling "particular cases only," McAfee noted, Wade wouldn't be subject to the requirement.
"Defendant's motion recognizes this exception, but then blithely moves on without adequately explaining why it should not apply," the ruling says.
Even if Wade had not been brought on to handle this specific case, Georgia law specifically provides that "official acts of an officer shall be valid regardless of his omission to take and file the oath, except in cases where so specially declared."
Chesebro failed to address this provision of the law, according to McAfee.
"One might think distinguishing this safe harbor provision would be central to the defendant's argument," the judge wrote. "One would be wrong. The defendant's citation is tucked away in a footnote with only the unsupported assertion that 'prosecuting a criminal case is one such specially declared situation.' The Court has not been provided, nor located, any authority to support this claim."
McAfee's third point put the proverbial nail in the coffin of Chesebro's motion, appearing to invoke a classic Monty Python sketch in the process.
"And if this parrot of a motion is somehow not yet dead, the defendant has failed to establish how Special ADA Wade's actions resulted in prejudice, i.e., how his assignment singlehandedly changed any specific actions taken during the investigation or resulted in the true bill of indictment," McAfee wrote. He added that Chesebro similarly failed to show that his constitutional rights had been violated "sufficient to justify outright dismissal."
In the bit known as the "dead parrot" sketch, a dissatisfied pet shop customer tries to return a would-be pet parrot as the store clerk repeatedly denies that the bird is no longer living.
"The motion is denied," McAfee concluded.
Chesebro is one of 19 defendants in the RICO case that accuses Trump and an array of allies and supporters of plotting to undermine the 2020 election results in Georgia. McAfee previously rejected his claims of immunity and effort to keep some of his emails out of the case.
Read the ruling via CNN here.
Have a tip we should know? [email protected]