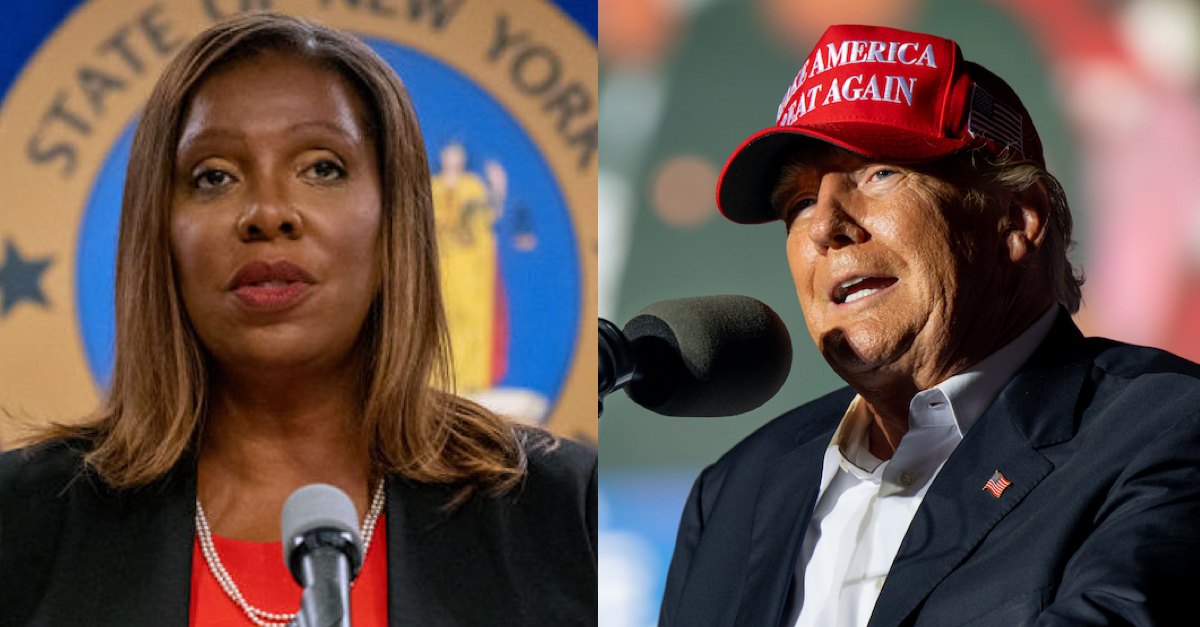 Left: New York Attorney General Letitia James speaks during a press conference regarding former US President Donald Trump and his family's financial fraud case on September 21, 2022, in New York (photo by YUKI IWAMURA/AFP via Getty Images). Right: Donald Trump speaks at a 'Save America' rally on October 22, 2022 in Robstown, Texas (photo by Brandon Bell/Getty Images).
Former president Donald Trump, Donald Trump, Jr., Eric Trump, several of their top lieutenants, and various corporate organizations that comprise the Trump family business committed fraud, a judge in New York City ruled on Tuesday afternoon.
Manhattan Supreme Court Justice Arthur Engoron, in a series of three 35-page orders, determined the 45th president and his namesake company inflated his net worth and grossly overvalued their assets on years' worth of financial paperwork in order to bilk banks and insurance companies so that they could "transact business."
The ruling comes in a $250 million civil fraud lawsuit brought against Trump, his children, and the Trump Organization in September 2022.
Engoron, in each order, explained that Trump and various others violated New York Executive Law § 63(12), a statute that gives the Empire State's attorney general a broad suite of powers to investigate and prosecute instances of civil fraud – by filing civil lawsuits.
In August, New York Attorney General Letitia James moved for summary judgment on some of the claims in that lawsuit.
The schemes date back to at least 2011, the AG's office claims. That's the year Donald Trump and various underlings began inflating "by billions of dollars the value of many of the assets listed on Donald J. Trump's annual statement of financial condition," or SFC, and "his overall net worth for each of these years," one filing alleged.
In her August filings – replete with literally thousands of pages of exhibits – James' office documented how Trump inflated the value of his triplex apartment in Trump Tower by overestimating the square footage by nearly three times the actual amount of space. Other times and often, Trump valued a number of his owned properties at dollar amounts far exceeding what professional appraisers had told the companies.
"The instant motions do not task this Court with determining which appraisals are the most accurate, which would present issues of fact," the order reads. "Rather, time and time again, the Court is not comparing one appraisal to another; it is comparing an independent professional appraisal to a pie-in-the-sky dream of concocted potential."
The judge directly addressed the square footage issue in his ruling.
"Good-faith measurements could vary by as much as 10-20%, not 200%," Engoron wrote. "A discrepancy of this order of magnitude, by a real estate developer sizing up his own living space of decades, can only be considered fraud."
Engoron also specifically referenced Trump's SFCs.
"[T]he documents here clearly contain fraudulent valuations that defendants used in business," one order reads. "Defendants' respond that: the documents do not say what they say; there is no such thing as 'objective' value; and that, essentially, the Court should not believe its own eyes."
The underlying investigation by James' office dates back to 2019 and is premised on sworn congressional testimony from Trump's former friend and fixer Michael Cohen in 2019. Under questioning by Rep. Alexandria Ocasio-Cortez, D-N.Y., Cohen claimed the Trump Organization inflated assets to insurance companies and that the company's tax returns likely contained similar financial improprieties.
Trump has been held in contempt for failing to properly respond to subpoenas in the case – though the financial punishment was later set aside after curing the defects in those subpoena responses. He and two of his children later tried and failed to have the overarching lawsuit transferred to a different judge. Earlier this month, Trump sued Engoron.
Engoron, in previous rulings, has sharply criticized the defendants' arguments and their behavior that resulted in sanctions.
Tuesday's orders were no exception.
A small selection from one reads:
Exacerbating defendants' obstreperous conduct is their continued reliance on bogus arguments, in papers and oral argument. In defendants' world: rent regulated apartments are worth the same as unregulated apartments; restricted land is worth the same as unrestricted land; restrictions can evaporate into thin air; a disclaimer by one party casting responsibility on another party exonerates the other party's lies; the Attorney General of the State of New York does not have capacity to sue or standing to sue (never mind all those cases where the Attorney General has sued successfully) under a statute expressly designed to provide that right; all illegal acts are untimely if they stem from one untimely act; and square footage subjective.
"That is a fantasy world, not the real world," the court continued.
As punishment, Engoron canceled numerous licenses that allowed the Trumps to do business in New York State.
Several of Trump's attorneys were also sanctioned $7,500 each for making frivolous arguments orally and in motions.
The trial on the remaining counts in the AG's fraud case against the Trump defendants is set to begin on Oct. 2.
Law&Crime reached out to representatives for Trump and the AG's office for comment, but no responses were immediately forthcoming.
In comments to The Associated Press, Trump attorney Christopher Kise, who was sanctioned by the court, said his clients intend to appeal the decision. He said the order was a "miscarriage of justice" and "completely disconnected from the facts and governing law."
Have a tip we should know? [email protected]