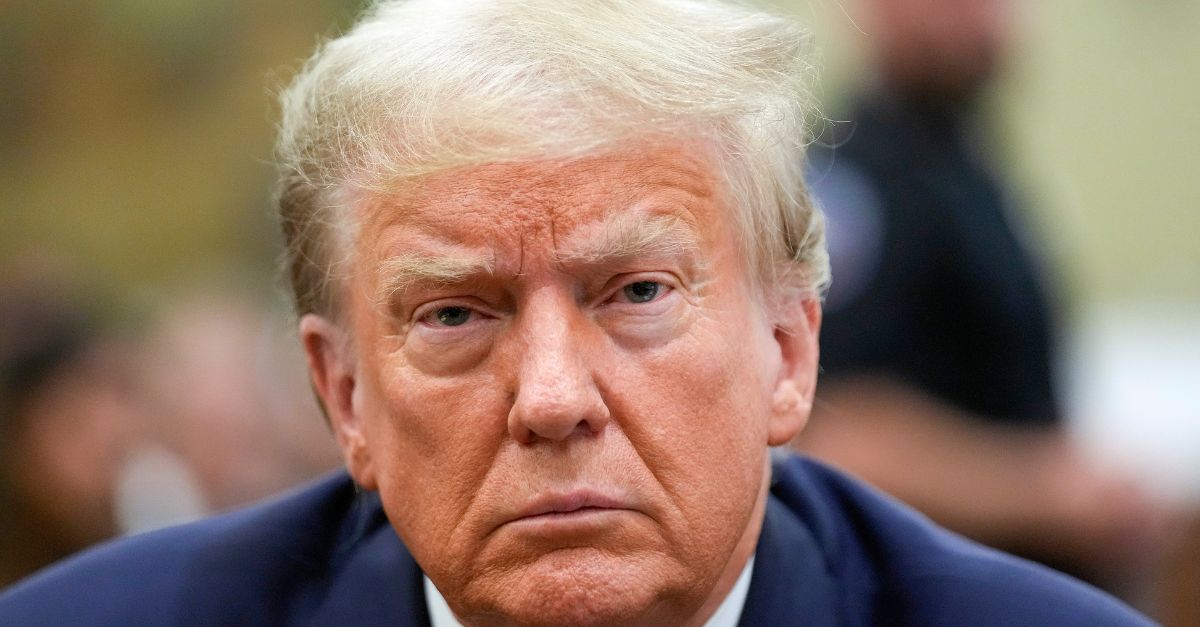 Former President Donald Trump, who faces indictments across four venues, sits in the courtroom before the continuation of his civil business fraud trial at New York Supreme Court, Tuesday, Oct. 3, 2023, in New York. (AP Photo/Seth Wenig, Pool)
After arguing his indictment in Washington, D.C., on election subversion charges should be thrown out altogether on the basis of "absolute presidential immunity," attorneys for Donald Trump have come up with a new list of demands for special counsel Jack Smith surrounding classified records as well as another request to extend deadlines in the case.
Presiding U.S. District Judge Tanya Chutkan denied some of those requests in an order on Friday afternoon while granting others.
In an 18-page filing, Trump defense attorney Todd Blanche argued the the former president does not wish to "conclusively describe defense theories" ahead of his March trial to the court without having first accessed a number of classified or potentially classified records he says will prove he reasonably believed the election was rigged or stolen.
In fact, the election was not rigged nor were there sweeping instances of voter fraud sufficient to change the results.
But as Blanche noted Thursday in Trump's defense, there were concerns over security threats raised by the National Intelligence Council, or NIC, that foreign actors had attempted to influence the outcome.
The report cited was declassified and published by NIC in March 2021 and while it found no instances of fraud, Trump's defense team zeroed in on lines in the report that described a "minority view" that the Chinese government had intended to "at least directly affect U.S. candidates, political processes, and voter preferences" and that "Beijing preferred former President Trump's defeat." The report also addressed threats of Russia's undermining of public confidence in the election as well as efforts by Iran, Cuba and Venezuela.
Although the report itself is unclassified, Blanche argues that NIC likely relied on information that is classified, and that it could be favorable to Trump. The former president is entitled to that information, Blanche argues, pursuant to the legal requirement that prosecutors share potentially exculpatory information about criminally charged defendants. Blanche says his team wants the classified information because it would prove Trump was not the cause of the "intense national atmosphere of mistrust and anger" in the run-up to Jan. 6, as prosecutors allege, nor was he responsible for "eroding public trust" in the elections.
These details could show his statements and conduct were all part of his duties to preserve national security, Blanche argues.
The lawyer says Trump also wants access to classified records on foreign influence that were reviewed by the House Select Committee to Investigate the Jan. 6 Attack on the U.S. Capitol. The former president's defense team highlighted that when former U.S. Chairman for the Joint Chiefs of Staff Mark Milley testified to the select committee, Milley said he reviewed several classified documents about threats of foreign interference.
Trump had asked the court to support his request for a redacted, publicly filed version of the special counsel's classified materials, or CIPA, motions that disclose "non-sensitive details" and permission to submit a brief outlining his objections to review of classified materials ex parte, or outside of the presence of other parties to the case.
Judge Chutkan denied the request on Friday for a redacted publicly filed version of CIPA materials writing: "that submission is classified in its entirety, which justifies its sealing in full."
Trump's lawyers did not cite any authority to unseal a classified record, Chutkan said, and nor could they demand the government do so.
"Whether evaluated under the First Amendment's limited right of access to documents in criminal cases, or the presumption of public access discussed in U.S. v Hubbard, classified documents by and large qualify for sealing. There is no historical tradition of access to them and for good reason: The well-established risks to national security created by the disclosure of classified materials generally outweigh any interest in making them public," she wrote.
Accusing prosecutors of being "glib" by suggesting Trump has ample time to prepare for trial in March and suggesting the government has failed to comply with obligations under discovery, Trump asked Chutkan to grant more time for review and asked that Trump not be obligated to respond until "special counsel establishes to what extent sealing is appropriate."
A hearing to argue these matters and others is set for Oct. 16 at the federal courthouse in Washington. Trump is expected to waive his appearance. Chutkan granted the defense more time to raise his objections, but he has only until Oct 11.
The prosecution, meanwhile, has expressed numerous times that it does not intend to use classified materials to make its case-in-chief against Trump and that the lion's share of its case relies on open source documents and Trump's own public remarks and public witness testimony before the select committee
That did not deter Blanche from asserting that "several allegations in the indictment implicate classified information," though.
"Only after the need for sealing is addressed will President Trump have the ability to respond to unclasssified case citations and arguments as well as other non-sensitive portions of the filing," Blanche wrote.
In a separate filing Thursday, defense attorney John Lauro asked the court once again to push pretrial briefing deadlines set for this month to December.
"Acting as though this were a mine-run case proceeding along a well-worn road, the prosecution claims President Trump should need no more than two months to submit pretrial motions. The prosecution knows better. This case is the first of its kind in American history," Lauro wrote.
Chutkan denied this request too, but only in part. Instead of 60 days to file pretrial motions to dismiss, she allowed for just 14.
The enormity of the case is undeniable and on Thursday, a press coalition made up of several major news outlets filed an application in the district court seeking permission to televise trial proceedings in March, or alternatively, that the closed circuit feed available exclusively to reporters in the courthouse pressroom be simulcast on YouTube. If that isn't agreeable, reporters have asked for proceedings to be recorded and the visuals to be released at the end of each day of trial.
Have a tip we should know? [email protected]