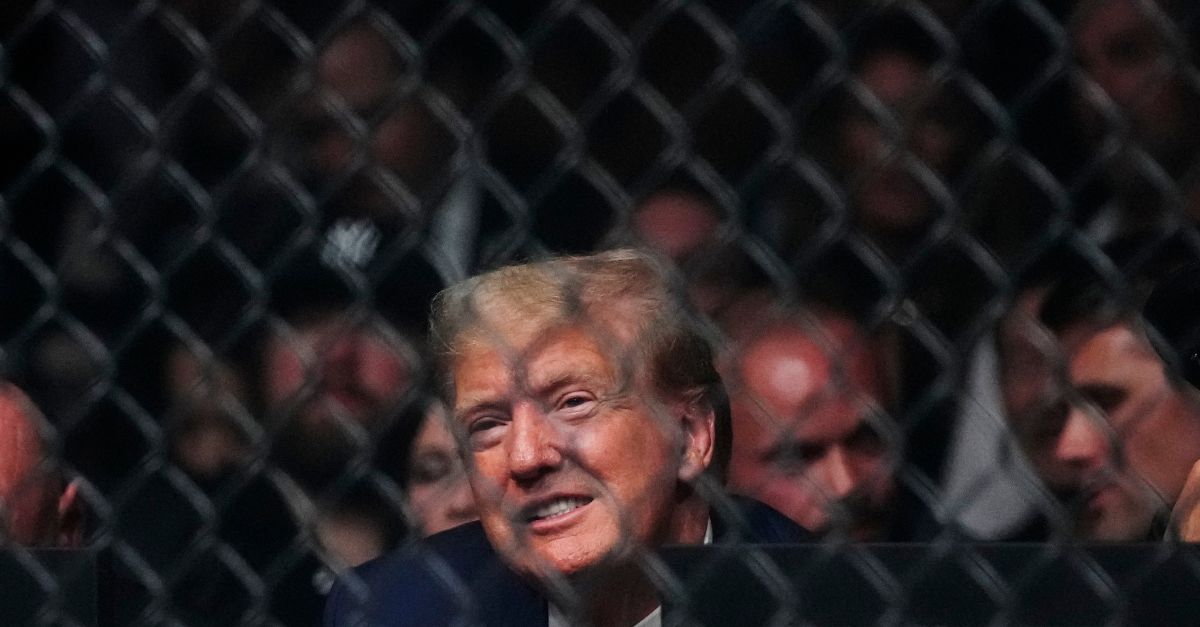 Former President Donald Trump waits for the start of the lightweight bout between Matt Frevola and Benoit Saint Denis, of France, at the UFC 295 mixed martial arts event Saturday, Nov. 11, 2023, in New York. (AP Photo/Frank Franklin II)
Special counsel Jack Smith has again urged a court to flatly reject Donald Trump's "purported interest" in having his election subversion trial in Washington, D.C., televised, telling a federal judge that other high-profile cases, including the seditious conspiracy and terrorism cases alike, have never had nor required such exposure.
The four-page filing made Monday morning follows another from federal prosecutors issued on Sunday when special counsel called Trump out for reversing course on the request for cameras.
On Nov. 3, after a number of media organizations sought broadcast access to proceedings, Trump took no position on the matter, court records show. Prosecutors said they asked Trump's attorneys for their opinion and Trump's attorneys had none. But that changed, special counsel noted in their filing on Sunday, when Trump attorney John Lauro petitioned the court on Nov. 10 to stop hiding proceedings under a cloak of "darkness."
Omitting any citations to any legal precedent to support this claim, Trump's lawyers instead reiterated a long series of grievances about the former president's so-called political persecution.
Explaining their position more in-depth on Monday to U.S. District Judge Tanya Chutkan, federal prosecutors wrote that Trump "offers no legal argument or case law to support his demand that trial in this case be conducted unlike that for every other federal criminal defendant."
"His purported interest in 'sunlight' does not cure that defect. Indeed, the defendant ignores the high profile federal criminal trials have long proceeded in accordance with the broadcast prohibition under the rules — and they have garnered significant and detailed media coverage of proceedings nonetheless," Smith wrote, citing the trial of Dzhokhar A. Tsarnaev, the Boston bomber, as well as the trial of Oklahoma City bomber Timothy McVeigh, the trial of 9/11 plotter Zacarias Moussaoui and more recently, the seditious conspiracy trial of Elmer Stewart Rhodes, leader of the extremist Oath Keepers group, and the trial of Ethan Nordean of the Proud Boys.
"The comprehensive, often minute-by-minute public reporting on courtroom hearings in this case provides further evidence that defendant's desired 'sunlight' need not come from eschewing the rules," the filing notes.
Trump's trial in Washington, D.C., where he faces multiple criminal conspiracy charges for allegedly attempting to subvert the results of the 2020 election, is still slated for March 4, 2024. He has pleaded not guilty to all of the charges and has tried repeatedly to have the indictment thrown out altogether in recent weeks, citing its constitutional merits or arguing points of "absolute presidential immunity."
Prosecutors underlined to Judge Chutkan on Monday that they do not wish to see ordinary proceedings turned into a "carnival atmosphere from which [Trump] seeks to profit by distracting, like many fraud defendants try to do, from the charges against him."
The court "should avoid the spectacle—and attendant risks of witness intimidation—that the longstanding rules against courtroom broadcasting are designed to avoid," Smith argued.
In October, when media entities like NBC sought permission to broadcast, they called the long-standing rules antiquated and a possible violation of the First Amendment.
Have a tip we should know? [email protected]