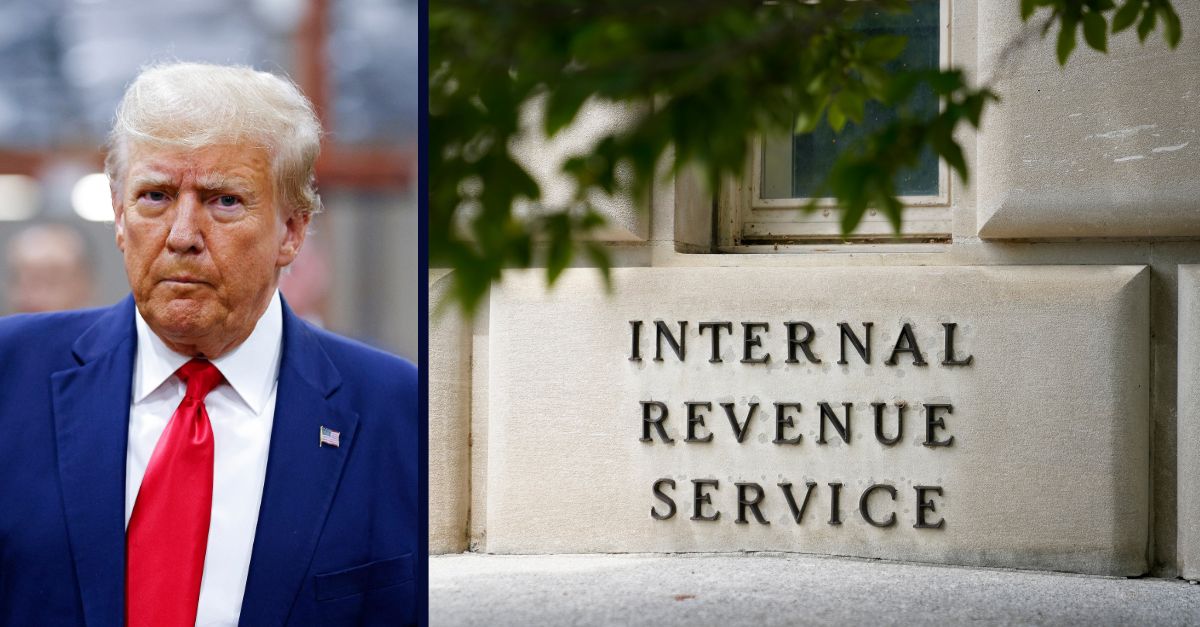 Left: Former President Donald Trump tours Drake Enterprises, an automotive supply company, in Clinton Township, Mich., Wednesday, Sept. 27, 2023. (AP Photo/Mike Mulholland). Right: FILE – A sign outside the Internal Revenue Service building is seen on May 4, 2021, in Washington. (AP Photo/Patrick Semansky, File)
A one-time government contractor has been charged with leaking tax information about former President Donald Trump and some of the wealthiest people in the U.S. to the media.
Charles Littlejohn, 38, stands accused of one count of unauthorized disclosure of tax returns and return information, the U.S. Justice Department announced Friday. According to federal prosecutors, Littlejohn was working at the Internal Revenue Service as a contractor when he nicked the protected information and shared it with news organizations.
"From in or about 2018 until in or about 2020, while Defendant was working on an IRS contract, he stole tax returns and return information associated with Public Official A and thousands of the nation's wealthiest people, including returns and return information dating back more than 15 years," the criminal filing says. "He thereafter disclosed the tax information associated with Public Official A to News Organization 1 and the other tax information to News Organization 2. Both news organizations published numerous articles describing the tax information they obtained from the Defendant."
Neither Trump nor the news organizations are identified in the information or the DOJ's press release, which refers only to a "high-ranking government official."
A CBS News report, citing a person familiar with the charges, says that that government official is Donald Trump himself. The report also says the two organizations that received the tax information were the New York Times and ProPublica.
In 2020, the New York Times published a report that included details of two decades' worth of Trump's tax returns. In 2021, a ProPublica story based on private tax information of billionaires including Jeff Bezos, Elon Musk, and Warren Buffett revealed that some of the world's wealthiest people paid little to nothing in federal taxes.
If convicted, Littlejohn faces up to five years behind bars for violating the federal statute barring unauthorized disclosure of tax information.
Read the criminal information, below.
Have a tip we should know? [email protected]