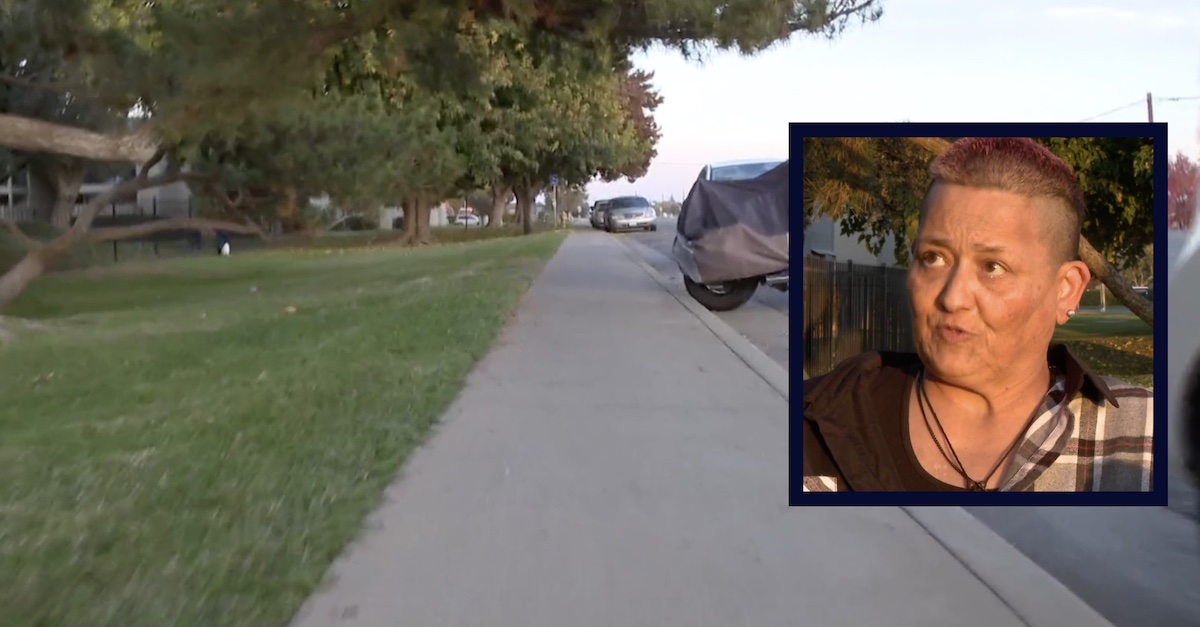 Myra Riddle speaks with local ABC affiliate after Yuba County K-9 bites her stomach (KXTV/screengrab)
A Marysville, California, woman and innocent bystander was attacked by a K-9 that was supposed to be pursuing someone in connection with a fatal shooting that took place the day before.
Myra Riddle has conducted multiple interviews with local media outlets and signaled she may sue over the stomach-biting incident, even showing the puncture marks and bruises she suffered as a result.
Riddle, who said that the accidental attack went on for a "minute or two," described how she and her family were outside of their apartment on Friday as the Yuba County Sheriff's Department gave chase of a "kid" with "long blond hair, [and a] red sweatshirt" who was running by.
The sheriff's department announced last week that a Thursday evening shooting at the Yuba Gardens apartment complex on Hammonton Smartsville Rd. left a 19-year-old male "with apparent gunshot wounds," killing him.
"Witnesses described the shooting had occurred within the parking lot where deputies later located numerous shell casings," authorities said, not identifying the victim by name.
The ensuing investigation led authorities the next day to Riddle's apartment complex in Marysville, where she lives with her partner.
More Law&Crime coverage: Police officer sues sheriff's deputy over attack by K-9 named Thor during suspect chase
Deputies and a K-9 were chasing after a person they believed to be involved in the shooting. Riddle described the moment she came face-to-face with the K-9, thinking — correctly — that she was in danger of being attacked by mistake.
"In my mind, it [the attack] was a minute or two. The deputy was giving commands trying to pull the dog off, but the dog kept going," Riddle told local ABC affiliate KXTV, adding: "It [the K-9] stopped, looked at me and went for me" as the "kid" ran by.
In a separate interview with local Fox affiliate KTVU, Riddle said she was considering filing a lawsuit, and she showed the damage that was done to her stomach.
The woman said that she did heard someone shouting "stop" but did not hear deputies announce "dog" or "canine" before the "scary" K-9 attack took place, leaving her with painful bite marks and leg bruising.
Riddle said a deputy at the scene apologized to her, and the sheriff's department later confirmed that its K-9 "deployment accidentally resulted in the injury of a civilian," local CBS affiliate KOVR reported.
The civilian expressed that she didn't want punishment for the K-9 in question, but a possible lawsuit, if one is actually filed, could focus on covering her medical bills and/or requiring additional training, so that an incident like this one can be avoided in the future.
Law&Crime reached out to the sheriff's department for comment.
Watch Riddle's KXTV interview below:
Have a tip we should know? [email protected]