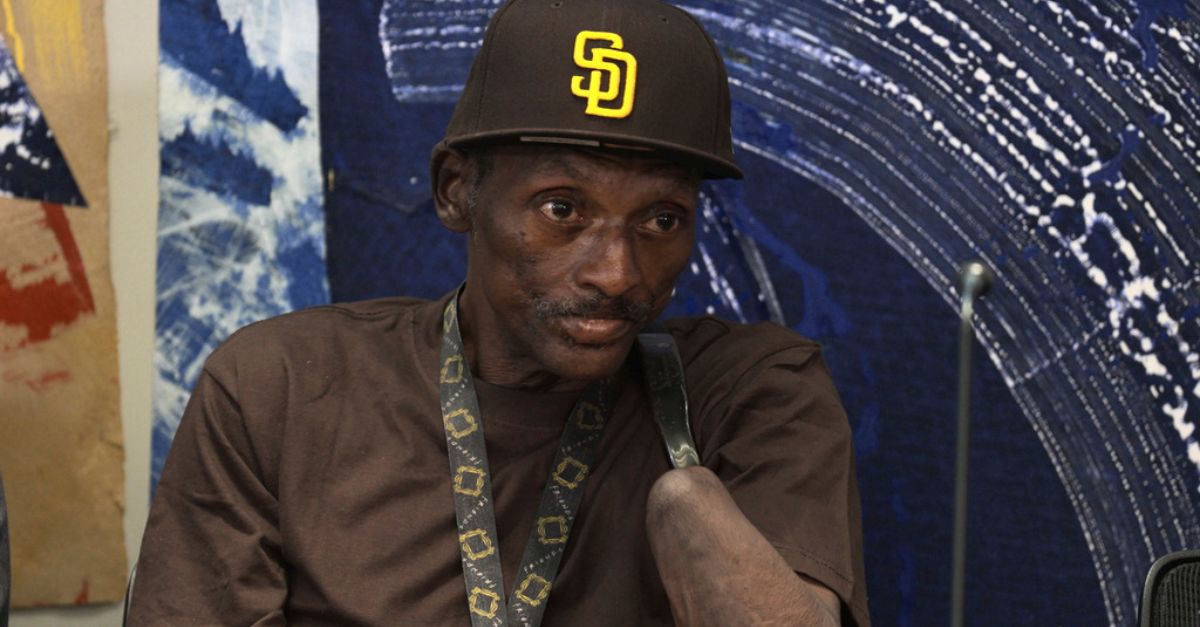 Terrance Dwayne Winborn appeared at a press conference where his attorneys discussed a multi-million dollar settlement with a Minnesota county on Wednesday, Oct. 4, 2023, in Minneapolis. Winborn was booked into the Scott County jail in August of 2020 on suspicion of drunken driving but ended up losing both his arms, suffering a heart attack, skin lesions all over his body and other serious medical conditions, allegedly due to the indifference and inaction of jail staff. (AP Photo/Mark Vancleave)
A former inmate in Minnesota who had his arms amputated and nearly died from a bacterial infection after a day in jail will get a $12.2 million settlement stemming from his lawsuit alleging a jail nurse failed to provide constitutionally required healthcare despite his deteriorating condition.
Terrance Dwayne Winborn became sick at Scott County Jail in Shakopee, Minnesota, in 2020. He got a bacterial infection that festered, leading to a heart attack, skin hemorrhages, septic shock, gangrene, and amputation of his arms below the elbows, according to the lawsuit, which also alleges officials allowed 39 hours of video that would have shown his condition in custody to be deleted, the lawsuit said.
"The failure to provide Mr. Winborn with constitutionally required care was, we maintain, inhumane and offensive on every level," said lawyer Katie Bennett, who represented Winborn, in a statement. "To destroy the best evidence of the abhorrent conduct demonstrates the need for the asked-for sanctions and the size of this settlement."
In a news conference with his attorneys announcing the settlement on Wednesday, Winborn spoke about the misery. He spent 122 days in three hospitals and will require a lifetime of medical aid.
"It's something that nobody wants to go through," Winborn said.
In a statement, Scott County lawyer Jason Hiveley confirmed the settlement in exchange for dismissing his lawsuit and releasing the claims against the County and its employees.
"The County and MCIT are hopeful the resolution of this matter will help provide Mr. Winborn with the medical care and quality of life assistance he needs," the statement said.
He was arrested in Shakopee, southwest of Minneapolis, shortly after midnight on Aug. 27, 2020.
A probable cause statement obtained by Law&Crime charging him with a misdemeanor DWI and driving while his driver's license or driving privileges had been canceled or denied outlined the arrest. The document said he was convicted of DWI in 2016 and 2019, and his driver's license was canceled in August 2018.
An officer spotted his minivan driving without lights on and pulled him over.
"The vehicle driving behind it was flashing its high beams in an attempt to get the driver to turn on the lights," the report said.
He didn't realize the lights were off and turned them on, the report said.
The officer noticed his eyes were bloodshot and watery, his speech was slurred, and he smelled alcohol, the document said. He admitted to having a beer at the Mystic Lake Casino two hours earlier and later said he drank before going to the casino. A Breathalyzer showed he had a blood alcohol content measuring .13. A search of his minivan turned up a half-full can of Olde English 800 behind the front passenger seat in arm's reach of the driver, the statement said.
His civil lawsuit documents his declining health, which started when he began vomiting at the jail. Winborn, then 59, was taking medications for chronic pancreatitis and rheumatoid arthritis, among other medical issues. Initially, he vomited "a couple of times" and again several times when he returned from his bail hearing later.
By 10 a.m. the next day, he had "dramatically deteriorated." He couldn't stand up. He had swelling, pain, and altered mental status. He was having trouble breathing.
The nurse "did not consult a doctor, call an ambulance, or contact an emergency room or emergency medical service," the lawsuit said. "Despite these very serious red flags which, when combined with his poor appearance at the 'assessment' less than an hour prior, rendered it obvious that Winborn needed to be evaluated and treated immediately."
By 4:30 p.m. — about 4.5 hours after his last recorded visit with a nurse he had fallen off his bunk. His blood pressure measured "extremely high" at 266/180.
"Such exceedingly elevated blood pressure indicated hypertensive crisis and that Winborn was in dire need of emergency medical attention," the lawsuit said. "Winborn was unable to describe other symptoms beyond suffering from 'lots of pain.'"
He was described as not talking and nonresponsive. He was gasping for air.
"Only now, due to 'his high [blood pressure] and his past medical history, it was determined that [Winborn] should be seen at [a Hospital]' – although not emergently, with its attendant costs," court documents said.
A police officer drove him to St. Francis Regional Medical Center.
According to a report from Scott County personnel, Winborn had not been talking before he got to the hospital, the lawsuit said. The report said he was transferred to the hospital because "he was not acting right" or "didn't look right."
St. Francis nursing personnel noted he was "not responding to verbal or painful stimuli."
Winborn's left upper extremity was stiff, his right arm was swollen, and his consciousness was severely impaired, the lawsuit said. He had a life-threatening level of hypoglycemia. He had a kidney stone and acute pancreatitis.
He was transferred by ambulance to another hospital for a higher level of care.
At 10:17 p.m., he arrived at Abbott's intensive care unit, where his left fingers and much of his left forearm were amputated.
By Aug. 29, Winborn had been formally released from Scott County's custody, but his hospitalization and need for medical care were far from over as his condition worsened, court documents said.
His right hand and forearm were amputated on Aug. 30, 2020.
On Nov. 24, 2020, he was admitted to a skilled nursing facility for care and rehabilitation. He was still on a feeding tube, and "he could not dress himself, groom himself, bathe or shower, turn or change positions, or walk, among many other tasks of daily living."
At a Dec. 7, 2020, follow-up appointment with orthopedics, Winborn was sent back to Abbott due to an infection, this time in his left hand. The next day, his left forearm was amputated. Winborn was discharged on Dec. 28, 2020.
All told he had more than $2 million in medical bills, his lawyers said.
Have a tip we should know? [email protected]