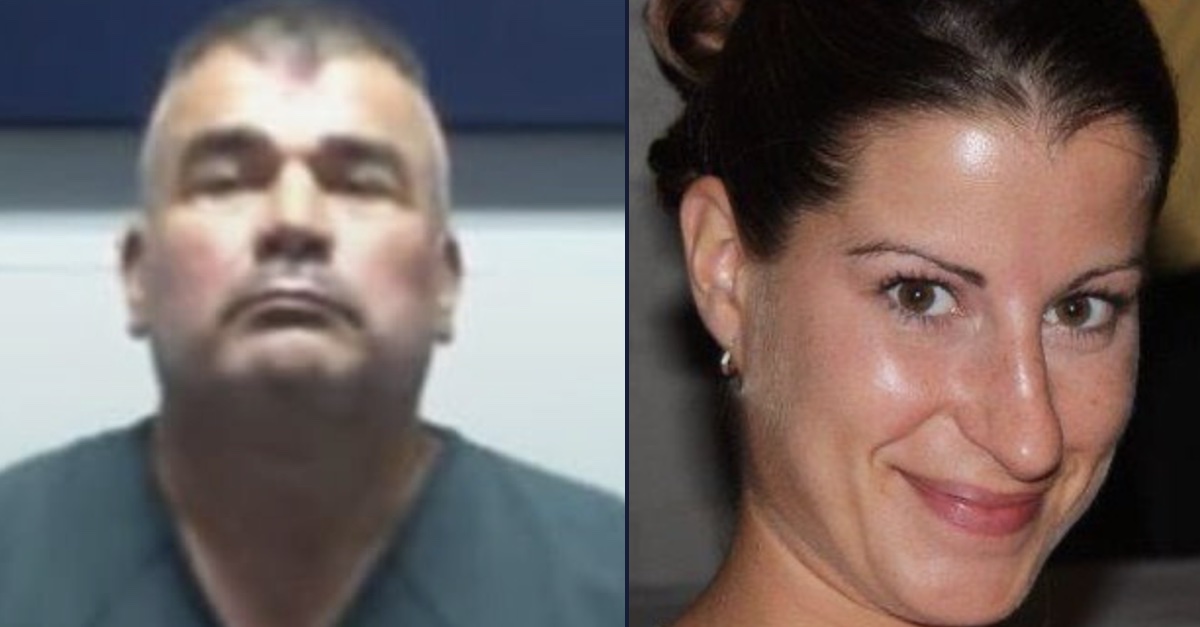 Barry Garza (L) pictured during a Zoom hearing, Amber Jo Thomas (R) as pictured in her obituary.
A 55-year-old Michigan man allegedly expressed no remorse after shooting his ex near her workplace just one week after she filed for a personal protection order against him.
Barry Garza is accused of murdering 40-year-old Amber Jo Thomas and injuring a 67-year-old male acquaintance of hers after driving to the Linden Square Assisted Living facility where Thomas worked and opening fire in broad daylight nearby — in the "parking lot of the former UAW Hall" — while the victim was on a break.
According to the Saline Police Department, the "active shooter" situation unfolded around 11:35 a.m. last Thursday, Aug. 3, in the 600 block of Woodland Dr. in Saline. Thereafter, Garza allegedly fled the scene in a tan Ford Focus and crashed.
"A short time later as assisting police agencies were heading to the scene a Washtenaw County Sheriff's Deputy came upon a crash at S. Ann Arbor and Willis roads with the at-fault driver/vehicle matching the description of the shooting suspect," cops said. "The suspect did not comply with commands and the deputy deployed his taser, subsequently taking the suspect into custody."
Initially listed in critical condition, Amber Jo Thomas later died at the hospital, leading to the murder charges Garza now faces.
Washtenaw County court records reviewed by Law&Crime show that Garza faces charges of open murder, assault with intent to murder, and a felony firearm count. Garza was arraigned on Saturday, Aug. 5, and was denied bond, court records say. Court notes said that Garza "stood mute" for the proceeding.
Assistant Prosecuting Attorney Jessica Blanch reportedly said, however, that Garza incriminated himself in a major way at the scene of the crime.
"He showed up to her work, shot her in the neck and then shot a male victim who was near her," the prosecutor said, according to MLive. "He made terrible statements on the scene which showed his intent, like 'I'm not sorry I killed that f—ing b—.'"
Judge Anna M. Frushour reportedly remarked that the evidence was "devastating" before denying the defendant bond.
Just one week before the alleged murder, Thomas filed for a personal protection order (PPO), writing that she was in a relationship with Garza for 9 years. Thomas said that Garza physically and verbally abused her "for many years" and that she was "scared" that he was going to follow through on his numerous threats to kill her.
MLive reported that the PPO was granted in late July but was never served on Garza.
A probable cause conference in Garza's case is currently scheduled at 9 a.m. on Aug. 17.
Thomas' obituary said that she "loved gardening, planting flowers and her dogs (fur babies) […] being on the lake, going camping and sitting around a bonfire with her family & friends." She is survived by her mom, three brothers (including a twin), and numerous extended family members and friends. Her funeral will take place on Wednesday morning, the obit said.
Have a tip we should know? [email protected]