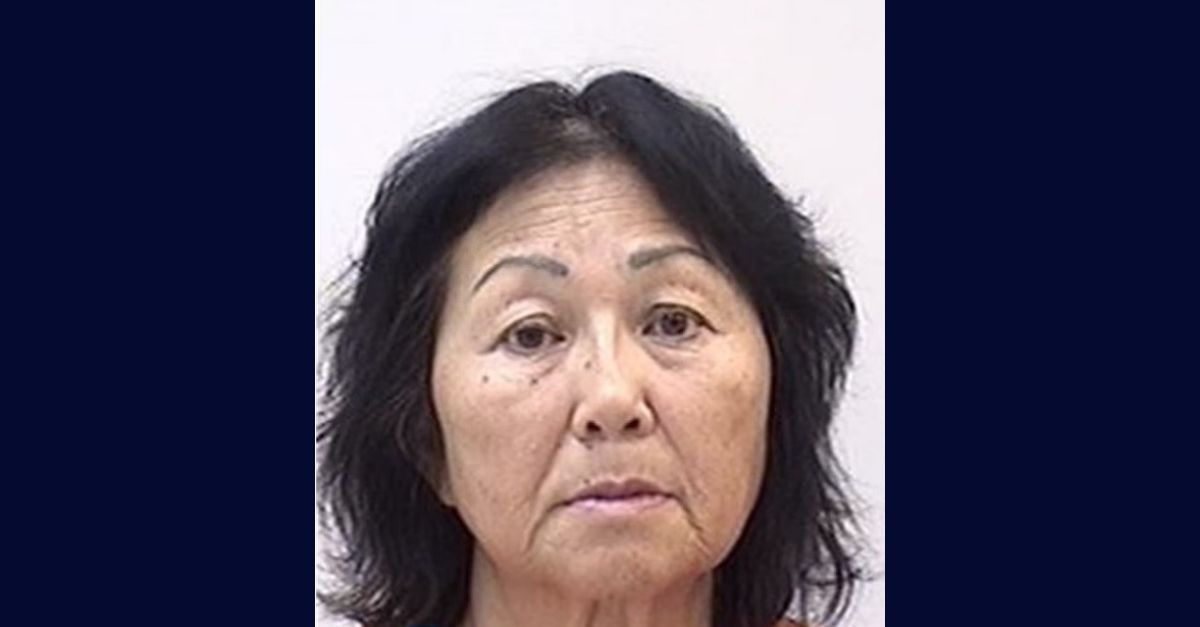 Ivy Liu booking photo, Colorado Springs Police Department.
A former Colorado school board member who once quoted Adolph Hitler on social media was arrested and charged with felony menacing after police said she waved a loaded gun at a man renting a room in her home.
Ivy Liu, 66, from Colorado Springs and former school board member for Colorado's District 49, was arrested on Friday after officers at the Colorado Springs Police Department were dispatched to her home to investigate a trespassing complaint.
When police arrived, Liu told them her tenant was inside and drunk and would not leave, according to an affidavit of probable cause obtained by Law&Crime. When asked if she had a gun, Liu told police she did, the report states. It was a 9 mm Sig Sauer P365, and she told them it was stowed safely in her purse. It contained a live hollow point round in its chamber, police said.
But the man identified in records as Andrew said the gun had not stayed in her purse the whole time and told officers he wasn't trespassing. He had been renting one of Liu's rooms and had paid his rent through Sept. 30, though the two had argued over whether he still owed her $100. The man told police he returned to the home because he was moving out and came to collect his things. When he arrived and found the front door locked, he came in through the back.
While he was packing up, Andrew said he heard Liu "enter through the front door and start yelling his name," according to police records.
He emerged from his room and stood at the top of the stairs as Liu stood looking up at him, the document said.
"[Andrew] said from the top of the stairs, he could see Ivy and saw that she had a handgun and was pointing it at him. [Andrew] stated he was in fear for his life due to the gun's presence and feared that Ivy pointing the gun at him was especially dangerous as she could fire it on accident, killing him," the police affidavit states.
Liu allegedly would not let him finish packing and told her tenant she was waiting for police to show up. An officer who interviewed the former school board member reported that Liu said she was "giving Andrew breaks [on the rent] because he was young" and that she thought he had a gambling problem that prevented him from paying his rent in full.
They made an agreement that he would move out on Sept. 30 after paying what he owed her, Liu allegedly told police. They had planned to meet at the property at 1 that day, but Andrew showed up earlier, something she said she was only alerted to when she got a notification on a home surveillance camera installed at the property.
"Ivy said Andrew went into the back door of the residence and began to get his belongings. Ivy said she went to the residence and entered through the front door. Ivy said when she entered the residence, she could smell alcohol… and saw Andrew at the top of the stairs, directly to the left of the front door. Ivy told me she knew Andrew had guns and rifles," the report states.
Police stated they could smell alcohol on Andrew when they interviewed him, but he did not appear to be intoxicated.
Liu claimed next that Andrew put his hand into his pocket, motioning as if he was grabbing something, and it was this that prompted her to draw her handgun and hold it "at her side, pointing downward, claiming this was done in the event that Andrew produced a handgun from his pocket," the report states.
Andrew told police she had been waving the gun at him and refused to let him leave with his belongings. In a record of his phone call to the police, the tenant is heard telling dispatch that his "landlord came in with a gun in her hand, flashing her gun around and will not let me move my stuff out of the house."
"She won't let me out the front door, and I'm not really gonna attempt to get out of the front door with her standing in front of it with gun," the police report quotes Andrew as saying.
When the dispatch asked where the gun was, the man told them it was in Liu's hand. Liu could allegedly be overheard in the recorded call saying that her tenant was lying and that she had put her gun back in her purse."
"I have it on video. It is in her purse now, but I have it on video," Andrew said.
Investigators, however, determined he did not have the video and "probably misoperated the phone," the affidavit states.
Though she reportedly wanted him out, Liu told police she had not formally begun the process of eviction. Police reported telling her if she wanted him to leave for good, she would need to initiate those proceedings first.
Liu is charged with felony menacing and faces two misdemeanor counts, including second-degree criminal tampering and false imprisonment.
She could not immediately be reached for comment Thursday.
Liu appears to have stopped serving on the District 49 school board in Colorado after she commented on her personal Facebook page quoting Adolph Hitler. That occurred in November 2022, according to Colorado CBS affiliate KKTV.
The message began with the Hitler quote: "He alone, WHO OWNS THE YOUTH, owns the future." (Emphasis original)
"PARENTS!! GET INVOLVED AND FIGHT LIKE YOUR CHILDREN'S LIVES DEPEND ON IT, BECAUSE IT DOES!," she wrote. (Emphasis, grammar original) "Fight back the Critical Race Theory (CRT) concepts that are deceptively hidden in many of the latest Social Emotional Learning (SEL) programs from CASEL.org. Not all SEL's are bad but some are insidiously programmed to do just what our enemies intend. Message me for a list of well-documented research."
In a statement, Liu told KKTV at the time she was not promoting Hitler and was wrongfully accused of "attacking and blaming the teachers and principals" for her initiative to point out problems she had with the school standards.
"I have been accused of promoting Hitler and accusing our wonderful teachers of being Nazi indoctrinators. I don't know how to deal with that kind of gaslighting other than let the truth stand for itself," she said.
The outlet reported on Sept. 7 that a member vacancy in District 49 had appeared on the school's website during the day and that the post was declared officially vacant during a public board meeting that night. Liu was reportedly planning on running for another board position outside of District 49 when redistricting impacted the region and, ultimately, her eligibility to run due to residency requirements. Liu ultimately lacked enough signatures to get on the ballot for the different district, and her campaign fizzled.
Have a tip we should know? [email protected]