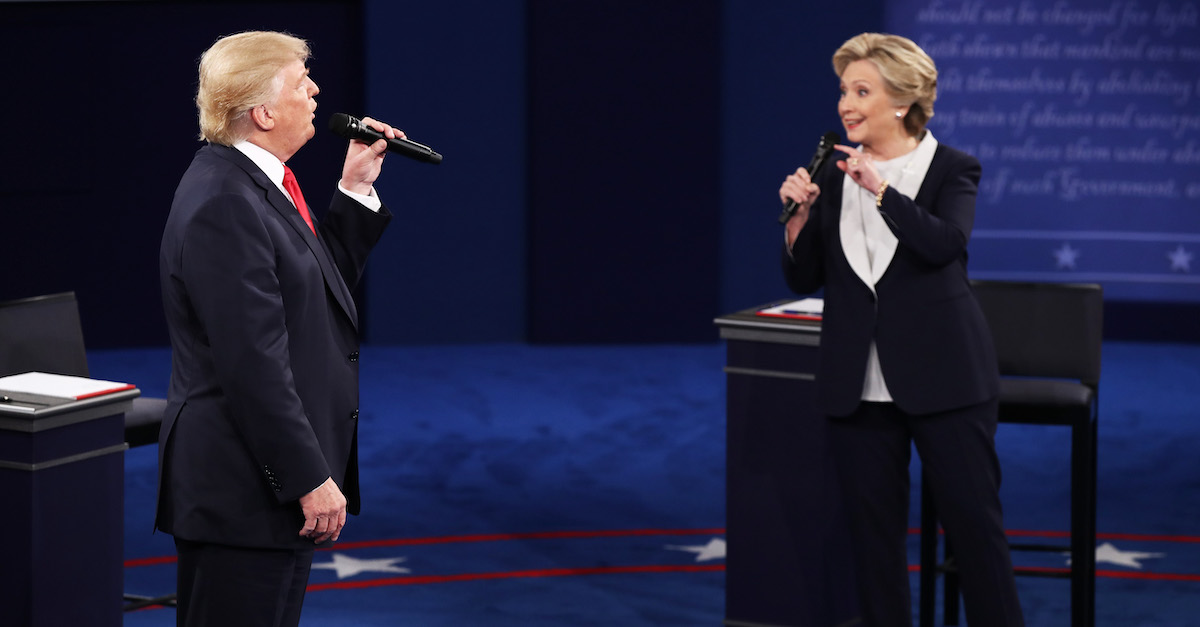 Donald Trump and Hillary Clinton debating in 2016
Hillary Clinton's 2016 presidential campaign has asked a federal judge in Florida to dismiss former President Donald Trump's racketeering case.
The Hillary for America campaign (HFACC) filed a motion to dismiss Trump's expansive lawsuit with prejudice, so that it cannot be filed again. The suit alleges that the defendants, including the former First Lady and Secretary of State, carried out a plot "in furtherance" of a "scheme to defraud" Trump.
Trump filed the 108-page lawsuit in March, alleging that Clinton and her co-defendants "orchestrated an unthinkable plot—one that shocks the conscience and is an affront to this nation's democracy." They "nefariously sought to sway the public's trust" by working together to "vilify" Trump by linking him and his 2016 presidential campaign to Russia's alleged interference with the presidential election, he claimed.
Other defendants include the Democratic National Committee, Rep. Debbie Wasserman (D-Fla.), former FBI Director James Comey, former FBI agent Peter Strzok, former FBI attorney Lisa Page, Clinton advisor John Podesta, and Christopher Steele, the British former intelligence officer behind the "Steele Dossier."
While Special Counsel Robert Mueller's eventual investigation into the Trump campaign's possible Russia links did not find sufficient evidence to conclude that the Trump campaign conspired with the Russian government, Mueller himself said the report did not "exculpate" or "exonerate" Trump of obstruction as Trump and his allies have repeatedly claimed.
HFA: Trump "Has Been Aware of the Purported Injuries for Years"
Monday's filing adopts the arguments made in previously-filed motions to dismiss already brought by Clinton, Podesta, Wasserman Schultz, the DNC, and others.
According to HFA, Trump's lawsuit fails first and foremost because his RICO claims have a four-year statute of limitations.
"The allegations that Defendants conspired to…