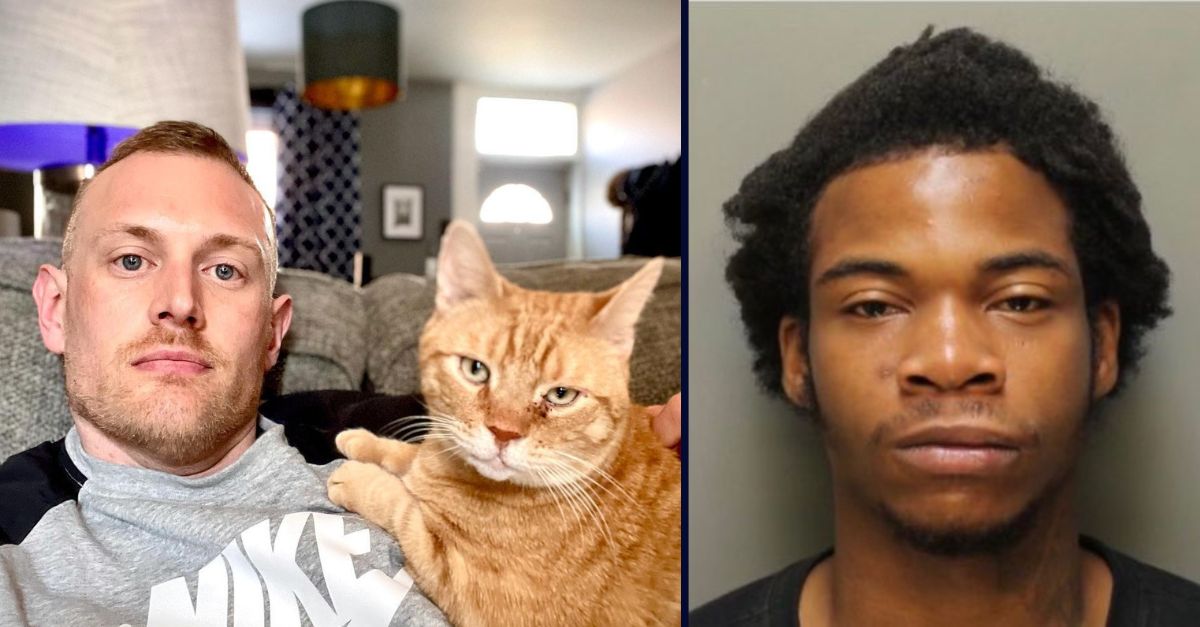 Robert Davis, right, is accused of killing Philadelphia journalist Josh Kruger at Kruger's home on Monday, Oct. 2. Anyone with knowledge of Davis' whereabouts is asked to call Philadelphia police. (Kruger photo via his Facebook page; Davis photo from Philadelphia police)
The search for a man accused of murdering activist and journalist Josh Kruger continues days after Philadelphia police identified him as a suspect.
Philadelphia District Attorney Larry Krasner on Friday issued an arrest warrant for 19-year-old Robert Davis.
"At this time we believe that Mr. Kruger was trying to help Mr. Davis and they were acquaintances," said Philadelphia Police Lt. Hamilton Marshmond at a Friday press conference. "He was just trying to help him just get through life."
As previously reported, the Philadelphia Police Department responded to Kruger's home on the city's south side around 1:30 a.m. Monday and found the 39-year-old man shot seven times throughout his chest and abdomen. He was transported to the hospital where he was pronounced dead at 2:13 a.m.
The Philadelphia Inquirer reported a person entered his home and started shooting. Police believe Kruger was shot at the base of his stairs and he ran out of his home seeking help from neighbors where he collapsed, the Inquirer said.
Local ABC affiliate WPVI, citing sources, reported drugs were found in Kruger's home and Kruger and Davis exchanged extensive text messages.
Kruger had written on his Facebook page about a few disturbing incidents that happened to him over the last few months, the Inquirer noted: An ex-partner had broken into his home, somehow obtaining keys to get inside which caused him to change his locks; someone threw a rock through his window and a person who identified themselves as "Lady Diabla, the She-Devil of the Streets" came to his home asking about a boyfriend and threatened him. Police did not say if any of the previous incidents were related to the homicide.
Kruger was a freelance journalist who wrote for the Inquirer, Philadelphia Citizen, a nonprofit media organization focusing on solutions-based journalism, Philadelphia Weekly and LGBTQ Nation. He also worked in the communications office for the City of Philadelphia, as communications director for the Office of Homeless Services and content director for the Mayor Jim Kenney administration from 2016 until 2021, his LinkedIn page said.
"Shocked and saddened by Josh Kruger's death. He cared deeply about our city and its residents, which was evident in his public service and writing," Kenney wrote on X, the website formerly known as Twitter.
Krasner wrote on X that Kruger "lifted up the most vulnerable and stigmatized people in our communities — particularly unhoused people living with addiction." Krasner also said he would keep in close contact with the Philadelphia police to ensure justice can be served.
In a tribute on the Citizen site, journalist Roxanne Patel Shepelavy eulogized Kruger as an "immensely talented writer with an insatiable passion for telling the real truth about hard issues."
One of Kruger's last articles for the Citizen pointed out the misguidedness of elected officials' preferred use of the word "unhoused" over homeless because the latter was too stigmatized. Kruger, who was once homeless himself, wrote that officials should instead focus on pushing through additional funding so the homeless could become housed.
"The fact is that we could solve homelessness with the right investments in the right policies. It would cost less than one percent of the current $6 billion municipal budget. But I'm starting to think everyone would rather talk about the lingo than admit we are failing to actually help those in need," Kruger wrote.
As an openly gay man who was HIV-positive, he also advocated for the LGBTQ community.
Have a tip we should know? [email protected]