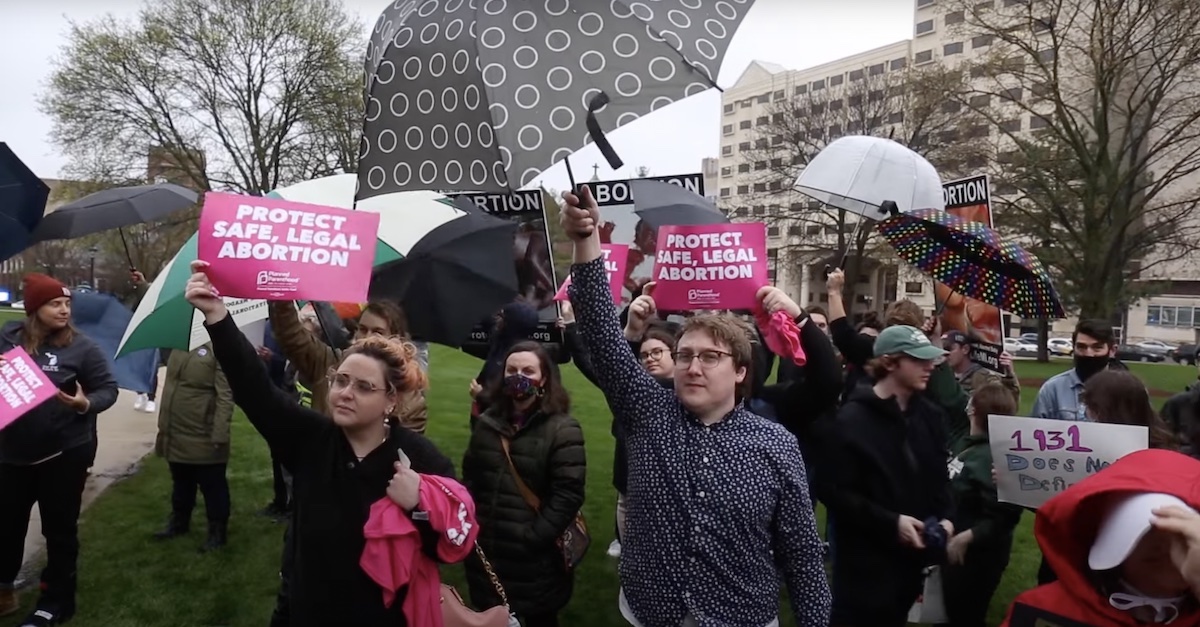 Pro-choice protesters pictured outside Michigan Capitol on May 3, image via MLive/YouTube screengrab
A Michigan court on Tuesday blocked enforcement of a nearly century-old law banning abortion in that state if the Supreme Court overturns Roe v. Wade.
After the conservative wing of the Supreme Court appeared to tip their hands in oral arguments Dobbs v. Jackson Women's Health Organization, Michigan Gov. Gretchen Whitmer (D) and progressive groups began to eye a 1931 abortion ban in that state. Whitmer filed lawsuits seeking to strike down that long-dormant statute, if Roe were overturned.
So did Planned Parenthood of Michigan and a doctor named Sarah Wallett, in a lawsuit filed in the Court of Claims against Michigan Attorney General Dana Nessel (D), as a nominal defendant.
Nessel has spoken openly about having an abortion to save the lives of two of her triplets, and she never intended to enforce Michigan's ban, which became inactive after Roe rendered that law unconstitutional. Planned Parenthood sued Nessel because her office represented an enforcement mechanism of that law.
Celebrating Planned Parenthood's victory, Nessel confirmed that she will not appeal the decision.
"This injunction is a victory for the millions of Michigan women fighting for their rights," Nessel wrote in a statement. "The judge acted quickly in the interest of bodily integrity and personal freedom to preserve this important right and found a likelihood of success in the state law being found unconstitutional. I have no plans to appeal and will comply with the order to provide notice to all state and local officials under my supervision."
Despite the leak of Justice Samuel Alito's draft majority opinion that would overturn Roe, the Michigan judge noted that the precedent remains the law of the land.
"As of the date this opinion is issued, it is unknown whether the United States Supreme Court will overrule Roe v Wade," Judge Elizabeth Gleicher wrote in her ruling. "Should that occur, an initial question likely to be of interest to our state's citizenry is the power of a state Court to interpret Michigan's Constitution differently than the United States Supreme Court interprets the federal Constitution."
If the Supreme Court's apparent majority holds, however, Judge Gleicher said that she will not bound by that ruling. She cited precedent noting that Michigan's constitution affords more expansive civil liberties protections than its U.S. counterpart.
"Thus, this Court is not constrained to adopt the United States' Supreme Court's analysis of the constitutionality of abortion under the United States Constitution but must instead focus its inquiry on the rights and guarantees conferred by our Constitution," the judge wrote, emphasizing the distinction in original.
To support blocking the 1931 ban, the judge cited another case brought by Planned Parenthood believed also to be on the Supreme Court's chopping block: the Casey decision.
"Thirty years ago, the United States Supreme Court explicitly tied a woman's right to abortion with her right to bodily integrity. In prohibiting abortion, a state not only 'touche[s] upon the private sphere of the family but upon the very bodily integrity of the pregnant woman,'" the opinion states, citing Casey. "Pregnancy implicates bodily integrity because even for the healthiest women it carries consequential medical risks. Pregnant women face the prospect of developing conditions that may result in death, or may forever transform their health, such as blood clots and hypertensive disorders."
In issuing a preliminary injunction, Gleicher wrote that Planned Parenthood had a "strong likelihood" of winning their constitutional challenge.
"Forced pregnancy, and the concomitant compulsion to endure medical and psychological risks accompanying it, contravene the right to make autonomous medical decisions," the order states. "If a woman's right to bodily integrity is to have any real meaning, it must incorporate her right to make decisions about the health events most likely to change the course of her life: pregnancy and childbirth."
Deborah LaBelle, an attorney for Planned Parenthood, told Law&Crime that she and her clients are relieved that the court prevented "chaos" and preserved the status quo.
"One of the reasons that we filed on behalf of Planned Parenthood and Ms. Wallett and the women of Michigan, was that there was a great deal of uncertainty and angst as to whether rights had been protected here for over 50 years were going to be taken away without the opportunity for the courts of Michigan to weigh in on what the Michigan Constitution provides," Labelle said in a phone interview. "And so it's amazing relief. It's a wonderful, deep and strong and thoughtful opinion."
Read the full order, below:
[Image via MLive/YouTube screengrab]
Have a tip we should know? [email protected]