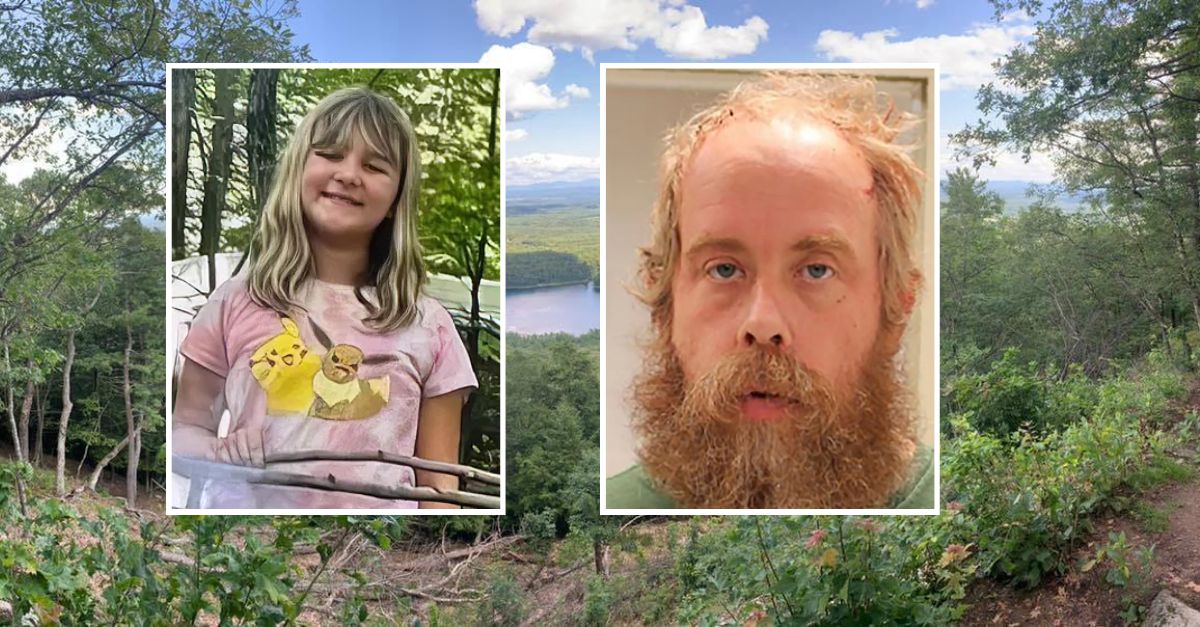 Left: Photo of Charlotte Sena (family handout). Right: Craig N. Ross Jr., who has been arraigned on kidnapping charges, in Milton, N.Y. (Saratoga County Sheriff's Office via AP). Background: Photo of Moreau Lake State Park where Sena was reported missing (via Moreau Lake State Park Facebook page).
Police in upstate New York are digging into the past of an alleged child abductor after a 9-year-old girl he's accused of kidnapping was reunited with her family.
Saratoga County sheriff's deputies arrested Craig Nelson Ross Jr., 46, on Oct. 2. He's charged with first-degree kidnapping in connection with the abduction of 9-year-old Charlotte Sena.
Sena was camping with her family at Moreau Lake State Park, north of Albany, when she was abducted. Around 6 p.m. on Saturday, Sept. 30, Sena went on a bike ride with friends. According to police, she told her friends she wanted to go around the loop one more time by herself. When she didn't return to the campsite, her parents found her bike abandoned on the path.
The family called 911 and first responders had swarmed the state park shortly thereafter. Reports indicate that more than 400 personnel were involved in the search, both on foot and using drones. But Sena was not located in the park.
According to New York Governor Kathy Hochul, law enforcement staked out the Sena family home and spotted someone outside the house on Monday around 4:20 a.m. The person left a ransom note in the mailbox. According to the governor, this was the suspect's fatal mistake.
"He literally drove up to the family's mailbox, assuming they were not home," Hochul recounted at a news conference. "Four-twenty in the morning, opens the mailbox, inserts the ransom note, leaving the critical piece of evidence behind: his own fingerprint."
Ross' fingerprints were already in New York's criminal database because of a drunk driving arrest in 1999.
Just hours after matching the fingerprints, law enforcement teams were able to track down a camper Ross was living in behind his mother's home, less than 20 miles from the state park where Sena was last seen.
SWAT teams swarmed the camper and arrested Ross. Sena was found inside, hiding in a small cabinet.
According to Colonel Richard Allen of the New York State Police, Sena was found wearing different clothing than when she disappeared.
"She was in a sweatshirt, which was not the clothing she had on when she was taken," Allen told NewsNation.
Tracy Walder, a former agent for both the CIA and FBI, spoke with Jesse Weber for Law&Crime's Sidebar podcast.
She says Sena was found so quickly thanks to good old-fashioned police work.
"We talk a lot about genealogical DNA and all of these, you know, scientific advancements in catching killers," Walder told Weber. "But this is fingerprints. This is as old as police work, really, in terms of identifying people."
"And so the fact that the police put surveillance on the Sena family home is actually excellent police work," Walder went on. "Sometimes that's done, sometimes that's not done. And the fact that they did that, in my opinion, really is what ultimately cracked the case."
"Of course, he's innocent till proven guilty," Walder added. "But the statistics recently released by the FBI and the Center for Missing and Exploited Children really show that kidnappings by strangers are very rare. So the reality is, he may have been a stranger to the Sena family. But I don't think that Charlotte was necessarily a stranger to him, meaning I think he knew who she was. Perhaps he had been stalking her. Perhaps he had been following her. Because he had to have known that she would be on that loop by herself, because she had repeatedly been through that loop with her friends. So, again, I could be wrong. I'm just hypothesizing at this point. However, I believe that this was not necessarily random."
Walder says now that Ross is under arrest, he could potentially be connected to other cases.
"If they are able to obtain his DNA, then what they're probably doing right now is comparing it to other missing children cases and see if he's connected to any of those," Walder said. "I think that's going to be an important piece of the puzzle as well."
Ross is being held at the Saratoga County Jail without bail.
Have a tip we should know? [email protected]