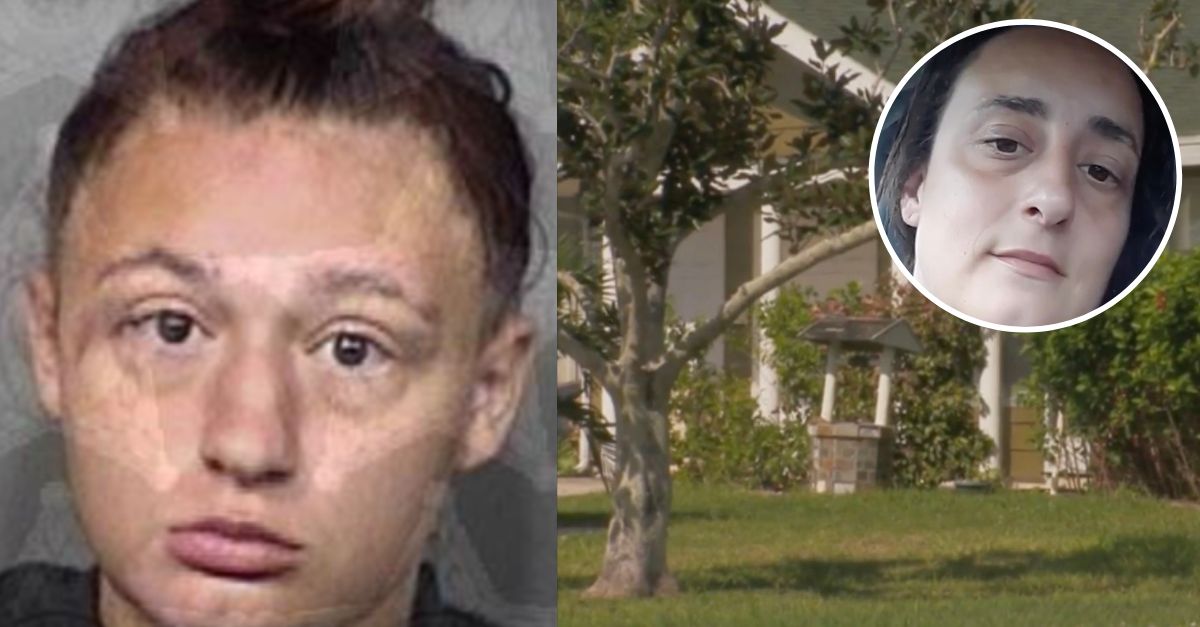 Left: Jackalynn D'Auria (via Brevard County Sheriff's Office). Right: the home where Amanda Ervin was killed (via WESH screenshot). Inset: Ervin (via WESH screenshot).
A 22-year-old woman in Florida will spend several decades behind bars for stabbing her mother in the chest during an argument over her "relationship" with one of her mom's friends, causing the elder woman to bleed out and die.
Circuit Judge Charles Crawford on Friday ordered Jackalynn D'Auria to serve a sentence of 30 years in a state correctional facility for the "brutal stabbing death" of 36-year-old Amanda Ervin, authorities announced.
Crawford handed down the maximum possible sentence to D'Auria, one month after a jury in Brevard County found her guilty on one count of manslaughter with a weapon or firearm in her mother's 2020 death, court records show. The jury acquitted D'Auria on one count of second-degree murder with a deadly weapon, saving the 22-year-old from facing a potential life sentence.
D'Auria was credited with 1,028 days of time already served.
"I'm grateful we were able to deliver justice on behalf of Amanda and her family. I hope they can find some solace in knowing that D'Auria couldn't escape justice, and that every word spoken on behalf of Amanda [Ervin] was heard," Assistant State Attorney Samantha Barrett said in a statement following the sentencing hearing, the 18th Judicial Circuit State Attorney's Office said in a press release.
According to a probable cause affidavit, officers with the City of Palm Bay Police Department on Oct. 24, 2020 responded to a call in reference to a homicide at an address located in the 900 block of Canal Lane. The assailant — later identified as D'Auria — was said to have already fled the scene by the time someone called 911 to report the attack.
Upon arriving at the scene, first responders found the victim — later identified as Ervin — suffering from a single stab wound to the chest. She was immediately transported to the Palm Bay Community Hospital where she was pronounced dead. However, prior to losing consciousness, Ervin "told multiple witnesses outside the residence that the defendant stabbed her," police wrote.
Several witnesses told police that Ervin was inside the home when D'Auria arrived.
"Shortly after the defendant arrived, the witnesses indicated that they heard a loud argument coming from the garage area," the affidavit states. "The defendant was next observed fleeing the residence northbound on Canal Lane."
Police were able to locate D'Auria a short while later while "hiding on a bus" in the 2100 block of Malabar Boulevard and "attempting to disguise herself." She was taken into custody and charged with second-degree murder.
D'Auria claimed self-defense, telling investigators that she was in a bedroom in the home when her mother came in and began to "batter her," per the affidavit. She said that she "pulled a knife and stabbed the victim to stop the altercation" before discarding the weapon in a yard and fleeing the scene. While investigators said that D'Auria had several observable wounds, they noted that none were consistent with being "recently battered."
Prosecutors said that the attack took place during "a confrontation over D'Auria's relationship with one of Ervin's friends."
D'Auria's defense attorney argued that the state's "stand your ground" law allowed for her to act with deadly force, but the contention did not sway the jury.
While incarcerated earlier this year, D'Auria was charged with one count of battery by a detained person for allegedly touching another inmate's thigh without permission and continuing to do so after the other inmate told her to stop, court records show. A hearing in that matter is scheduled for Aug. 24.
Have a tip we should know? [email protected]